"OFW" Approach Beneficial to PH Boxing Amid Covid Crisis

By Teodoro Medina Reynoso
PhilBoxing.com
Sun, 28 Jun 2020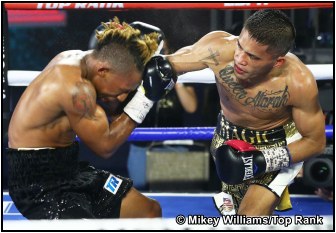 Mike Plania stuns Joshua Greer Jr.
A paradox of this present Covid-19 pandemic time is that the much criticized preferred priority practice of sending our top fighters abroad seems to be working to our favor--at least in the intermediate time-- in view of the continued difficulty in restarting boxing here and in other countries, particularly in Asia.

In fact, two Pinoy fighters Mike Plania and Reymell Yanong have already seen action in the US this June, both winning their fights, with three others, John Leo Dato, Reymart Gaballo and John Vincent Moralde scheduled to fight in the States in July.

At least three more Filipino fighters namely reigning and former world champions Jerwin Ancajas, Johnriel Casimero and Nonito Donaire are awaiting the rescheduling of their respective big fights in the US affected by the earlier Coronavirus shutdown. There is also Marco John Rementizo who is originally slated to challenge Wanheng Menayothin in the Thai WBC minimuweight champion's debut in the USA.

That number is the biggest among non Americans with scheduled or pending fights in the USA.

And then there is still Giemel Magramo who is set to face Junto Nakatani in Tokyo, Japan on August 21, 2020 for the vacant WBO flyweight title marking the return of world championship boxing in the island nation.

Among Asian fighters, our boxers therefore find themselves in the better position - for now - to benefit immediately from the return of boxing elsewhere under a new normal regime necessitated by the global health emergency.

This is an unintended result of the much maligned "OFW" approach to developing professional boxers by majority of our local promoters and managers wherein as soon as a fighter gets some experience and attention, he is immediately given overseas assignments.

This preferred practice of exporting especially our top boxers to fight in foreign rings almost much in the same way we deploy overseas contract workers has been a subject of criticism by many sports observers and fans for years.

It is claimed that such priority of local promoters and managers as well as boxers has been the main reason for the continued decline of domestic boxing.

And that is not without basis.

Critics have pointed to the lack of available named attraction and marquee fighters to draw fans and viewers that has resulted to the decreasing in the number of viable local boxing promotions and to commercial television networks stopping coverage and airing of boxing.

Even championship bouts involving major national, regional and international titles have also not been attracting live and television viewers like they used to in the earlier decades because featured fighters are unknown to Pinoy fans.

The situation is very ironic as Pinoy boxers have been experiencing an extended, unprecedented period of success overseas as evidenced by the number of our current world champions and highly rated contenders.

In fairness, the Games and Amusements Board (GAB) since the coming of Chairman Abraham Mitra has been trying to revive the local boxing industry and raise it to a certain desired level of success and prominence befitting that being achieved by our premier fighters campaigning in foreign rings.

It will be long, difficult journey to attain the level of support and following Philippine domestic boxing enjoyed from the post war period up to the time of Flash Elorde in the 60s to the ascendance of Manny Pacquiao in the late 90s.

However, there is ray of hope: With the travel limitations and restrictions imposed by many boxing countries in response to the pandemic, chances are our fighters, including the prominent ones, will be forced to stay-- and possibly fight--- in the country once their scheduled overseas contracted commitments have been exhausted.

Boxers, with their managers and promoters will soon find it very hard to get overseas fights especially in countries around Asia who will be depending more on their own domestic talents on account of travel restrictions and the prohibitive costs of staging international fights due to the impact of the pandemic to their economies.

China, Thailand, Indonesia, Singapore and Malaysia, rich source of overseas fights for Pinoy fighters are having a hard time in returning and resuming the sport. South Korea has resumed boxing but strictly for domestic fights. Japan is scheduled to restart boxing later in July but also for domestic fights and for selected world title bouts preferably involving Japanese protagonists.

Hence, most Pinoy fighters will have to content themselves with local boxing and that will be great boost for our domestic boxing industry.

However, it will be up to the GAB and the local boxing players and stakeholders to immediately find an acceptable common ground with our health and government authorities to effect the return of boxing in the country in a safe and controlled manner that will still give room to viability and sustainability.

The author Teodoro Medina Reynoso is a veteran boxing radio talk show host living in the Philippines. He can be reached at teddyreynoso@yahoo.com and by phone 09215309477.

Click here to view a list of other articles written by Teodoro Medina Reynoso.

---
Recent PhilBoxing.com In-House articles: