Marcial undecided on pro career

By Joaquin Henson
PhilBoxing.com
Wed, 01 Apr 2020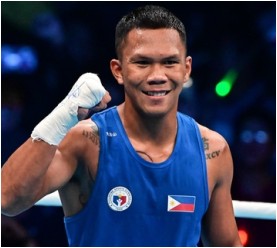 Eumir Felix Marcial.

Olympic middleweight boxing qualifier Eumir Marcial said the other day he's been approached by several "big-time" promoters inviting him to turn pro but at the moment, his mind is focused on capturing the Philippines' first gold medal at the rescheduled Tokyo Games.

Marcial, 24, said if ever he joins the pro ranks, it will be a difficult decision. "Right now, I'm not entertaining any offers," he said in Pilipino while on self-quarantine in his Imus, Cavite, home. "I'm really not sure to turn pro. I don't know if it will mean sacrificing my lifetime work as a solider with the Air Force. But if there's a good opportunity to excel in boxing and give honor to our country, I'll seriously consider it. My only focus now is the Olympics."

Marcial said in the pros, he would be a supermiddleweight in his Olympic middleweight division of 75 kilograms (165.347 pounds). In the pros, the middleweight limit is 160 pounds and the supermiddleweight ceiling is 168. Below the middleweight division are superwelterweight (154 pounds) and welterweight (147 pounds). In the Olympics, below the middleweight division is welterweight (69 kilograms or 152.119 pounds) and the next division up is lightheavyweight (81 kilograms or 178.574 pounds).

Marcial said he could go down to 160 pounds in the pros but it may be hard to reduce to superwelterweight or welterweight. "I'm fighting at 165 now," said Marcial. "Maybe, I could reduce to 160 but not to 154 or 147." The welterweight division is where Sen. Manny Pacquiao fights and it's where the big bucks are.

MP Promotions head Sean Gibbons said Marcial would be a prized catch for Pacquiao's stable. "I've never met Eumir but I've seen him fight and I know all about him," said Gibbons. "He's the kind of fighter whom we'd like with MP Promotions. I know he fought in the final of the recent Asia/Oceania Olympic qualifying tournament in Jordan with a slight concussion and still won. That took a lot of guts and heart. He's a strong puncher just like the Senator. And he fights for his country just like the Senator. When he's ready to go pro, we'll make sure to invite him to join MP Promotions."

Gibbons said finding the ideal weight division for Marcial in the pros wouldn't be difficult. "It's different in the Olympics," he said. "You fight every other day and weigh in the morning of each fight. In the pros, you watch your weight throughout the training period then make the limit at the weigh in the day before the fight. A good nutritionist should be able to determine what would be Eumir's best weight. Personally, I think he could go down to 154 and maybe even 147. Imagine Eumir's power at superwelterweight or welterweight. He'll be devastating. With the Senator's guidance, Eumir will go far."

Gibbons said Marcial could turn pro without jeopardizing his Olympic dream. At the 2016 Rio Olympics, three pros joined the competition and one of them was former IBF flyweight champion Amnat Ruenroeng of Thailand. Olympic boxing is now open to pros, subject to approval by the sanctioning body. "I think Eumir has the potential to become a major player in the pros," said Gibbons. "MP Promotions is prepared to support him in any way. We want him to succeed in his Olympic journey. That's the priority. If and when he's ready to consider turning pro, we'll do what we can to give him the opportunity to become a world champion."


Click here to view a list of other articles written by Joaquin Henson.

---
Recent PhilBoxing.com In-House articles: