LET THE FIGHT BEGINS

PhilBoxing.com
Sun, 21 Jul 2019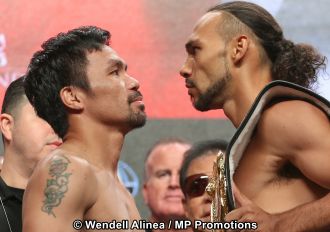 By Eddie Alinea / The Manila Times

LAS VEGAS ? One guy wants to further cement a legacy. The other eyes a piece of it.

Manny Pacquiao, a legend as the only boxer in history to win championships in eight weight divisions, and Keith Thurman, in quest of a place in the list of the greats, clash Saturday evening (Sunday morning in Manila) to unite the WBA welterweight title at the MGM Grand Arena here.

The Filipino icon, the regular belt owner, owns crown in the flyweight, super-bantamweight, featherweight, super-featherweight, lightweight, junior-welterweight, welterweight and super-welterweight divisions and believes that at age 40, he still has what it takes to continue his journey that started 24 years ago.

His career spelled in many great wins and shocking losses coming to this, his 71st fight with seemingly endless promise that he is not done just yet.

Thurman, the super titlist, is ten years younger, undefeated in 29 fights in a pro career half of Pacquiao?s. Fresher, will have height, reach and maybe power on his side, but slower than his Filipino opponent.

Both tipped the scale at 146.5 pounds on Friday?s official weigh-in held at the Grand although at fight time, the American, who was reported as still overweight days before the fight, is expected to hit 160 plus to the Filipino?s over 150.

Both declared themselves ready to fight and win with Pacquiao pronouncing himself in tip-top shape three weeks before motoring in this gambling capital of the world.

He pitched camp on May 25, moved to Los Angeles on June 12 for the second leg of his fine-tuning program, then here last Monday for two-and-half months training.

?I trained long and hard for this fight to continue my journey for our country, our people and for boxing.

?I won?t allow those days in the camp wasted by losing,? the reigning ?Fighter of the Decade? told this writer morning of the weigh-in, an indication that he doesn?t intend to lose.

?Yun lang ang gusto kong ipaabot sa ating mga kababayan back in our country and elsewhere all over the world that I have been carrying our country?s name and theirs for the last 24 years and I will continue doing so for as long as I can,? Pacquiao said.

?I may sound a broken record, but as I have been saying, boxing is my passion. It is the only way I know to make people happy,? he stressed. "I?ll do it over and over again with no one telling me when to stop.?

?My training team has done everything that should be done to prepare me for this fight and it is now up to me to implement the game plans and and strategies my team prepared in that ring,? he assured.

Pacquiao was referring to head trainer Buboy Fernandez, training consultant Freddie Roach, strength and conditioning coach Justin Fortune and assistant trainers Marvin Somodio, Nonoy Neri and Roger ?Haplas? Fernandez.

The boxer-turned lawmaker attested that he himself has studied all about his opponent, including his defects, talents and assets and he is prepared to carry them during the fight.

?Pati mga mali ko noong nakaraan napag-aralan ko nang iwasang gawing muli. We, too, change the way I train in order that I keep myself rested always,? he remarked. ?That?s why I can safely say that I?m ready, physically, mentally, spiritually and well-rested, ?

Roach concurred with what Pacquiao said, reaffirming his statement made on Thursday that his pupil of 18 years can handle Thurman in whatever he plans to do on fight time.

?They?re saying Thurman is a fast starter, we love that because we prepared Manny to mix it up with him from the time he hears the bell rings,? Roach said.

?Some said, too, that Thurman might resort to pedal back and run the moment he?s hit by Manny. Well, we like that, too, because we trained Manny to chase him wherever he goes.?

?The ring is not that big for him to hide,? Pacquiao?s former head trainer said smiling from ear-to-ear. ?As I told you yesterday, Thurman can run but he can?t hide.?

Roach emphasized that there?s nothing Thurman can do that the eight-division champion can?t find solution to. ?He can do whatever he wants and Manny?ll be ready to do his.?

As the combatants started their preparations, Thurman was installed slightly favoured by oddsmakers. This was reversed, though, the moment stories of build up program started coming out of media outfits.

In a poll of 46 big boxing names by the fight's promoters, 24 picked Pacquiao for the win, with 19 opting for Thurman.



---
Recent PhilBoxing.com In-House articles: