Manny's last three fights

By Joaquin Henson
PhilBoxing.com
Fri, 12 Jul 2019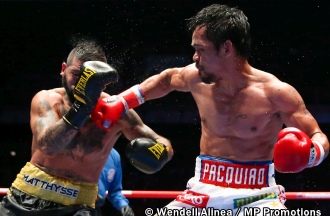 Pacquiao (R) connects with a right at Matthysse.

In a previous story, we reviewed Keith Thurman?s last three fights against Shawn Porter, Danny Garcia and Josesito Lopez in that order. Today, we?ll go over Manny Pacquiao?s last three bouts against Jeff Horn on July 2, 2017, Lucas Matthysse on July 15, 2018 and Adrien Broner last Jan. 19. While their recent history may not necessarily impact on how they?ll fight at the MGM Grand Garden Arena in Las Vegas on July 20, it could provide some indication.

The unbeaten Thurman hasn?t been impressive in his last three outings but for sure, he?ll be well-armed and ready for Pacquiao in their duel for the WBA welterweight unified championship. In contrast, Pacquiao was robbed of a decision in losing to Horn in Brisbane but was impeccable in trouncing Matthysse in Kuala Lumpur and Broner in Las Vegas.

Against Horn, Pacquiao went up against not only the Australian rough-houser but also referee Mark Nelson. Horn was never warned for butting, elbowing and leaving Pacquiao badly cut with his dirty tactics. Nelson tolerated Horn?s abuse, much to the delight of his Australian hosts. A crowd of 51,052 witnessed the ?Battle of Brisbane? in an open-air stadium and was treated to a brawl. Horn was physically bigger than Pacquiao and used his size advantage to outmuscle the Filipino in close quarters.

In the ninth round, Pacquiao poured it on and nearly toppled Horn. Nelson came close to calling a halt and before the start of the 10th, told Horn in his corner that unless the Australian put up a fight, he would stop it. Trainer Freddie Roach, meanwhile, asked Pacquiao to deliver another dominant round to seal the outcome. As it turned out, Horn stood his ground until the final bell and the judges took care of the rest. Of the 15 media outlets covering the fight, 12 scored it for Pacquiao. ESPN?s Dan Rafael and The Guardian both saw it 117-111 for Pacquiao. Compubox stats revealed that Pacquiao landed 182 of 573 punches thrown compared to Horn?s 92 of 625. But judges Waleska Roldan, Chris Flores and Ramon Cerdan all had it for Horn. Flores and Cerdan scored it 115-113 and Roldan, 117-111.

The fight turned out to be Top Rank CEO Bob Arum?s last affair with Pacquiao. It also marked the end of Argentine cutman Miguel Diaz? long association with Pacquiao in his corner. After the bout, Roach was sidelined for the Matthysse contest with Buboy Fernandez taking over as head coach. Roach returned to Pacquiao?s corner for Broner as Fernandez? second. Cutman Dave Martinez was brought in to replace Diaz.

Against Matthysse, Pacquiao was ruthless. He landed a left uppercut that dropped the Argentinian in the third, a right hook for the second knockdown in the fifth and another left uppercut for the third trip to the canvas to signal the end of the massacre in the seventh. Once Matthysse tasted Pacquiao?s power, he was never the same. Pacquiao relentlessly pursued his prey from the start and rained blows from all angles to wrest the WBA crown convincingly.

Judges Stanley Christodoulou, Derek Milham and Glenn Feldman gave Matthysse only one round in the lopsided contest. It was Pacquiao?s first win by stoppage since halting Miguel Cotto in 2009. ?Matthysse is a very tough opponent and I knocked him down,? said Pacquiao, quoted by Matt Christie in Boxing News. ?That?s a bonus from being focused and patient in the fight and working hard in training camp.?

Against Broner, Pacquiao was masterful. He put Broner on his heels early. In the seventh and ninth rounds, Pacquiao nearly dropped Broner who scampered for safety whenever danger beckoned. Broner postured and goaded but there was never a doubt who was the superior fighter. ?Pacquiao initiated the action when it needed to be initiated,? wrote Elliot Worsell in Boxing News. ?He let hands fly on a static target. And he got to beat up someone who even in the tiniest of cameos, might have reminded him of Floyd Mayweather. The Filipino legend, typically feverish in his approach, pulled all the right faces, rushed when it was time to rush and maintained his energy levels from round one to 12. For a man of 40, he looked surprisingly fast and fresh.?

The judges had no difficulty picking the winner. Dave Moretti scored it 117-111 while Feldman and Tim Cheatham saw it 116-112, all for Pacquiao.

So now the stage is set for Pacquiao?s duel with Thurman who?s 10 years younger. From his last three fights, the indicators are Pacquiao has difficulty engaging a bigger opponent in a phone booth, isn?t as effective staying in the pocket and trading up close, is still as quick as he was over a decade ago, remains a potent puncher, is hard to hit when moving in and out and has enough gas in his tank to sustain a blistering pace from start to finish. It?ll be a test for Pacquiao to face a more physically imposing foe who fancies himself as a cerebral tactician.


Click here to view a list of other articles written by Joaquin Henson.

---
Recent PhilBoxing.com In-House articles: