Remembering PH Boxing's Unsung Heroes: Part 4: Featuring Dommy Ursua

By Teodoro Medina Reynoso
PhilBoxing.com
Sat, 04 Apr 2020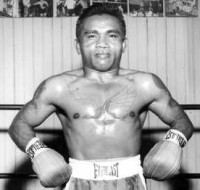 Dommy Ursua.

They never won world boxing championships, some even did not get the chance to fight for one. But during their prime, they were our pambato, our best bet in their respective divisions who carried with them our hopes for international glory in the square arena of professional boxing. They more than held our fort here in Asia but also served as the spearheads or the lead scouts for soon-to-come invasion by future Filipino boxing superstars of the global scene. They failed and fell but their gallant and magnificent fall only served to stoke further the passion of their countrymen for boxing and fortified the resolve of future Pinoy ring campaigners to do even better and eventually to succeed beyond our wildest dreams.

Theirs were the stories that personified the Filipino courage, determination and resilience in the face of great odds. Indeed, alas, many of them emerged at times when the reigning world champions ---like now legends Pascual Perez and Eder Joffre--- were seemingly invincible. And as they ventured away from native shores to establish themselves and hopefully, get a deserved crack at the world crown, they most often fell to that scourge called hometown decision. Complicating matters even further, at times they have to fight other top Pinoy campaigners to determine who was the better local bet. In time, they just fade away. To give way to the new generations of Pinoy boxers who will eventually complete what they failed to achieve at the height of their careers.

In this special series, I will try to relive and recapture the gallant saga of five Pinoy boxers – Tirso del Rosario, Dommy Ursua, Leo Espinosa, Johnny Jamito and Ric Magramo-who in my books, are our other boxing heroes, our unsung heroes.

DOMMY URSUA, PHILIPPINES TOY BULLDOG

For Dommy Ursua, once inside the square ring, it was either he beats you or you beat him trying.

There was no middle ground for this fighter who was not even five feel tall but proved to be a pesky little monster in the boxing's lightest weight classes that he terrorized in the 50s.

That warrior mindset was reflected in his record: 27 wins, 29 losses and just one draw in 57 total bouts from his pro debut in 1952 until his retirement in 1961.

No wonder, despite an almost consistently losing record, Dommy Ursua managed to get shots at the world flyweight and bantamweight titles against two of boxing's all time great champions, Pascual Perez of Argentina and Raton Macias of Mexico. To think that Ursua never even won a national crown at 112 and 118 lbs.

Ursua was born in Cordova, Cebu on New Years Day in 1936 which could probably explain his explosive and fiery behavior atop the ring.

He had his pro debut in Grace Park Gym in Caloocan City on December 17, 1952 with an 8 round draw against Cunning Andy, a fighter already on his sixth ring assignment and who had just upset Danny Kid in his last bout.

That would be his first and last drawn fight as the experience probably triggered something in his brain that told him to go all out, win or lose in his succeeding 56 bouts.

He won his next bout in the same venue seven days later or December 24, 1952, Christmas Eve, knocking out in four rounds Camilo Silva, a fighter with an even 2-2-2 record going into the bout.

But Ursua would lose his next three bouts, all on points between February and October 1953 including to Danny Kid and Tanny Campo, two of the leading flyweight fighters of the time.

Ursua would win three of four fights, including two by knockout the following year, 1954 losing only to the same Danny Kid.

That set him up for a crack at the Philippine flyweight title in June 1955 against the seasoned champion Tanny Campo which he lost on points. He saw action in five more fights that same year, managing a 3 wins 3 losses record, including a win over upcomer Leo Espinosa.

He would repeat over Zulueta at the start of 1956 which precipitated a busy eight fight assignment including five in the US West Coast where he won by knockout twice over Johhny Ortega and once over Nick Lopez while decisioning world rated Memo Diaz and just losing on points to Al Wincher.

The upset victory over Diaz coupled by a revenge kayo of Wincher and impressive stoppage of Jackie Spurgeon early 1957 merited Ursua a deserved world ranking and the attention of world bantamweight champion Raul Macias who agreed to stake his crown against the solid, stockily built Filipino on June 15, 1957 at the Cow Palace in San Francisco.

Spotting Macias by five inches in height advantage and as long in reach, Ursua surprised the Mexican and the crowd by dropping him in the first round. But soon, Macias size, skills, power and experience told on Ursua resulting to a late round stoppage in favor of the Mexican.

Ursua would lose his next two fights, once again to Danny Kid but finished the year with a 4-3 slate.

1958 saw him on a six fight swing that also took him to Thailand where he fought and lost to future world flyweight champion Pone Kingpetch, Japan where he won two bouts and back in Manila where he lost to Leo Espinosa in a bid for the Philippine bantamweight title and Al Asuncion by technical decision .

Surprisingly, despite such spotty record, world flyweight king Pascual Perez agreed to stake his crown against Ursua and in Manila still. Ursua gave his all but Perez showed why he was a long time undefeated champion in pounding out a 15 round unanimous decision at a jampacked crowd at the Rizal Memorial Colesium on December 15, 1958.

Ursua would continue to fight on for three more years, figuring in 18 matches here and various arenas abroad in 1959-60 where he would just win eight while losing ten including to Asuncion, Nacho Escalante twice and future Oriental featherweight champion and world title challenger Mitsunori Seki by knockout.

A three consecutive defeat ending in June 1961, including to upcomer Leo Zulueta, actually six straight from September 1960 convinced Ursua to hang up his gloves.

Tragically, Ursua who was boxing's version of Mr Excitement and Total Performer rolled into one, died in 2008 virtually a pauper.

But that does not detract from the fact that he was one of PH Boxing's unsung overachieving heroes.

The author Teodoro Medina Reynoso is a veteran boxing radio talk show host living in the Philippines. He can be reached at teddyreynoso@yahoo.com and by phone 09215309477.

Click here to view a list of other articles written by Teodoro Medina Reynoso.

---
Recent PhilBoxing.com In-House articles: