Remembering PH Boxing's Unsung Heroes: Part 3 - Featuring Johnny Jamito

By Teodoro Medina Reynoso
PhilBoxing.com
Wed, 01 Apr 2020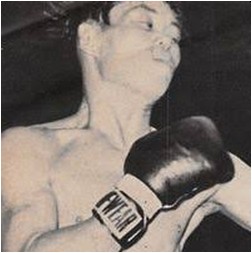 Johnny Jamito.

They never won world boxing championships, some even did not get the chance to fight for one. But during their prime, they were our pambato, our best bet in their respective divisions who carried with them our hopes for international glory in the square arena of professional boxing. They more than held our fort here in Asia but also served as the spearheads or the lead scouts for soon-to-come invasion by future Filipino boxing superstars of the global scene. They failed and fell but their gallant and magnificent fall only served to stoke further the passion of their countrymen for boxing and fortified the resolve of future Pinoy ring campaigners to do even better and eventually to succeed beyond our wildest dreams.

Theirs were the stories that personified the Filipino courage, determination and resilience in the face of great odds. Indeed, alas, many of them emerged at times when the reigning world champions ---like now legends Pascual Perez and Eder Joffre--- were seemingly invincible. And as they ventured away from native shores to establish themselves and hopefully, get a deserved crack at the world crown, they most often fell to that scourge called hometown decision. Complicating matters even further, at times they have to fight other top Pinoy campaigners to determine who was the better local bet. In time, they just fade away. To give way to the new generations of Pinoy boxers who will eventually complete what they failed to achieve at the height of their careers.

In this special series, I will try to relive and recapture the gallant saga of five Pinoy boxers – Tirso del Rosario, Dommy Ursua, Leo Espinosa, Johnny Jamito and Ric Magramo-who in my books, are our other boxing heroes, our unsung heroes.


JOHNNY JAMITO

Before Luisito Espinosa broke the jinx in the late 80s through the mid 90s, the bantamweight and the featherweight divisions had been the waterloo divisions for not a few Filipino ring campaigners.

Even the great Flash Elorde met failures when he campaigned in those two weight classes in the '50s only going as far as winning the Oriental belt at bantamweight while coming short in few attempts at the regional featherweight title. He managed to get a crack at the world featherweight crown after pulling an earlier non title upset versus Sandy Saddler but lost in the succeeding title fight.

In the '60s when Elorde had ascended to the world junior lightweight throne, another Filipino tried his luck at those divisions and went as far as fighting for the bantamweight crown and failing, managed to later getting ranked among the top featherweights for a time.

He was Francisco Jamito, better known as Johnny Jamito.

Born in Camarines Norte but grew up in Manila, Jamito started his pro boxing career as a highly promising bantamweight in June 1957. He will figure in 26 straight ring contests in the next four years where he would be undefeated with only a couple of draws marring his record.

In that stretch, he would face and defeat equally young and promising campaigners as Al Cantara twice, Young Cesar, James Hardman, Jr. twice and Marcing David and win the Philippine bantamweight title over the veteran Young Aquino.

He will taste his first pro loss in September 1961 when Marcing David wrested his national crown by decision at the Rizal Memorial Coliseum.

Unperturbed, Jamito will barnstorm the Japanese ring the following October and battled Kenji Konekura for his OPBF bantamweight title, losing on points. That same month, he faced future world flyweight champion Hiroyuki Ebihara and dropped another points decision.

Returning to the Philippines, he will go on an eight fight winning streak, gaining another tenure as Philippine champion at the expense of Marcel Juban. That put him in the world rankings and a shot against long reigning world bantamweight champion Eder Jofre of Brazil who even agreed to hold his title defense in Manila.

The fight was set May 18, 1963 at the Araneta Colesium with the then still undefeated Jofre making his fifth title defense. Jofre was two pounds overweight at weigh in but the Jamito camp agreed to proceed with the fight.

Jamito was in high spirits fighting before his countrymen and he was gamely trading with Jofre in the earlier rounds. But soon, the skills, power and experience of Jofre told on him and trailing behind widely on points, Jamito was forced to retire in his corner by the 11th round.

There was no shame in losing to Jofre who would suffer his only two losses to the legendary Fighting Harada and even come back to win another world title at featherweight against Vicente Saldivar.

Jamito also soon outgrew the bantamweight and started to campaign at featherweight.

He will chalk up four straight wins including against future world junior lightweight champion Hiroshi Kobayashi, Francisco Balug and Sugar Cane Carreon between October 1963 and March 1964.

That set him up against OPBF featherweight champion Mitsunori Seki in a title fight in Japan but he will lose narrowly on points.

Due to his creditable performance, Jamito was included in the world rankings in the featherweights and that would set him up for more overseas assignments that included fights in Venezuela twice against Pedro Gomez and, Freddie Rengifo, both WBA favored local fighters, Mexico and mostly in Japan where he would suffer most of his late career defeats, mostly on points.

He would have his last go at the OPBF title but again Mitsunori Seki would frustrate his bid in Japan.

He will not have another chance to fight for world title despite his status as rated fighter until his decline and retirement in 1971.

For a while in the 60s, Jamito held the Filipino fort in the bantamweight and featherweight divisions paving the way for the future successful onslaughts of Louie Espinosa, Gerry Penslosa, Manny Pacquiao and Nonito Donaire.

Hence Johnny Jamito was among our past, unsung boxing heroes.

The author Teodoro Medina Reynoso is a veteran boxing radio talk show host living in the Philippines. He can be reached at teddyreynoso@yahoo.com and by phone 09215309477.


Click here to view a list of other articles written by Teodoro Medina Reynoso.

---
Recent PhilBoxing.com In-House articles: