April or July for Manny

By Joaquin Henson
PhilBoxing.com
Thu, 30 Jan 2020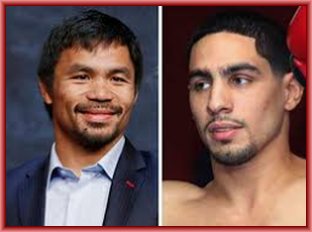 There's a lot of speculation as to when super WBA welterweight champion Sen. Manny Pacquiao and undefeated Floyd Mayweather, Jr. will fight again. Not against each other. Not yet. The scuttlebutt is both will take on separate opponents before the middle of the year then if they impress, their much-awaited rematch could happen in November.

Danny Garcia looms as the leading candidate in the Pacquiao sweepstakes. Last weekend, he cemented his status as a worthy challenger by dominating Ukraine's Ivan Redkach to score a unanimous 12-round decision in Brooklyn. There's another Garcia, Mikey, who's an option but he's got to prove himself against Jessie Vargas in Frisco, Texas, on Feb. 29.

Danny, however, is a more logical choice than Mikey. Danny is in Art Haymon's Premier Boxing Champions stable and Pacquiao is with the same team. Mikey has a contract with Eddie Hearn's Matchroom Boxing and fights exclusively on DAZN. Negotiating a Danny fight for Pacquiao would be easier than a Mikey deal.

Pacquiao couldn't care less whom he fights. He's never ducked anyone in his lengthy career and he's not about to duck anyone now. The US calendar for boxing is booked solid until July so Pacquiao won't get a date until then.

If Pacquiao wants to fight earlier than July, he may consider a venue outside of the US. He recently said his target is to return to the ring in April. The Middle East is knocking on his door and willing to roll out the red carpet to host a Pacquiao fight whenever he wants. Qatar and Saudi Arabia seem to be keenly interested in welcoming Pacquiao for a fight. If it's Qatar, the opponent may be Englishman Amir Khan who is of Pakistani descent. If it's Saudi Arabia, it could be Danny Garcia or Khan. Last July, Khan fought in Jeddah and halted Australia's Billy Dib in the fourth round so it's not like Saudi Arabia is a stranger to the 2004 Olympic lightweight silver medalist. Whether it's Qatar or Saudi Arabia or another Middle East country, the protocol is money down----in full and in escrow----before an agreement is sealed.

January is almost gone and there's still nothing confirmed on Pacquiao's plate. He'll need at least two months to prepare for his next fight so if it's in April, training camp has to open by the middle of February. If it's July, there will be more time to get ready.

Interest in Pacquiao remains high in the boxing world because of his amazing performance in defeating Keith Thurman in Las Vegas last July. Pacquiao, 41, is still a huge crowd favorite wherever he fights, no matter his opponent.

Mayweather, who turns 43 on Feb. 24, recently announced that he's making a comeback this year. It came as no surprise. He's un-retired twice before. Mayweather's a smart guy. He knows that with Pacquiao's popularity at a high, a rematch will be a big money maker. Mayweather won't turn away from earning what he calls "easy money."

Mayweather has aligned himself with UFC head Dana White and from all indications, he'll return to fight an MMA star before striking a deal with Pacquiao. It could be Conor McGregor in a rematch. McGregor is a hype artist and a safe opponent so he's right down Mayweather's alley. If Mayweather plans to fight Pacquiao late this year, he should make his comeback by July at the latest. Finding an opponent shouldn't be difficult with White on Mayweather's side.

If things fall into place, Pacquiao and Mayweather could do a repeat of their 2015 blockbuster before the year ends. The rematch may not generate the high numbers the first edition registered but even if the pay-per-view buys come out half of what they were before, the money would still be substantial. The first fight did 4.6 million pay-per-view subscriptions and a revenue of over $400 million. If the rematch hits 2.3 million and rings in at least $200 million, it'll be a major success just the same. Fans will pay good money to witness a rematch, particularly with Pacquiao healthy. Mayweather's untainted record will be at stake and whether or not Pacquiao is able to blemish it is what will make the rematch a box office attraction.


Click here to view a list of other articles written by Joaquin Henson.

---
Recent PhilBoxing.com In-House articles: