The Past Week in Action 12 November 2019

By Eric Armit
PhilBoxing.com
Wed, 13 Nov 2019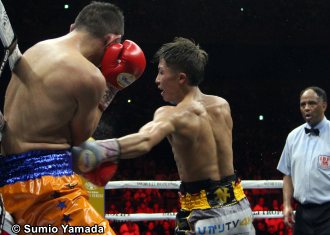 Highlights:
-Naoya Inoue unifies the IBF and WBA bantamweight titles and wins the Ali Trophy with unanimous decision over Nonito Donaire in a true classic
-Nourdine Oubaali retains the WBC bantam title with wide unanimous verdict over Naoya?s brother Takuma Inoue
-Jamal Herring takes unanimous decision over Lamont Roach in WBC super feather title defence
-Billy Joe Saunders wins on late stoppage against Marcelo Coceres Argentinian in WBO title defence in a disappointing fight
-Devin Haney outpoints Alfredo Santiago in WBC light title defence
-Kubrat Pulev keeps his hopes of a title fight alive with decision over Kubrat Pulev
- Ronny Rios, Amir Imam, Esquiva Falcao and Janibek Alimkhanuly score inside the distance wins and former WBC light champion Dejan Zlaticanin returns with a victory.

WORLD TITLE SHOWS

November 7

Saitama, Japan: Bantam: Naoya Inoue (19-0) W PTS 12 Nonito Donaire (40-6). Bantam: Nourdine Oubaali (17-0) W PTS 12 Takuma Inoue (13-1).
Inoue vs. Donaire
In a dramatic, high quality Fight of the Year? candidate Inoue wins the Ali Trophy and unifies the IBF and WBA titles with a unanimous points victory over veteran Donaire despite suffering a fractured eye socket during the fight..
Round 1
After some initial probing Inoue cut loose beating Donaire to the punch with a left hooks and then firing a short burst of punches. Donaire pierced Inoue?s guard with a left to the body late in the round but Inoue responded with some quick jabs.
Score: 10-9 Inoue
Round 2
The pace was quick and both fighters were letting their hands go. Inoue landed good shots early in the round staggering Donaire with a left hook. Donaire countered and then went on the front foot and scored with a cracking left hook as he finished the round strongly. Inoue was cut over his right eye.
Score: 10-9 Donaire TIED 19-19
Round 3
Donaire pressed throughout the round but Inoue boxed brilliantly on the back foot. He was threading jabs through the guard of Donaire and then stepping in with quick hooks and getting out before Donaire could counter.
Score: 10-9 Inoue Inoue 29-28
Round 4
Inoue took this one. His hand speed and fast footwork saw him spearing Donaire with sharp jabs and getting off some hooks and uppercuts. They both connected with heavy rights and Donaire tried to up the pace late but again Inoue was finding gaps for his jabs. Donaire was showing a growing bruise under his left eye.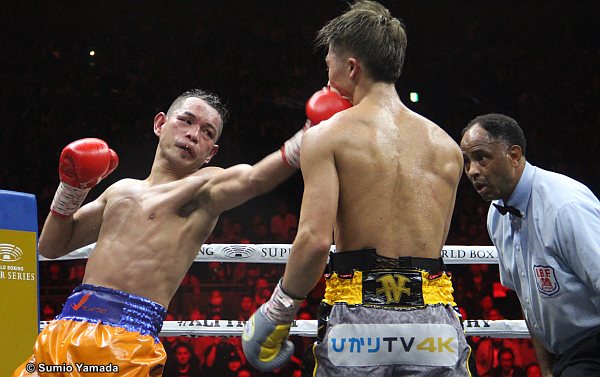 Score 10-9 Inoue Inoue 39-37
Official Scores: Judge Lou Boscarelli 39-37 Inoue, Judge Robert Hoyle 38-38, Judge Octavio Rodriguez 40-36Inoue
Round 5
A big round for Inoue. He outboxed Donaire early stabbing home jabs and quick rights with his movement frustrating Donaire?s efforts to counter. Late in the round Inoue shook Donaire with a right to the head and then with a cracking left hook and battered the Filipino to the ropes and was unloading heavy punches at the bell.
Score: 10-9 Inoue Inoue 49-46
Round 6
A close round. Inoue was in counter-puncher mode which allowed Donaire to get on the front foot and score with his own jab. Both landed hard rights and later simultaneous left hooks. Donaire worked hard throughout the round and just edged it
Score: 10-9 Donaire Inoue 58-56
Round 7
Donaire connected with a good right early and was getting his punches off first scoring with some sharp one-twos to the head of Inoue. It looked as though Donaire might take this one but Inoue picked up the pace piercing Donaire?s guard with jabs and landing clubbing rights and Donaire had a swelling under his right eye
Score: 10-9 Inoue Inoue 68-65
Round 8
Inoue got through with some jabs and then landed a hard right. Donaire banged straight back with a right of his own which had Inoue retreating. Donaire continued to score with his jab and rights. Inoue threw a blazing combination but then Donaire began to connect with left hooks and rights to the head. Donaire continued to find the target and Inoue was going back and bleeding heavily from his nose. A great round for Donaire just when he needed one.
Score: 10-9 Donaire Inoue 77-75
Official Scores: Boscarelli 77-75 Inoue, Hoyle 77-75 Donaire, Rodriguez 78-73 Inoue (Rodriguez scored the 5th 10-8 for Inoue).
Round 9
Inoue made a confident start in this one firing quick jabs and finding the target with rights. Donaire kept coming forward and pressing a big right to the head staggered Inoue who dipped at the knees and was in deep trouble. Inoue went on the run but Donaire connected with a thudding right. Inoue responded by urging Donaire to bring it on but really he was just staying on the retreat giving himself some recovery time.
Score: 10-9 Donaire Inoue 86-85
Round 10
This was a great little fight and Donaire was right back in it. Inoue showed his quality as he upped his pace slamming jabs into Donaire?s face and connecting with sneak rights. Donaire fought his way back into the round with some hard jabs but late in the round Inoue unleashed a storm of punches rocking Donaire?s head from side to side.
Score: 10-9 Inoue Inoue 96-94
Round 11
Inoue was brutal at the start of this round connecting with a series of right crosses to Donaire?s head. Donaire tried to stem the onslaught with his jab but Inoue landed a rib-wrecking left hook to the body. Donaire turned away from the action and actually trotted around the ring before dropping to his hands and knees. It looked as though Donaire was not going to get up and Inoue had already started to turn away in celebration when Donaire made it to his feet at-let?s say 9 ? -and the round was only half over. Inoue tried hard to finish it and he dealt out plenty of punishment but Donaire used experience gained in 17 world title fights and a large measure of courage to make it to the bell.
Score: 10-8 Inoue Inoue 106-102
Round 12
Inoue laid some heavy punishment on Donaire in the last. He was scoring with flashing four and five punch combinations. Donaire fought to the end trying to plough forward and find a fight-saving punch but in the end did well to be there at the final bell.
Score: 10-9 Inoue Inoue 116-111
Official Scores: Boscarelli 116-111 Inoue, Hoyle 114-113 Inoue, Rodriguez 117-109 Inoue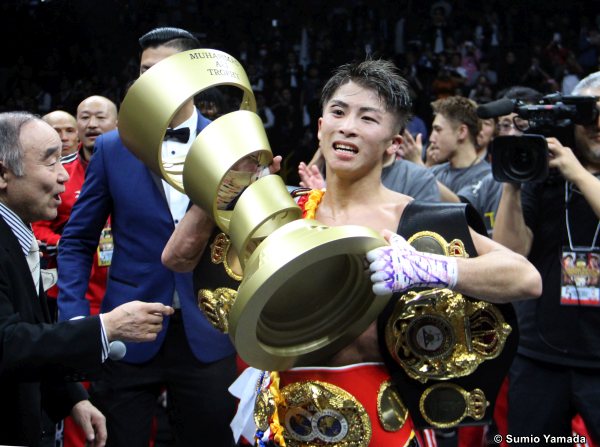 I found one score (117-109) a little hash on Donaire but if it had not been for the 10-8 eleventh round Judge Hoyle would have had Donaire winning the fight which I can?t agree on. Irrespective of that this was a great little fight between youth and experience and along with the Josh Taylor vs. Regis Prograis it shows the value to boxing of the WBSS tournaments. Inoue is still only 26 and has the speed, ability and power to become a four division champion. It seemed as though Donaire was a spent force after losses to Jessie Magdaleno and Carl Frampton but if there was some luck for him in having the easier path to the final he showed here that he deserved to be there and fought like the champion that he is. Over an eleven years career he has won eight version of world titles in four divisions from flyweight to featherweight and they have all been full titles-no secondary, no interims a remarkable feat.
Oubaali vs. Inoue
Oubaali proves too clever and too experienced and floors and outpoints Inoue, the younger brother of Naoya, to retain the WBC title and prevent a double for the Inoue family.
Round 1
Both fighters were buzzing around at the start pushing out quick jabs but mostly coming up short. Inoue connected with a nice one-two but Oubaali landed a couple more punches jabbing to the body and following with southpaw lefts. Inoue worked well and accurately with his jab and did enough to take the round
Score: 10-9 Inoue
Round 2
Oubaali was starting to find the target with straight rights. As Oubaali moved inside Inoue landed a left to the body and an off balance Oubaali stumbled back and put his right glove on the canvas to steady himself but was not given a count. Inoue used a quick jab and straight rights to score but Oubaali?s early work gave him the round.
Score: 10-9 Oubaali TIED 19-19
Round 3
After some early sparring Oubaali began to get through with straight rights and left hooks. He sent Inoue stumbling back with a strong jab before snapping Inoue?s head back with an uppercut. They traded punches with Oubaali connecting with southpaw lefts and Inoue with straight rights with Oubaali?s early work taking the round
Score: 10-9 Oubaali Oubaali 29-28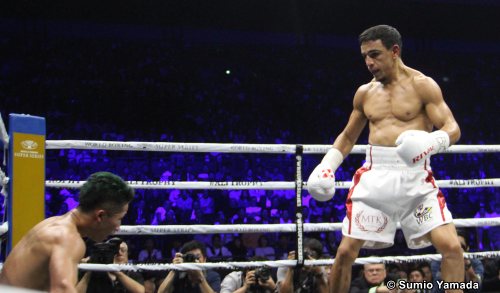 Round 4
Their styles were not mixing too well and for much of the round although plenty of punches were thrown very few landed. Oubaali ended that when with 45 seconds remaining in the round. When Inoue missed with a right Oubaali stepped in and caught Inoue with a perfect left cross that dumped Inoue on his backside up against the ropes. He was up at six and frustrated Oubaali?s attempts to land anything of consequence by circling the perimeter of the ring at high speed.
Score: 10-8 Oubaali Oubaali 39-36
Official Scores: Judge Jun Bae Lim 38-37 Oubaali, Judge Alejandro Rochin 39-36 Oubaali, Judge David Sutherland 40-35 Oubaali
Round 5
Oubaali was forcing too hard in this round and as a result Inoue was catching him with right counters. Oubaali landed a few punches when he pinned Inoue to the ropes but Inoue worked his way off the ropes and was again effective with his jab. Late in the round Oubaali pinned Inoue to the ropes again and let fly with punches. He left himself open and a huge left hook from Inoue straightened Oubaali?s legs but Oubaali quickly recovered.
Score: 10-9 Inoue Oubaali 48-46
Round 6
A closer round with more misses than hits from both fighters. Inoue was effective with his jab and right crosses but Oubaali found the target with enough straight lefts to take the points.
Score: 10-9 Oubaali Oubaali 58-55
Round 7
Another round that could have been scored to either fighter. The pace was fast but the exchanges were brief so plenty of interest but little excitement. This time the clever boxing, accurate jabbing and right counters saw Inoue take it.
Score: 10-9 Inoue Oubaali 67-65
Round 8
Both fighters have excellent technical skills but the separator in this round was Oubaali throwing combination whilst Inoue was a one punch at a time merchant. Oubaali rocked Inoue with a big left cross and although Inoue landed a heavy right of his own Oubaali was again on target with his left before the bell.
Score: 10-9 Oubaali Oubaali 77-74
Official Scores: Lim 77-74 Oubaali, Riochin 79-72 Oubaali, Sutherland 80-71 Oubaali.
Round 9
Oubaali?s round. Again he was throwing plenty of short punches as he drove forward. He was getting past Inoue?s jab and although some of his punches were short or blocked he was first to the punch as Inoue was waiting too long to let his own go. There was a recklessness about Inoue?s attacks as he must have know he was behind in the scores
Score:10-9 Oubaali Oubaali 87-83
Round 10:
Not much between them in this round. Inoue was fired up but he had trouble hunting Oubaali down. Oubaali moved, countered and jumped in with quick attacks and on the occasions when they did stand and trade a few punches Oubaali?s lefts came out on top.
Score: 10-9 Oubaali Oubaali 97-92
Round 11
Same scenario here. Inoue was forced to try to take the fight too Oubaali but just could not pin Oubaali down long enough to be effective. Oubaali continued to throw plenty of hooks and enough pierced Inoue?s guard to make it the champion?s round-just.
Score: 10-9 Oubaali Oubaali 107-101
Round 12
Inoue attacked wildly in the last. He was charging forward slinging wild punches and walking onto counter after counter from Oubaali as the champion easily took the round.
Score: 10-9 Oubaali Oubaali 117-110
Official Scores: Lim 115-112 Oubaali, Rochin 120-107 Oubaali, Sutherland 117-110 Oubaali.
Second defence of the WBC belt by the 33year-old former French double Olympian. After defences in Kazakhstan and Japan he must be hoping for a home defence next-or a triple title unifier against Naoya Inoue or a two title unifier against the winner of Zolani Tete vs. John Riel Casimero but the WBC will probably push him to defend against his mandatory challenger Luis Nery. Loser Inoue gave it his best but he just lacked both the experience and the class to win this one. He is only 23 and will have plenty of money behind him so could land another title shot next year but his weaknesses were exposed here.

November 9

Fresno, CA, USA: Super Feather: Jamal Herring (21-2) W PTS 12 Lamont Roach (19-1-1). Heavy: Kubrat Pulev (28-1) W PTS 10 Rydell Booker (26-3). Middle: Janibek Alimkhanuly (8-0) W TKO 6 Albert Onolunose (24-3-1). Middle: Esquiva Falcao (25-0) W TKO 3 Manny Woods (16-9-1). Welter: Amir Imam (22-2) W TKO 4 Marcos Mojica (16-5-2). Light: Gabriel Flores Jr (18-0) W PTS 8 Aelio Mesquita (19-5). Feather: Robeisy Ramirez (1-1) W KO 6 Fernando Ibarra (2-2).
Herring vs. Roach
Herring retains the WBO title with a unanimous decision over a disappointing Roach who starts slowly and never really catches up as Herring effectively controls the fight with his jab.
Round 1
Dominant first round from Herring. He had height and reach over Roach and was spearing Roach with right jabs. He was following in with lefts to the body and bossing things from the centre of the ring. Roach landed a couple of hooks inside but that was all.
Score: 10-9 Herring
Round 2
A closer round but still Herring?s. Roach decided to box on the back foot and try to draw Herring in. Herring was again finding gaps for his jab and throwing more and landing more. Roach fired some short bursts of punches but mostly came up short.
Score: 10-9 Herring Herring 20-18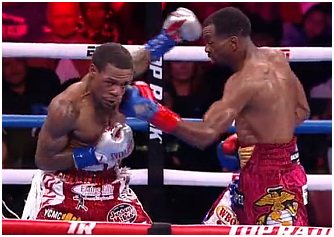 Round 3
Herring continued to boss the fight. He took control of the ring centre and just kept connect with right jabs and long lefts to the body. Roach was waiting and waiting and threw very few punches. Herring was in his comfort zone on the outside and Roach never threatened to change that.
Score: 10-9 Herring Herring 30-27
Round 4
No real change here. With his strong jab and plenty of movement Herring was outboxing Roach who just could not get close and when he did Herring was quicker to the punch and then moved to distance and went back to the jab again. Roach just did not seem to have a game plan for dealing with Herring?s jab.
Score: 10-9 Herring Herring 40-36
Round 5
Roach did better in this round. He pressed his attacks more and connected with some hooks when he got inside. He was only fighting in bursts whereas Herring was ramming home the jab and landing lefts to the body and just did enough to take the round.
Score: 10-9 Herring Herring 50-45
Round 6
Herring upped his pace at the start of this one. He was getting through with lefts and then raked Roach with a cluster of punches. Roach managed to get inside a couple of times but was largely ineffective and Herring was doing most of the scoring including a right hook which shook Roach and was the best punch landed so far in a disappointing fight.
Score: 10-9 Herring Herring 60-54
Round 7
Finally a round for Roach. He was coming forward with more purpose and getting past Herring?s jab to score inside. Herring?s work rate dropped and he was not as accurate with his jabs and he looked a lot less composed under the pressure.
Score: 10-9 Roach Herring 69-64
Round 8
Herring was on the front foot at the start of this round jabbing well and firing lefts to the body. Roach picked up his pace and was taking an extra step forward getting in range where he was able to score with right hooks. Herring did a bit more than he had in the seventh and Roach a bit less but Roach just had the edge.
Score: 10-9 Roach Herring 78-74
Round 9
Herring took charge of the round. Instead of standing outside he moved forward putting Roach under pressure and was the one landing with hooks. The change of tactics threw Roach and Herring continued to get the better of the exchanges with lefts inside and he made Roach stumble with a right to the head.
Score: 10-9 Herring Herring 88-83
Round 10
Another round for Herring. He was back to the jab and Roach was stuck on the end of it. He needed to get inside where his hooks would work for him but he did not force the fight enough and Herring was able to score on the outside and smother Roach's work inside.
Score: 10-9 Herring Herring 98-92
Round 11
Although all he had to do was box his way through the last two rounds Herring started out standing and trading and was caught by a big left hook to the head. Herring steadied himself and went back to his boxing. Just before the bell Roach clipped Herring with a right to the side of the head and suddenly Herrings legs turned to spaghetti. Roach threw punches trying desperately to capitalise on that but the bell came before he could do more damage. If that punch had landed two minutes earlier Herring would have been in deep water.
Score: 10-9 Roach Herring 107-102
Round 12
In the last. Roach was lunging forward trying to find the punch that had shaken Herring in the eleventh but was too wild and Herring picked him off with jabs and did the cleaner work.
Score: 10-9 Herring Herring 117-111
Official Scores: Judge Rey Danseco 117-111, Judge Max DeLuca 115-113, Judge Gary Ritter 117-111 all for Herring.
The 34-year-old former Marine won the title with a wide points victory over Masayuki Ito in May in a career that seemed to be going nowhere but has been revitalised with Top Rank. Oscar Valdez is his mandatory challenger and that will be a much harder fight. Roach, 24, is a better fighter than he looked here and he seemed to freeze over the early rounds. He has time to recoup and try again.
Pulev vs. Booker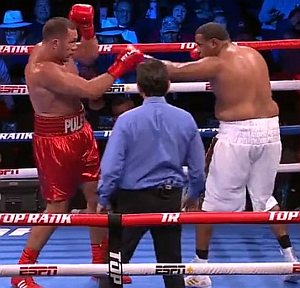 Pulev outpoints Booker in a pedestrian performance and does nothing to advance his hopes of a world title fight. Although carrying 48lbs more than he did when he first turned pro Booker has some skill and he did enough to take the first round. Pulev did better in the second and third jarring Booker with jabs and scoring with a few long right crosses and starting a swelling under the right eye of Booker. Booker is vastly overweight and most of the surplus is around his waist but Pulev ignored that target and just kept head hunting. The best punch in the third round was a right to the chin from Booker. The pace was slow but even that was too fast for Booker and his work rate dropped as the fight went on. Pulev was able to land heavy jabs on a static target and Booker was often content to lie against the ropes behind a high guard and let Pulev try to find gaps. A big right cross had Booker hurt at the end of the sixth. Pulev was able to tee-off against a passive Booker in the seventh and eighth but Booker took the punishment without really looking to be in any trouble and just threw enough punches to convince the referee to let the fight continue. Pulev landed a series of straight right in the ninth with Booker only looking to survive. Booker was a little livelier at the start of the tenth but then went back into his shell as Pulev piled on the punches to the bell. Scores 98-92 twice and 99-91 for Pulev. The 38-year-old Bulgarian, the IBF No 1, is big, strong and limited. If he stays unbeaten then the IBF will probably insist that the winner of the Andy Ruiz vs. Anthony Joshua fight Pulev or be stripped so he could land a title fight in the first half of 2020 but time is running out for him. Booker, 38. Has stayed busy since returning to the ring in 2018 after almost 14 years in prison and he looks destined to just be an evening?s work for better heavyweights.
Alimkhanuly vs. Onolunose
Kazak southpaw Alimkhanuly has an easy night against Onolunose who looked every one of his 39 years in a hapless performance. In a slow start the much taller Alimkhanuly was able to work at distance with his southpaw jab and Onolunose had to reach with his punches and Alimkhanuly was countering him when he did. Alimkhanuly picked up the pace in the third circling a static Onolunose spearing him with right jabs and landing right hooks and occasionally putting together accurate combinations. Alimkhanuly was buzzing around the painfully slow Onolunose in the fourth picking his spots as the Nigerian-born Canadian plodded forward behind a high guard rarely throwing a punch. It was exhibition stuff from Alimkhanuly in the fifth as he constantly circled Onolunose prodding him with jabs and banging home body punches. Onolunose was dire. He was so slow and looked frightened to throw a punch in case he opened himself up to counters. Alimkhanuly ended it in the sixth. He had Onolunose backing off with a hook to the body and followed Onolunose to the ropes and proceeded to drive Onolunose around the ring until Onolunose dropped to one knee. He got up at eight-reluctantly-and as Alimkhanuly was again unloading on the retreating Onolunose the referee stopped the fight. Alimkhanuly was making the second defence of the WBC Continental Americas title and collects the WBO Global belt. Onolunose was a reasonable looking 6-1-1 in his last 8 fights but really should think of walking away.
Falcao vs. Woods
No danger to Falcao?s world rating in this one as he pounds Woods to defeat in three rounds. Falcao was aiming to get this one over quickly. He came out firing and rocked Woods early with hooks. Woods hit back occasionally but when he did he was opening himself up to more punishment and was pinned to the ropes under pressure for the last minute of the opening round. The Brazilian southpaw worked a more measured rate in the second but it was still one-way traffic and he bombarded Woods with hooks and rocked him consistently with left uppercuts. Woods tried to stay off the ropes in the third but it made no difference to the punishment he was taking. A left to the body hurt Woods badly and he backed to the ropes and almost went down. The referee had seen enough and stopped the fight. The World and Olympic silver medallist is rated WBC 6, IBF 7(5) and WBO 15 and has a useful 17 wins by KO/TKO. He lost to Ryota Murata in both the Worlds and Olympics and a shot at the WBA secondary title held by Murata seems Falcao?s best chance of a world title fight at this stage. Floridian Woods in way over his head as he suffers his fifth loss in his last six fights,
Imam vs. Mojica
?Young Master? Imam eases his way back into action with a stoppage of Mojica. It was obvious in the first that Imam was much too quick for the limited Nicaraguan. He was using his longer reach and superior hand speed to shoot jabs through Mojica?s guard, doubling and tripling them and he ended the round with a vicious left hook to the body. Mojica landed a few jabs of his own at the start of the second but for most of the round he was eating jabs from Imam. It looked as though Imam was happy to get in some ring time in the third as he stuck to the jab. Mojica was able to come forward and connect with some hooks but Imam closed the round with some crisp combinations. In the fourth as Imam missed with a lazy right he came back with a left hook to the body and Mojica dropped to one knee in some pain. He was up at seven and when the action resumed Imam forced him to a corner and as Mojica slid down to the canvas the referee stopped the fight. First fight for Imam since losing on points against Juan Carols Ramirez for the vacant WBC super light title in March 2018. A long dispute over his contract has kept him out of the ring but now he will be aiming for another title shot once he gets a few fights under his belt. Third too tough assignment in a row for Mojica with losses to unbeaten prospects Daniyar Yeleussinov and Gary Antuanne Russell before this one to Imam.
Flores vs. Mesquita
Exciting prospect Flores gets eight rounds of useful work from Brazilian Mesquita. In the first Flores was using his long reach to both pierce Mesquita?s guard and open him up for right crosses. In the second Flores continued to come forward behind his jab and connected with a series of punishing left hooks at the end of the round. He rattled Mesquita with combinations in the third but after he landed a hard right Mesquita just poked his tongue out and fired back. Mesquita was much more aggressive in the fourth and although still having to eat jabs and straight rights he landed some hooks of his own and threw in some showboating. Flores was on target again with jabs and rights in the fifth and sixth but again Mesquita was fighting back in short bursts. Flores came on strong over the last two rounds but Mesquita whilst never looking like winning a round stayed competitive to the end. Scores 80-72 for Flores on the three cards. The 19-year-old from Stockton is developing well and there is no reason to rush him. Mesquita has been beaten inside the distance four times but all in fights where he was matched tough and expected to lose.
Ramirez vs. Ibarra
Former Cuban amateur star Ramirez gets his first pro win at the second attempt. After his shock loss to Adan Gonzalez no chances were taken here. Ramirez was several levels better than novice Ibarra on skill and Ibarra was a no-power puncher. That allowed Ramirez to display his considerable talent. He boxed, traded and showboated often toying with Ibarra. After five one-sided rounds Ramirez landed a hard body punch that had Ibarra backing away. Ramirez took him to a corner and landed a series of punches with another body punch putting Ibarra down with the fight being stopped immediately. The 25-year-old two-time Olympic champion is on track and now needs to prove that the Gonzalez loss was just a bump on his road to fame as a pro. Ibarra, 19 did better than expected by going into the sixth round so did his job.

Los Angeles, CA, USA: Super Middle: Billy Joe Saunders (29-0) W KO 11 Marcelo Coceres (28-1-1). Light: Devin Haney (24-0) W PTS 12 Alfredo Santiago (12-1). Super Bantam: Ronny Rios (32-3) W TKO 4 Hugo Berrio (28-7-1,1ND).
Saunders vs. Coceres
Saunders conjures up a stoppage victory but can?t really avoid the fact that this was a disappointing performance against a modest if awkward challenger.
Round 1
A cautious round from both boxers. Saunders was quicker with his right jab and landed a good left early Coceres circled the perimeter of the ring countering with a few left hooks. Saunders ended the round on the attack and they traded punches with Saunders doing enough to take the round.
Score: 10-9 Saunders
Round 2
Too much posing by both boxers at the start of the round but then the action warmed up. Saunders was again on target with his jabs. Coceres was stepping in firing short bursts of light hooks but Saunders was blocking many and was more accurate with his punches.
Score: 10-9 Saunders Saunders 20-18
Round 3
Coceres tried some rushing attacks but good footwork and clever upper body movement from Saunders meant nothing got through. Saunders was quicker with the jab and landed some sneaky lefts and in a round in which neither fighter had much success that was enough to give him the round.
Score: 10-9 Saunders Saunders 30-27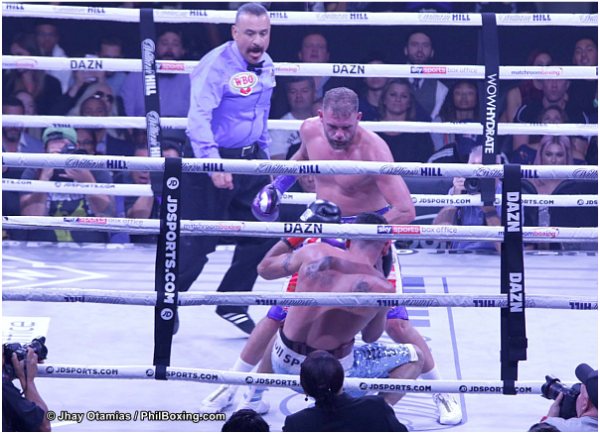 Round 4
Greater accuracy and better defensive work gave Saunders this round. His jab was too quick for Coceres and when Coceres marched forward pumping out short punches Saunders was blocking or dodging them. Saunders landed low and the referee sent Coceres to a corner for some recovery time. Saunders followed them and launched a punch before the referee had signalled for the action to continue and he was give a stern warning.
Score: 10-9 Saunders Saunders 40-36
Official Scores: Judge Patricia Morse Jarman 38-38, Judge Lou Moret 40-36 Saunders, Judge Robin Taylor 39-37 Saunders.
Round 5
A round for Coceres. He was connecting with lead rights and Saunders just could not get on target with his jab. Saunders countered well with hooks when against the ropes but Coceres continued to score with his rights.
Score 10-9 Coceres Saunders 49-46:
Round 6
Another round to Coceres. Both fighters were spending too much time trying to out-feint each other and not punching. Coceres again had success with lead rights and pinned Saunders to the ropes and connected with some body punches. Saunders seemed to be having trouble working out his tactics against someone who was using his own tactics on him.
Score: 10-9 Coceres Saunders 58-56
Round 7
Saunders just edged a close one. Neither fighter did a lot of useful work in a round and a fight that was lacking in entertainment. Saunders was more accurate with his jab. Coceres threw more punches but missed with more punches and Saunders finished the round strongly.
Score: 10-9 Saunders Saunders 68-65
Round 8
Coceres round. He was getting through with his rights. He was either leading with the right or drawing the jab and then countering. Saunders was showing some fancy footwork but throwing too few punches and Coceres was outworking him.
Score: 10-9 Coceres Saunders 77-75
Official Scores Jarman 77-75 Coceres, Moret 78-74 Saunders, Taylor 77-75 Saunders
Round 9
Neither fighter did a great deal in this round. Saunders used his jab a bit more and Coceres attacked a little less. Saunders scored with some hooks late in the round and that was enough to give him the edge.
Score: 10-9 Saunders Saunders 87-84
Round 10
This one swung back to Coceres. Saunders went away from his jab and traded hooks with Coceres which favoured the challenger. He was connecting with rights and ended the round with a flourish of hooks.
Score: 10-9 Coceres Saunders 96-94
Round 11
As they traded punches early in the eleventh Saunders landed with a right to the side of the head and then a left to the head. Coceres dropped to his hands and knees. He stood up but then took a couple of steps and went down on his hands and knees again. The referee continued the count from when Coceres had first gone down and Coceres was up at eight. Coceres tried to punch his way out of trouble and as they both swung wildly a left hook put Coceres down again. He beat the count but when he was floored by another left the referee waived the fight over. Saunders was making the first defence of his WBO title and had a faint hope that an impressive performance might just impel him into a huge fight with Saul Alvarez. It is questionable whether Alvarez would want to take a match with Saunders because of the Brits style but after this showing it would be an impossible sell. It is difficult to get enthusiastic over Saunders vs. his mandatory challenger Erik Bazinyan and a fight with WBC champion Callum Smith looks unlikely so it is hard to see where Saunders goes from here. Coceres did much better than expected but I feel this performance flattered him and he will struggle against any of the top super middles.
Haney vs. Santiago
Haney has no trouble holding on to a version of the WBC title (Vasyl Lomachenko is the real champion for me despite the ?franchise? rubbish) as he outboxes a modest Santiago who falls away after a competitive start.
Round 1
Santiago had edges in height and reach and tried to find the target early with his jab. Haney had no trouble dodging or blocking the jabs and jumped in quickly to land with hooks, Santiago connected with a right late but Haney made him pay with rapid jabs and a series of rights.
Score: 10-9 Haney
Round 2
Both fighters were short with their punches in the second until Santiago scored with a lunging right to the head. Haney showed some smart defensive work and some aggression late but Santiago did good work with his jab and did enough to earn the round.
Score: 10-9 Santiago Haney 20-18
Round 3
Haney was having trouble dealing with the longer reach of Santiago and was caught with a long right. Haney had more success when he put together some combinations. He was just doing enough to edge the round but it was close and it was Haney?s defensive work rather that his punches that saw him take this round.
Score: 10-9 Haney Haney 29--28
Round 4
Santiago switched to southpaw in this round and now his right jab was getting though with Haney looking crude with some head down rushes trying to get inside. Santiago continued to score with his jab and landed a couple of rights. Haney tried to get inside but Santiago was tying him up and for me did enough to take the round.
Score: 10-9 Santiago TIED 38-38
Official Scores: Judge Karen Holderfield 40-36 Haney, Judge Alejandro Rochin 40-36 Haney, Judge Zachary Young 40-36 Haney
Round 5
There had been nothing of the wonder kid about Haney so far but he stepped up in this round. He was now beating Santiago to the jab putting together combinations connecting with straight rights and right hooks. Santiago missed with a right and Haney connected with two rights to the head and missed with two other punches as Santiago went back and down. He beat the count and although stumbling and floundering made it to the bell.
Score: 10-8 Haney Haney 48-46
Round 6
Santiago used his jab well and found the target with a couple of rights and tied Haney up inside but the fire had gone out of his work. Haney finished the round well jabbing strongly and getting the better of a furious exchange
Score: 10-9 Haney Haney 58-55
Round 7
Haney was now controlling the fight with his superior hand speed. He was scoring with quick jabs and following right hooks. Santiago was no longer on the front foot, his jab had vanished, and he was throwing less punches and just looking to hold inside.
Score: 10-9 Haney Haney 68-64
Round 8
Santiago landed a couple of hooks at the start but then Haney took over. His jab was just too quick for Santiago to block or dodge and Haney was connecting with rights to the head. Santiago was doing a lot of holding inside and not working and Haney ended the round with a burst of punches.
Score: 10-9 Haney Haney 78-73
Official Scores Holderfield 80-71, Rochin 80-71, Young 80-71 all for Haney.
Round 9
Haney was now totally in charge. He was putting together some flashy combinations scoring with lefts to the body and rights to the head. Santiago was just lunging forward so that he could get close enough to hold Haney and smother the champions work but was throwing very few punches.
Score: 10-9 Haney Haney 88-82
Round 10
Santiago went southpaw again but a couple of rights from Haney quickly made him change back to orthodox. This was a poor round with Haney landing an occasional left hook and Santiago doing a lot of holding and very little punching in what was turning out to be a disappointing fight.
Score: 10-9 Haney Haney 98-91
Round 11
Santiago came to life again and threw some punches and landed some. Haney found the range with jabs and left hooks and Santiago went back to holding. A punch opened a cut over Santiago?s left eye and they exchanged punches late in the round with Haney the most accurate.
Score: 10-9 Haney Haney 108-100
Round 12
No last round heroics from Santiago. Haney just kept sticking him with the jab and Santiago never managed to scrape up any meaningful attacks as Haney boxed his way to the bell.
Score 10-09 Haney Haney 118-109
Official Scores: Holderfield 120-107 Haney, Rochin 120-107 Haney, Young 120-107 Haney.
The 20-year-old Californian will have better nights than this. He found Santiago an awkward opponent and had little chance to shine. After the fifth round knockdown Santiago lost his confidence and from then did more clinching than fighting. Haney showed his talent when he could but had little opportunity to do so here. Gervonta Davis is No 1 with the WBC and that would be an interesting clash between two very talented young fighters. Puerto Rican-based Dominican Santiago looked useful for four rounds then he just turned spoiler and made this a dull fight.
Rios vs. Berrio
This was scheduled for twelve but never looked likely to go that far. Rios was hunting Berrio down in the first loading up on his punches and connecting with overhand rights and left hooks to the body. Berrio battled back strongly in the second but lacked the power to worry Rios who was mixing uppercuts along with the hooks and overhand rights and opened a cut over Berrio?s left eye with a punch. Rios put together some brutal combinations in the third and was doubling up with his left hooks. The doctor examined Berrio in the interval but let the fight continue. Berrio tried to punch with Rios in the fourth but was beaten down and forced back until a driven straight right dumped him on the floor. He bravely climbed to his feet but the referee saved him from further punishment. Rios, a former WBC super bantamweight title challenger, revived his career with a stoppage of unbeaten Diego De La Hoya in July which won him the NABF and WBA Gold titles and he was defending his Gold title here. He must be hoping that he can land a shot in 2020 against Daniel Roman who holds both the WBA and IBF titles. Colombian Berrio had been confining himself to domestic tussles and was 5-0,1ND going in having won the Colombian title but he was never in with a chance against the power of Rios.

November 7

Tucson, AZ, USA: Heavy: Alex Flores (18-2-1) W TKO 6 Mario Heredia (16-8-1). Welter: Santiago Dominguez (20-0) W KO 1 Ravshan Hudaynazarov (17-3). Super Middle: Juan Jose Barajas (11-0) W PTS 8 Fidel Hernandez (20-8-1).
Flores vs. Heredia
Californian Flores stops a bloated Heredia in six rounds. The 6?4? Flores towered over an elephantine Heredia (Heredia?s height was given as 6?3? but BoxRec shows a more representative 5?10?) and Flores dominated the action. Heredia had some success when he could use his 52lbs weight advantage to bull Flores to the ropes but mostly he just soaked up punishment. Flores drove Heredia to the ropes in the third and Heredia slid down to rest on the middle rope before bouncing back and was belatedly given a count. . Heredia survived but was really just a punch bag. In the fifth with Heredia pinned on the ropes Flores landed heavily to head and body and Heredia went down on one knee for another count. A vicious left hook to the body put Heredia down again. He briefly arose only to turn round and go down again and although he made it to his feet the fight was stopped. Flores, 29, has 16 inside the distance victories. His losses have come inside the distance against Charles Martin and Joseph Parker. Seventh loss by KO/TKO for Heredia who was stopped in three rounds by Filip Hrgovic in December.
Dominguez vs. Hudaynazarov
Outstanding performance by unbeaten Dominguez in what looked a fairly even match on paper. Dominguez landed a left hook to the body and a right to the head and then repeated the sequence and Hudaynazarov went down flat on his back. He tried to get up but was counted out so all over in 40 seconds. Fort Worth-based Mexican makes it eight quick finishes in a row and only four of his victims has gone the distance, but the quality has been questionable. He collects the vacant WBC USNBC belt. After scoring 17 wins in a row Uzbek Hudaynazarov, 35, was then inactive for four years and has now lost all three of his contests since he returned in February 2018.
Barajas vs. Hernandez
Barajas wins every round against ancient Hernandez. At 6?3? the unbeaten Barajas was 7? taller and 20 years younger than Hernandez and was able to control the fight from the start. Hernandez bravely marched forward but was speared with jabs and then rocked by straight rights. Hernandez took the lumps and rolled on. He lost a point in the seventh for a low punch and despite a big effort in the last Barajas could not get him out of there. Scores 80-71 for Barajas from all of the judges. The 22-year-old ?Just Business? is being sensibly matched. Hernandez, 42, turned pro before Barajas was born and was away for the ring for 16 years before returning in 2017. He is 4-4-1 since then but announced this was his last fight.

Amsterdam, Holland: Super Light: Rafik Harutjunan (13-3) W PTS 10 Damian Yapur (15-15-3). Welter: Xavier Kohlen (7-0) W PTS 10 Denis Krieger (14-10-2).
Harutjunan vs. Yapur
Harutjunan wins the vacant Dutch title with unanimous decision over Madrid-based Argentinian Yapur. It was a closer fight than the scores indicate. Harutyunyan was cut over the left eye in a clash of heads but built a lead with Yapur coming on strong over the late rounds. Scores 97-93 twice and 98-92. The Armenian-born Harutjunan rises to 4-3 in his last 7 fights. Spanish-based Yapur suffers his eighth loss in a row but as always he came to fight and gave Harutjunjan a good test.
Kohlen vs. Krieger
Kohler stays busy with points victory against German-based Moldovan Krieger. Many of the rounds were close with the harder punches from making the difference. Scores 99-91 twice and 98-92 for Kohlen. The highly educated Kohlen was moving up to ten rounds for the first time and he claims the Dutch title. Fifth loss on the bounce for Krieger but he has been overmatched and competed well here.

November 8

La Banda, Argentina: Super Light: Hugo Roldan (17-0) W PTS 10 Victor Velasquez (17-10) Roldan moves to 17 wins with comprehensive victory against the overmatched veteran Velasquez. Scores 100-90, 100-90 ? and 100-92. No 1 Roldan will be looking to challenger for the national title early in 2020. Velasquez, 37, a former Argentinian welterweight champion was having his first fight for two years.

Guerande, France: Middle: David Papot (23-0-1) W PTS 8 Vaghinak Tamrazyan (16-6). If Papot was expecting a nice, easy night he was mistaken. Tamrazyan walked through everything Papot threw to get inside and work to the body. Papot had height and reach and he made Tamrazyan pay every step of the way but just could not subdue to storming Russian. He rocked Tamrazyan occasionally and did most of the scoring but it was a hard twenty-four minutes of work for the former undefeated French champion. Scores 78-74 for Papot on all of the judges score sheets. The 28-year-old from Saint Nazaire put on impressive performance in drawing with James McGirt Jr in June and will be looking to build on that. Armenian-born Tamrazyan was 4-1 in his previous 5 outings.

Bergisch Gladback, Germany: Middle: Uensal Arik (30-2) W PTS 8 Siarhei Huliakevich (43-12-1).Cruiser: Tervel Pulev (14-0) W TKO 2 Kai Kurzawa (38-9).
Arik vs. Huliakevich
Arik wins the vacant WBC Asian Silver title with hard fought win over Huliakevich. There was plenty of honest endeavours here but not a great deal of quality work. Arik won the fight on the basis of his strength, constant aggression and high work rate. Huliakevich tended to fight in burst but showed some useful defence moves and was never really in any trouble. Arik had bumps and bruises around both eyes and went to the hospital after the fight just to be checked and was OK. The 39-year-old German-born Turk is a former WBU and GBU world champion. He has been a harsh critic of Turkish Premier Tayyip Erdogan and there was a security service at the hall for his protection. He is now aiming to enter politics in Germany. Belarusian Huliakevich, 38, was 0-5-1 going into this one but he showed power and durability.
Pulev vs. Kurzawa
A poor excuse for a match sees Pulev stop oldie Kurzawa inside a round. Pulev floored Kurzawa early and then had him wincing from a left hook to the body before driving Kurzawa to the canvas with a straight right to force the stoppage. The 36-year-old Bulgarian, the younger brother of Kubrat, moves to eleven inside the distance victories but he is going to have to take risks and face much better opposition as he is too advanced in age to waste time with fights like this. Kurzawa, 43, has lost 5 of his last 6 fights all inside four rounds.

Oviedo, Spain: Super Welter: Jose Fandino (15-6) W TKO 2 Sergio Fernandez (9-1-1). Welter: Aitor Nieto (25-6-1) W PTS 6 Khalid Habchane (7-4-1).
Fandino vs. Fernandez
Fandino wins a Spanish title at the third attempt with stoppage of Fernandez. When these two met in February Fernandez won the vacant national title with a split decision over neighbour Fandino. It looked as though the second match might be set to go the same way as Fernandez outboxed Fandino over the first round. Fernandez was on his way to collecting the points in the second when a huge right from Fandino dropped him heavily. He struggled to his feet but was in no condition to continue and the referee stopped the fight. At 35 Fandino was probably in the last chance saloon . His figures do not look good but he had been in tough losing fights against Ronny Landaeta, Esquiva Falcao and Anderson Prestot who at the time he faced them had combined records of 51-1. He is strictly domestic level but it was a big night for him this time.
Nieto vs. Habchane
Neighbourhood fighter Nieto marks time with comfortable victory over Moroccan Habchane. Nieto floored Habchane in the second round and then boxed his way through the remaining four rounds for a comfortable victory. The Spanish champion and twice EU title challenger was returning after nine months out due to an injury to his left hand. Habchane, 42, never posed any threat.

November 9

Sydney, Australia: light: Kye MacKenzie (21-2) W PTS 10 Francis Chua (7-1-1). Super Bantam: Luke Boyd (8-0) W KO 1 Jon Jon Jet (10-1). Cruiser: Ben Sila (9-0) W TKO 8 Victor Oganov (32-8). Heavy: Lucas Browne (29-2) W TKO 2 John Hopoate (12-7).
MacKenzie vs. Chua
When these two met in November southpaw Chua pulled off a shock win over the highly rated and much more experienced MacKenzie over six rounds, Mackenzie had everything in his favour in this return match, He was the home fighter and it was over ten rounds with Chua never having gone more than six. MacKenzie was much the better technician and used his longer reach to do some good work at distance. Southpaw Chua was less skilful but strong and aggressive and never stopped coming and it was war in round after round. The eighth was a great round as they just stood and belted each other and it was MacKenzie who proved the stronger. Despite a vertical cut over his left eye MacKenzie greater experience saw him pace the fight better and emerge a good winner. MacKenzie got his revenge but Chua also showed that the first result was no freak as Mackenzie had to fight hard all the way. Scores 96-94 twice and 97-93 for MacKenzie who lifts the vacant WBA Oceania title. MacKenzie had climbed into the world rating on the back of a run of six wins before the loss to Chua and will be looking to get back into the ratings and climb from there. Chua?s stock has been boosted even in this losing effort and he will be eyeing a national title now.
Boyd vs. Jet
Boyd overwhelms Indonesian Jet and knocks him cold in the first round. Boyd was crouched like a sprinter ready to start a 100 metre race and he came out fast. He jumped on poor Jet and rocked him early with a right. He then drove forward sending lefts and right crashing through the Indonesian?s defence. He took Jet to the ropes but Jet fought his way off only to be nailed with a full-blooded straight right that deposited the Indonesian flat on his back spread-eagled on the canvas. The referee just waived the fight off. Local fighter Boyd, 32, wins the vacant interim WBA Oceania title with his six win by KO/TKO. He was a top class amateur winning the Australian title and twice collecting gold medals at the Oceania Games. He represented Australia at two world championships and the 2008 Olympic Games but had only five fights in his first four years as a pro. He seems to be taking things much more seriously as this is his third win this year with all three ending inside the first round. First fight outside Indonesia for Jet who is basically a prelim fighter.
Sila vs. Oganov
The only surprise in this fight is that Oganov last as long as he did. A fat and shop-worn Oganov was giving away height, reach and age and was an easy target for Sila. Oganov took his lumps but was never in the fight. Finally in the eighth Sila pinned Oganov to the ropes and snapped his head from side to side until Oganov dropped to the floor. The referee gave Oganov an eight count and should have stopped the fight then. Instead he signalled for the fight to continue and then stepped in and halted the fight before Sila could land another punch. Sila can expect to move up from his No 14 position in the Australian ratings but needs better opposition as his previous eight victims had just twelve wins between them. Oganov, 43, was No 7 in the ratings but had his best days as a super middleweight.
Browne vs. Hopoate
This fight made Sila vs. Oganov look good. Browne had 5? in height over the slow-footed ponderous and grossly overweight Tongan. Browne was able to score with jabs and heavy rights at distance but occasionally Hopoate would bundle Brown to the ropes and swing crude hooks. Hopoate stumbled past Browne into the ropes after missing with a wild swing and he went down under a couple of punches from Browne. He was up quickly and they wrestled to the bell. Hopoate tried some wild swings in the second and had some success but was totally gassed and after Browne took him to the ropes and landed a series of head punches the fight was stopped. A waste of time for Browne and the crowd but he needed a win after being stopped in three rounds by Dave Allen in April. The 44-year-old Hopoate was out of the ring for almost nine years before being knocked out in two rounds by Paul Gallen in February and weighed a career high of 256 ? lbs.

London, England: Welter: Michael McKinson (18-0) W PTS 10 Luis Veron (17-1-2). Light: Liam Walsh (23-1) W PTS 10 Maxi Hughes (19-5-2). Middle: Danny Dignum (12-0) W TKO 5 Conrad Cummings (17-4-1). Super Light: Daniel Egbunike (6-0) W PTS 10 Billy Allington (8-012).
McKinson vs. Veron
In a clash of unbeaten fighters southpaw McKinson boxes his way to victory against an aggressive Veron. The bout started at a fast pace with both boxers stabbing out quick jabs. As Veron moved in McKinson threw a light punch which just brushed the top of Veron?s head and Veron dropped to one knee. It looked more as though Veron had overbalanced but he was given a count. Veron was coming forward forcing the fight in the second and third. McKinson was scoring well with counters and they traded punches throughout the round with Veron connecting with some strong hooks. Veron continued to forge forward in the fourth with McKinson forced to stand and trade and landing the better punches. In the fifth a straight left from McKinson knocked Veron over. He was not badly hurt and was up immediately and attacked for the rest of the round. McKinson?s boxed cleverly on the back foot over the sixth and seventh and Veron was cut over his right eye. McKinson did not have the punch to stop Veron marching forward in the eighth and ninth but his smart defensive moves and accurate counters gave him the edge in both rounds. With two 10-8 rounds against him Veron had no choice but to go for broke in the last. He had some success but was wide open and McKinson was able to find the target with counters throughout the round and was a clear winner in an entertaining ten rounds. Scores 99-89, 98-90, and 97-91all for McKinson. The 25-year-old WBO European champion has excellent skills but he has only two wins inside the distance and that lack of power could be a drawback against higher class opposition. Veron was strong and aggressive but after 17 starlight wins he was coming off two draws against very moderate domestic opposition.
Walsh vs. Hughes
Walsh takes the unanimous decision over Hughes in a quality contest between two experienced high level professionals. This was supposed to be a clash of two southpaws but Walsh came out in the first in the orthodox left hand lead stance and fought that way through the whole ten rounds. Walsh took the opener with sharp left jabs and some accurate straight rights. These are two excellent technicians and Hughes was working well with his jab in the second and landed a couple of crisp lefts but Walsh was quick and on target with his jabs and was driving rights through the defence of Hughes and clearly won the round. In the third Hughes was on the back foot trying to draw the lead and counter but Walsh was too quick slotting jabs home and again finding the target with long rights. Hughes did better in the fourth and fifth. He was getting through with his jab and counter lefts with Walsh short with his punches and he got Walsh?s attention with an uppercut in the fifth. As expected this was turning out to be a fast-paced entertaining contest. Walsh was back in charge in the sixth. He found the range for his left jabs and for the last two minutes cracked Hughes with right after right. Walsh was working the jab again in the seventh but Hughes landed a beautiful right uppercut and followed that with a solid left to the head. Walsh laughed the shots off but they were quality punches. Walsh took the eighth as he added some vicious left hooks to the body to his accurate jabbing. Hughes countered when he could and again connected with a quality uppercut but the body punches from Walsh were hurtful. There was no let up in the pace as Hughes decided to try to get in close to avoid the jabs and long rights from Walsh. He managed to score with some meaty hooks inside but for much of the round he was on the end of Walsh?s jab and right crosses. Hughes fought hard in the last but the better quality work came from Walsh as he finished strongly earning the decision. There were a number of good matches on this show and this was the best. Scores 98-92, 97-93 and 96-94 for Walsh and the 97-93 seemed about right to me. Walsh, 33, wins the vacant WBO European title. This is the second brick in his rebuilding process. He was stopped in three rounds by Gervonta Davis for the IBF super feather title in May 2017 and was then inactive until returning with a low level win in May this year. Hughes is a warrior and his losses have come in top level domestic fights two of them for the British super feather title and it would not surprise me if he fights for a British title again in 2020.
Dignum vs. Cummings
Dignum wins the vacant WBO European title as he halts Cummings in five rounds. Cummings made a storming start piling forward over the first two rounds bobbing and weaving to get inside and to rough Dignum up. Southpaw Dignum was forced on to the back foot but he boxed and countered well. Cumming lost a point for continually thrusting his elbow into Dignum?s face. Cummings continued his head down rushing attacks in the third but Dignum was moving smartly creating room and connecting inside with hooks to the body and sharp uppercuts. In the fourth Cummings was given a stern warning for yet another offence with his elbow. He looked to be tiring and was walking onto some wicked hooks and uppercuts from Dignum and at the bell was bleeding from the nose and cut over the right eye. As Cummings walked forward in the fifth Dignum met him with two punishing straight lefts. Cummings took a step back and when he started forward again an even stronger left had him staggering and stumbling and the referee made a good stoppage. Quality performance from the tall fighter from Essex and his sixth win inside the distance. He will get a world rating from the WBO for winning their European title but as this was Dignum?s first ten round fight that is quite ridiculous. Cummings was having his third shot at this title having lost twice on points to Luke Keeler in previous attempts.
Egbunike vs. Allington
Egbunike wins the vacant BBB of C Southern Area title with points victory over Allington. Egbunike was the more composed fighter with more variety in his work. Allington did his best work with the jab but Egbunike was busier with quicker hands. Neither fighter was ever in trouble but the mix of styles worked well to make an interesting fight. Although it was his first ten round fight Allington staged a strong finish to take the last but it was not enough to offset Egbunike?s earlier dominance. Referee?s score 97-93 for Egbunike. The winner showed some good skills but at 30 he may have to take some risky fights to make the progress he needs. Allington was competitive but his lack of power will limit his horizon.

Hamburg, Germany: Super Light: Artem Harutyunyan (8-0) W PTS 10 Islam Dumanov (10-2). Super Welter: Nick Klappert (29-3) W PTS 10 Antonio Hoffmann (22-2). Heavy: Zhan Kossobutskiy (12-0) W TKO 1 Agron Smakici (15-1). Super Middle: Leon Bauer (17-0-1) W PTS 8Toni Kraft (16-1-1). Middle: Patrick Wojcicki (14-0-1) W TKO 4 Robert Swierzbinski (21-10-2). Super Middle: Osleys Iglesias (2-0) W KO 2 Rafael Bejaran (26-5-1).
Harutyunyan vs. Dumanov
This show marked the return to boxing of Universum. Armenian-born German Harutyunyan had to fight hard to get a majority verdict over inexperienced Russian Dumanov. Harutyunyan made an impressive start with his quick movement and stiff jabs. He staggered Dumanov with a left in the first round and soon built a lead. Dumanov got into the fight by switching tactics instead of taking the fight to Harutyunyan he went on the back foot and was successful with some accurate counters. Harutyunyan looked to be back in control but Dumanov switched tactics again and began to drive forward rocking Harutyunyan with a left in the seventh. Harutyunyan took the eighth but Dumanov finished strongly. Harutyunyan?s early work made him a clear winner despite the majority decision. Scores 98-92 and 97-93 for Harutyunyan and 95-95. The 29-year-old Harutyunyan collects the vacant IBO International title. He won bronze medals at both the 2013 European Championships and the 2016 Olympics. Dumanov had won his last four fights including victories over 22-2 Dmitry Mikhaylenko and former IBF title challenger Ali Funeka
Klappert vs. Hoffmann
There was some excellent matchmaking on this show and Klappert, a slight underdog, also won on a majority decision over Universum fighter Hoffmann. At the start of the fight Hoffmann was on the offensive taking the fight to Klappert and collecting rounds on the basis of his aggression and higher work rate. Klappert gradually worked his way into the fight. He was not matching Hoffmann?s work rate but was more accurate and connecting with the harder punches. Hoffmann seemed to have no plan B and Klappert ate into Hoffmann?s lead and finished strongly to take the decision. Scores 97-93 and 96-94 for Klappert and 95-95. The 36-year-old German makes it 8 wins in his last 9 fights and goes home with the vacant IBO Continental title. His loss in that run was a first round kayo by the then unbeaten Khuseyn Baysangurov. Angolan-born Hoffmann?s loss was against Steven Butler who challenges Ryota Murata for the secondary WBA title next month. Hoffmann had rebuilt with ten wins nine by KO/TKO.
Smakici vs. Kossobutskiy
Oh dear this certainly was a disaster for the house fighter as Kossobutskiy demolished Smakici inside a round. Both were looking for the knockout and the 6?6? Smakici landed first. Southpaw Kossobutskiy fired back with two lefts which staggered Smakici. Kossobutskiy followed up with another left and dropped Smakici with a right. Smakici jumped straight up but was very shaky. Smakici tried to use his longer reach to stay out of trouble but Kossobutskiy stepped in with a thunderbolt of a left cross and Smakici was dumped into the ropes and then down and the referee stopped the fight without a count. The 30-year-old 6?3? Kazak has put seven of his opponents away in the first round so it was some brave matching to put the unbeaten Smakici in with him-or dumb matching perhaps. Kossobutskiy becomes the IBO Inter-Continental champion and German-based Croatian Smakici goes back to basics.
Bauer vs. Kraft
The crowd were certainly being given their money?s worth as this was again a very close, competitive contest between two unbeaten fighters. Things looked ominous for Bauer when he was cut over his left eye in a clash of heads in the first round. That in fact made Bauer go on the attack probably fearing an early stoppage and a technical draw. The rounds were close with the fight swinging one way and then the next but Bauer?s higher work rate just gave him the edge in a fight which could have been scored either way. Scores 78-74, 77-75 and 77-76 all for Bauer. Only 21 Bauer turned pro at 16 so is still learning and this was an excellent test and a good win. Kraft, 26, was coming off a win over Sasha Yengoyan and will rebound under Universum?s guidance.
Wojcicki vs. Swierzbinski
Wojcicki brushes aside a sliding Swierzbinski. This was Wojcicki?s fight from the outset. He was scoring with strong uppercuts and Swierzbinski was down three times in the second round but survived. Wojcicki continued to pound on Swierzbinski until the Pole?s corner threw in the towel in the fourth. Wojcicki has wins over useful opponents in Ronny Mittag and Marcelo Caceres. Third loss in a row for Swierzbinski.
Iglesias vs. Bejaran
German-based Cuban Iglesias flattens experienced Bejaran. After taking the first round early in the second Iglesias knocked Bejaran out cold with a thunderous punch. It was a worrying kayo with Bejaran down for more than two minutes needing medical attention and it was a relief when Bejaran was eventually able to rise and be taken back to his corner. Southpaw Iglesias may be one to watch. The Cuban southpaw won silver medals at the Cuban National Championships in 2015, 2016, 2017 and 2018 losing in each final to World and Olympic champion Arlen Lopez. The 37-year-old Bejaran lost to Jack Culcay and Fedor Chudinov in recent fights but no one did a job on him like this.

Rio Cuarto, Argentina: Super Welter: Adrian Sasso (14-2) W PTS 12 Marcelo Bzowski (11-11-3). Super Feather: Matias Rueda (33-1) W KO 2 Julian Aristule (34-13,1ND)
Sasso vs. Bzowski
Sasso gats wide unanimous decision over fellow-Argentinian southpaw Bzowski in South American title defence. Scores 120-108 ? , 119-109, 119 ? -112. The local hero makes it seven wins on the trot. Second loss in a South American title fight for Bzowski who lost for the welter title in August.
Rueda vs. Aristule
Rueda adds another inside the distance win as he finishes experienced Aristule in the second round. Rueda had dominated the fight before a savage right uppercut dropped Aristule and he was counted out. Rueda is now 7-0 with 6 wins by KO/TKO since being stopped in two rounds by Oscar Valdez in a WBO title fight in 2016. Fourth loss in a row for Aristule.

Guerande, France: Welter: Jordy Weiss (25-0) W PTS 6 Kelly Figueroa (12-12-3). Welter: Marvin Petit (24-2-1) W Karin Menasria (8-23-1).
10
Weiss vs. Figueroa
With nothing on the calendar for him just a keep busy night for European Union champion Weiss as he wins every round against Spanish-based Venezuelan Figueroa. Gypsy Weiss was a bit more aggressive than usual but he lacked the power to end this one early. All three judges had it 60-54. Fifth loss on the bounce for southpaw Figueroa.
Petit vs. Menasria
Petit gets back on track with unanimous verdict over fellow-Frenchman Menasria. The former undefeated EU and French champion was having his first fight s

Click here to view a list of other articles written by Eric Armit.

---
Recent PhilBoxing.com In-House articles: