Complete Results from Elorde's Night of Champions XVIII: Daisuke Sugita Claims WBA Asia South Super Bantam Belt; Medura Edges Nakagawa

By Carlos Costa
PhilBoxing.com
Sun, 04 Aug 2019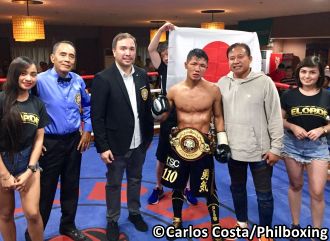 Sugita wins.

MANILA, Philippines -- Japanese fighter Daisuke Sugita (杉田大祐), a boxer, as well as an active police officer for the Tokyo Police Department, successfully claimed the WBA Super Bantamweight Asia South title after dominating backpedaling Filipino Crison "Cowboy" Omayao (24-20-5, 8 KO's) for a unanimous decision win Saturday, August 3, at the Elorde Sports Complex here in Manila, Philippines.

From the getgo, the hard-swinging Sugita (5-1, 3 KO's) of the Watanabe Gym, applied relentless pressure on the 26-year-old Omayao, forcing the Filipino to clinch and retreat through the ten-rounder main event combat.

Sugita, 30, ended with a cut over his left eye, a product of a non-intentional clash of heads. There were no knockdowns, but Omayao was deducted a point by veteran referee Silvester Abainza for one intentional rabbit punch.

The battle would have been far more entertaining if Omayao would have stood and traded with the aggressive Sugita, but clearly that was not his intention. The Filipino seemed to sense what could have happened to him should the Nippon boxer-policeman had his way.

At the end, the three WBA Asia judges scored widely for the the new Asian titlist Daisuke Sugita, a friend of retired former world champion Takashi Uchiyama.

CO-FEATURE: MEDURA CONQUERS WBC ASIA BELT

In the co-feature, Filipino Alvin Medura (9-4, 7 KO's) edged in a close eight-chapter unanimous decision win the more experienced Japanese Mugicha Nakagawa 武田勇太 (24-7-2, 14 KO's) of Tokyo to become the new interim WBC Asia Continental Super Bantamweight Champion.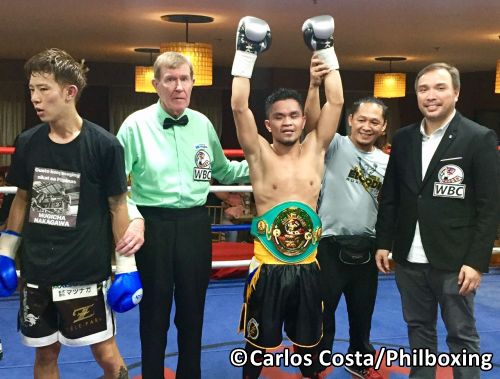 Alvin Medura Defeats Japanese Nakagawa to Claim WBC Asian Belt. Supervisor Baham Mitra, Referee Bruce McTavish.

Identical scores were 77-75 (three times) in favor of the 25-year-old Medura, a man who comes from a family of boxers. His brother Glenn is also a prizefighter.

The battle was the golden chance for Alvin Medura to get back into the winning column, and he successfully seized the day, putting in the back mirror his back to back loses in the land of the Rising Sun.

After the clash, Medura's promoter, Gabriel "Bebot" Elorde, was more than satisfied after his calculated gamble paid off.

"I knew that the fight was a tough one," Elorde reasons.

"But I had the feeling that Alvin (Medura)'s good conditioning, heart and toughness would carry him to victory. This time around, it all worked out well," ended saying Elorde, son of Hall-of-Famer Gabriel "Flash" Elorde, one of the greatest super featherweight boxers in history.

UNDERCARD RESULTS FROM THE PHILIPPINES

In another international clash, Filipino GBO Super Flyweight Champion Cris Alfante (17-7-1, 8 KO's) of the Elorde Gym did a quick work of 30-year-old Indonesian warrior Sulistyono "Sulis Barrera," overpowering the Indonesian with furious blows that landed hard from all directions Their scheduled 8-chapter battle lasted less then three minutes, and Alfante wants tougher missions.

Also, WBC Asia Continental Bantamweight champion Jun Blazo (13-6-3, 8 KO's) of the Elorde Gym and a cousin of Filipino icon Manny Pacquiao mercilessly stopped unheralded Indonesian Diom Arena in two rounds for an effective KO.

Far too superior was the 26-year-old Blazo for this demolition work. He know looks forward to defending his Asian 118-pound belt ASAP.

In addition, tough super lightweight Leonardo Doronio (17-16-3, 11 KO's) of Valencia, Negros Occidental scored a six-round unanimous decision victory over "The Punisher" Bryan Macamay (10-9-3, 6 KO's) of Samar.

In another hot six-chapter saga, veteran super featherweight Edison Berwela (18-41-8, 6 KO's) of the Elorde Stable decisioned the younger Zorren Pama (8-17-3, 5 KO's) in their 6-chapter encounter.

Moeover, super flyweight Roneio Quizo (6-0, 1 KO) of the Southbox Elorde Gym outboxed "The Lizard" Vincent Bautista (5-15-4, 1 KO) of Tarlac by way of Bohol for a unanimous decision win. Bautista tried to brawl his way in, but Quizo, 20, kept him under control with superior speed and boxing skills.

In the closest battle of the evening, minimumweight Ramcie Mondala (3-1, 1 KO) of the Elorde Gym narrowly edged 19-year-old Darwin Boyones (3-1, 1 KO) of the Olivetti Stable for a six-round majority win. The clash was a rematch of their May's battle in which Boyones claimed a split decision over Mondala. This time, it was Mondala the one edging Boyones; and a third clash seems reasonable.

Sneaky and elusive 118-pounder Romel Oliveros (10-5-1, 4 KO's) of the Elorde Boxing Gym outscored 21-year-old coming-forward brawler Remon Basas (4-4, 3 KO's) of the Dino Olivetti Team. Basas worked hard for a knockout that never came, while Oliveros kept himself busy landing his blows on backpedaling mode.

Furthermore, 21-year-old bantamweight Romeo Tenorio (7-3-2, 4 KO's) of the Elorde Plus Team scored a round five TKO win over 32-year-old Camiguin journeyman Epitacio "Pit" Anacaya (9-28-2, 2 KO's).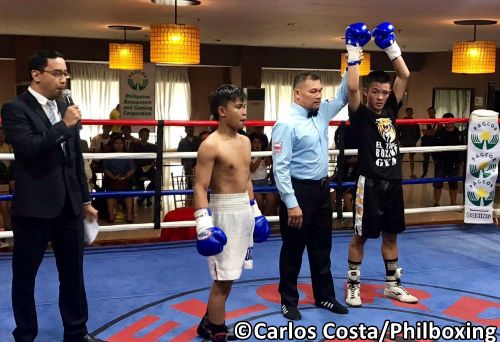 Lorenz Dumamag Overpowers Morales. Referee Sammy Bernabe Sr. Ring announcer Audrey Dones Gorriceta.

Whats more, debutant light flyweight Lorenz Dumamag (1-0, 0 KO's) of El Tigre Boxing Gym needed less than three minutes to completely stop Francisco Morales (1-3, 1 KO) of Batangas.

In one of the preliminary "curtain-raisers bouts," boxing rookie Renold Vargas (1-0, 0 KO's) of Mindoro Island began with success win his pro boxing career by decisioning fellow debutant Jarel Vinson Escriber (0-1, 0 KO's) of Bukidnon.

The entertaining fighting event, billed as Night of Champions XVIII unfolded on Satuday August 3.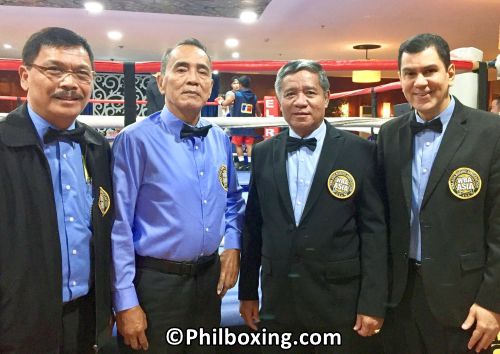 Ring Officials for the WBA Asia Main Event. From L to R Greg Ortega, Third man Silvestre Abainza, Gil Co and Carlos Costa.

Supervisor for the event was GAB Chairman Baham Mitra with the assistance of GAB Officials Antonio "Tony" Comia, Dr. Radentor Viernes, Joanna Besenio, Yvonne Deramas, Juanito De Guzman, Dianne Pasigua, Rex Flores, Jei Sevilla and Inspector Santiago.

Night of Champions XVIII was a production of award-winning promoter Gabriel "Bebot" Elorde Jr., in association with the Naris Singwancha Foundation, Black Mamba, Cignal TV and PAGCOR.

The author Carlos Costa of Panama is a veteran fight reporter living in the Philippines. Carlos can be reached at carlos512@hotmail.com and by Whatsapp/Viber 09184538152.


Click here to view a list of other articles written by Carlos Costa.

---
Recent PhilBoxing.com In-House articles: