Weights for Highland Promotions: Cuello, Pen, Simson, Laurel, Singh, Mancito Scaled-in OK; Ready for tonight's Wars in Mandaluyong, Metro Manila

By Carlos Costa
PhilBoxing.com
Sat, 03 Aug 2019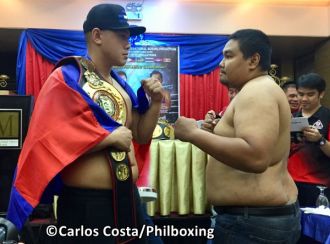 Pen and Koswara at Friday's weighin.

Fighters made weight for Highland Promotions "History in the Philippines" show today Saturday, August 3, at Barangay Vergara's Covered Court in Mandaluyong City, Metro Manila.

In the main event, veteran, tough heavyweights David Koswara (12-15-2, 4 KO's) of Indonesia and unbeaten hard-hitting Cambodian Eric Pen (3-0, 3 KO's) scaled-in for their scheduled rough and mean war.

The affable though lethal Koswara came in at 260 pounds, while the taller Pen made 238 lbs.

In his last fight, Eric Pen, 26, claimed the WBA Asia South Heavyweight belt by stopping experienced Satria Antasena in two chapters in a melee last May in Ho Chi Minh, Vietnam.

Pen's new target is David Koswara, and fight fans in Mandaluyong are in for the hot ride.

CO-FEATURE: SIMSON VS RUSIADI IN LIGHT HEAVYWEIGHTS

In the co-feature, BIG brawler Miles "The Punisher" Simson (2-0, 1 KO) of Suriname tipped the scales at 177 pounds as he engages in combat against Bambang Rusiadi (9-9, 4 KO's) of Indonesia in a high-intensity, tough rumble that might not make the distance. Rusiadi came-in six pounds lighter at 171 lbs.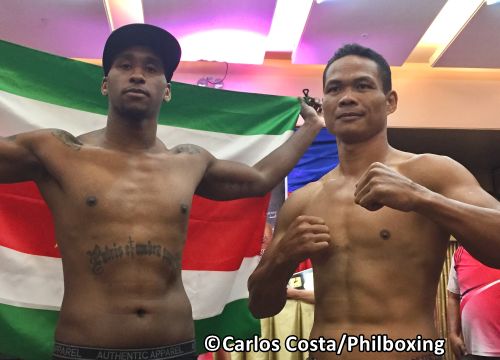 Hooland and Rusiadi.

For years, Miles Simson, 27, has been a successful kick-boxer with more than 80 pro combats.

But since June of last year the Suriname native has entered in the world of boxing, so far winning.

Lets see how "The Punisher" performs against the veteran Rusiadi, a man born without fear.

MORE FIGHTS FOR "HISTORY IN THE PHILIPPINES: SHOWDOWN"

In addition to the above mentioned big battles, the always popular Iloilo-native, former WBC Minimumweight Silver Champion Denver "The Excitement" Cuello (37-5-6, 25 KO's) recorded 118 pounds on the scale as he takes on younger Thai fighter former muay thai combatant Detnarong Omkrathok (3-9-1 KO) in a clash that will test Cuello's will and determination.

The Thai warrior came-in two pounds lighter at 116 lbs.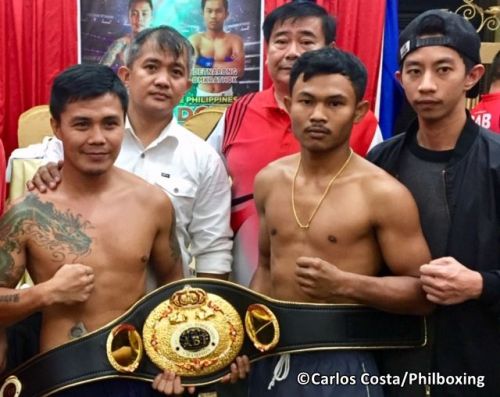 Cuello (L) and Detnarong.

In his last fight, Cuello, 32, needed less than 6 minutes to stop Indonesian journeyman Jack Amisa (21-46-2, 14 KO's) to clinch the vacant Asian Boxing Federation Bantamweight Belt. The fearless Thai warrior Detnarong is next in line. Will the visiting Thailander ended up scalped too? Or will it be Denver Cuello the one shocked and rocked?

In addition, big Indian-Pinoy middleweight warrior "The Punjabi Lion" Prabjoth Singh (7-4-1, 7 KO's) and fearless Edsil "Toto" Jungco (3-12, 7 KO's) of Iloilo both made identical weight of 159 pounds for their war for the Philippines Boxing Federation (PBF) middleweight title. Who will take the brand new belt home?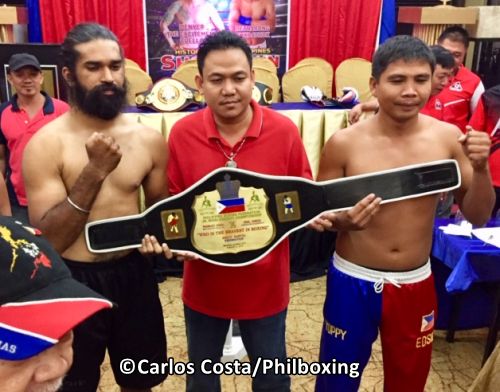 Indian Filipino boxer Prabjoth Singh and Edsil Jungco made 159 pounds for their title battle.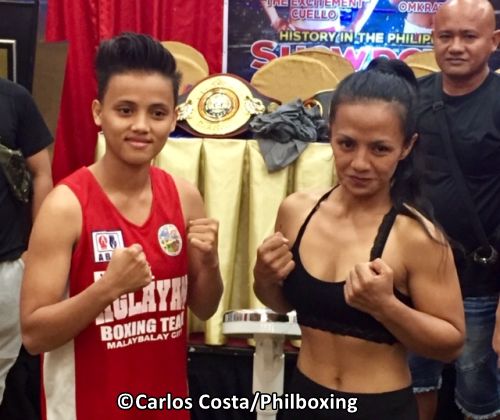 Charimae Salvador and Jessebele Pagaduan.

In girls action, 20-year-old fighting whirlwind Charimae Salvador (4-2, 1 KO) peaked at 104 pounds as she climbs the ring to take on experienced southpaw Jessebele Pagaduan (11-1-1, 5 KO's) of Benguet Province who came-in four pounds heavier at 108 lbs. This is an entertaining women's battle that no fan in Mandaluyong can afford to miss.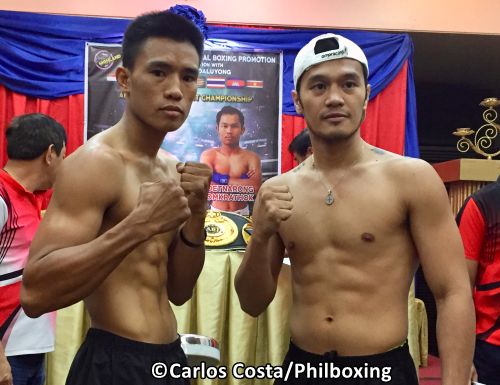 Laurel and Jardeliza.

Furthermore, Gensan's "Demolition Man" Alie Laurel (15-4-1, 10 KO's) and tough Lloyd Jardeliza (8-9-4, 6 KO's) of Mindoro Oriental both stopped the needed at 128 pounds in a crucial battle in in the super featherweight division.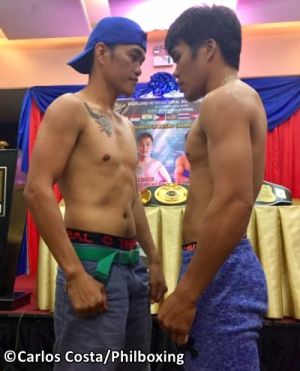 Berwela and Mancito.

Also, "The Nightmare" Edward Mancito (16-10-2, 9 KO's) of Iligan stepped at the limit of the super featherweight division, 130 lbs, as he wages war against brave late-sub Jason Berwela in a battle in the super featherweight division.

Moreover, Nathan Bolcio marked 143 pounds while his heavier opponent Carlo Magali registered 152 pounds. Bolcio will wear 8 ounces gloves, while Magali is required by the GAB to fight with 10 ounces gloves.

More clashes are lined-up to thrill fans in attendance.

The entrance is totally free. All fights are sanctioned and supervised by the Games and Amusement Board.

The exciting boxing action Saturday, August 3, at the Covered Court in Barangay Vergara in Mandaluyong, Metro Manila, is a production of promoter Brico Santig, director of the Highland Boxing Team in partnership with young promoter Darwin Miller Angelo Dep-ay of DMAD Boxing Promotions, the Naris Singwancha Foundation, CYDC Promotions, Saigon Sports Club and the government of the City of Mandaluyong. All aboard.

Fights start at 3 PM.

May the best men and women win.


The author Carlos Costa is a Panama boxing reporter living permanent in the Philippines. Carlos can be reached at carlos512@hotmail.com and whatsapp 0918453815


Click here to view a list of other articles written by Carlos Costa.

---
Recent PhilBoxing.com In-House articles: