ROACH SAYS MANNY LOVES BEATING UNDEFEATED AND YOUNGER FIGHTERS

By Maloney L. Samaco
PhilBoxing.com
Thu, 20 Jun 2019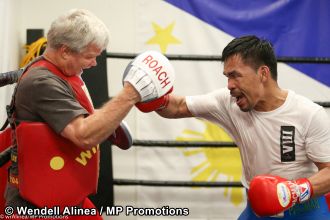 Pacquiao does the mitts with Roach on Wednesday in Los Angeles.

Trainer Freddie Roach said he has not made a boxing bet for a long time now, but he was challenged by the way the oddsmakers placed Manny Pacquiao as the underdog against Keith Thurman. "I?m going to make a huge score betting on Manny in this fight,? said Roach per Boxing Scene. ?Manny loves beating undefeated fighters, especially the younger ones."

Pacquiao is 40 while Thurman is 30, a decade younger. Manny has a record of 61-7-2 with 39 KO wins while Keith is 29-0-0 with 22 KOs.

He says at this stage, everyone Manny faces is younger than him which makes it fun for the eight-division world champion. "And when Manny is having fun, his opponents had better watch out. I was very pleased with Manny?s first day at Wild Card," continued the Hall of Fame trainer.

As usual Pacquiao will rely on his superior speed and movement, with his killer instincts back, which proved effective in his last two fights stopping Lucas Matthysse and out pointing Adrien Bronzer. Thurman better be prepared to shoot the works," warns Roach.

Pacquiao said he will work hard for this fight. He hasn?t felt so motivated and excited since he faced Oscar De La Hoya where he was declared the underdog. He said he feels like he is back against the best fighters in the world.

The world's only eight-division champion said he is working on his hand speed and footwork to counter an aggressive offense from Thurman.

This is the first time that Pacquiao fought as the underdog since the 2015 mega fight with Floyd Mayweather and the clash against De La Hoya in 2008.

The senator said he likes being the underdog for this fight because that gives him more focus in training. "I?ve been careless and over-confident in some fights, but this time around it?s different. Keith Thurman is a good fighter and we?re going to make sure the fans are happy on July 20,? Pacquiao was quoted by The Manila Times.

?I?m the kind of fighter that I don?t talk too much. I do my talking in the ring. I can do a lot of things in that ring. As I have been saying, I feel I?m 29 years old like when I fought Oscar. Thurman can prove his words in the ring. I?m going to be a warrior on July 20 and show Keith Thurman what it?s like to be in the ring with me."

* * *

After the Toronto Raptors won their first NBA championship after 24 years in the league, only eleven of the present 30 teams have never won an NBA title.

The Phoenix Suns holds the record of being the NBA franchise with the longest years of existence of 51 years and have never won a title. Charles Barkley led the Suns to the 1993 Finals but was defeated by Michael Jordan and the Chicago Bulls four games to two. They were also defeated by the Boston Celtics in the 1976 Finals.

The Los Angeles Clippers were in the NBA for 49 years and has never entered the Finals. The Utah Jazz were in the 1997 and 1998 Finals but were beaten again by Jordan and the Bulls in both championships, making them titleless in 45 years.

Other NBA teams who have not won a title with the number of years in league existence are Denver Nuggets (43 years), Indiana Pacers (43), Brooklyn Nets (43), Minnesota Timberwolves (30), Orlando Magic (30), Charlotte Hornets (29), Memphis Grizzlies (24), and New Orleans Pelicans (16).

Click here to view a list of other articles written by Maloney L. Samaco.

---
Recent PhilBoxing.com In-House articles: