Mobile Home | Desktop Version




Welcome home!!! Filipino Boxer Renerio Arizala Returns to the Philippines after Successful Brain Surgery in Japan

By Carlos Costa
PhilBoxing.com
Thu, 16 May 2019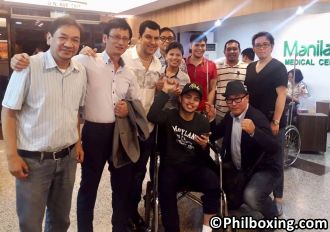 MANILA, Philippines -- Cheerful and in very high spirits, Filipino boxer Renerio Arizala returned Wednesday, May 15, to his native Philippines after the two successful brain surgeries that he bravely underwent after his crushing sixth-round knockout loss to Japanese heavy-puncher Tsuyoshi Tameda (19-4-2, 17 KO's) last March 31 at the Osanbashi Hall, Yokohama, Japan.

Thankfully, the 24-year-old Renerio survived the unbelievable ordeal of a decompressive craniectomy on March 31, and then a cranioplastyta, and today with a big happy smile he makes it back to the arms of his tearful mom Jovencia and dad Renerio Sr., in his beloved home country of the Philippines.

The surgeries were performed in Yokohama by Japanese neurosurgeon Dr. Kagemichi Nagao. In the decompressive craniectomy, Dr. Nagao removed part of the skull of the fallen boxer to allow the swelling of his brain room to expand without being squeezed-in.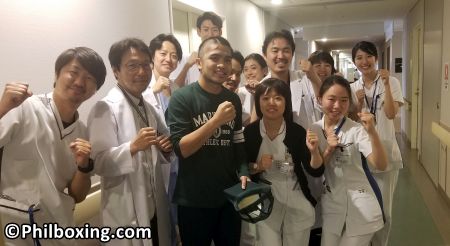 Filipino boxer Renerio Arizala May 15 at hospital in the Land of the Rising Sun saying thanks to the Japanese doctors and nurses who saved his life.

The procedure had to be performed as Renerio Arizala was going through a rough traumatic brain injury with his life in serious jeopardy. That's because during the critical minutes after the knockout, there was an increased intracranial pressure in his skull.

"This is the really sad part of boxing," commented Filipino trainer Jonathan Peñalosa, Arizala's coach, and cornerman.

"He (Arizala) was not in a bad shape at all during the fight and the Japanese referee (Michiaki Someya) did a normal job in handling the stoppage. Yet, this unfortunate thing happened.

"But today I am happy that my boxer has made it through and came back home walking. Of course, no more fights for him, never ever. But in the future, he could become a coach. Many things he can do in boxing, and he is a good, hard-working boy," assured Jonathan Peñalosa, a former boxer himself.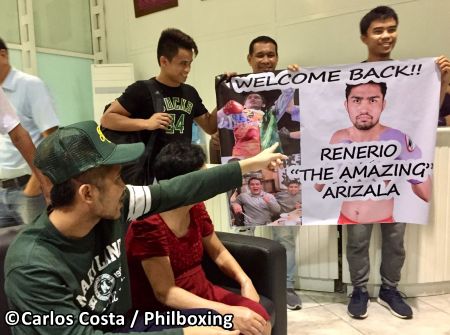 Relatives, fans and friends greet Renerio Arizala May 15 at NAIA. Welcome Home!

Arizala arrived in the Philippines on Philippine Airlines flight PR 421 accompanied by true Japanese men of boxing Tsuyoshi Yasukochi, head of the Japan Boxing Commission (JBC), Kazuhiro Ryuko of the Japan Pro Boxing Association (JPBA) and Japanese boxing matchmaker Takashi Aoshima.

At Manila's Ninoy Aquino International Airport Terminal 2, the travelers were welcomed by family, boxing teammates and friends of Arizala and by the Philippines Games and Amusement Board Boxing Chief June Bautista, GAB officer Jackie Lou Cacho and GAB physician Dr. Jose Rivera.

Renerio Arizala will still stay a few more days in observation at the Manila Med, a private medical center in the Philippines bustling capital. At Manila Med, Renerio will be looked after by Rehab Medicine doctor Dr. Noel Nathaniel Napa, who will follow up in the Philippines on Dr. Nagao's instructions.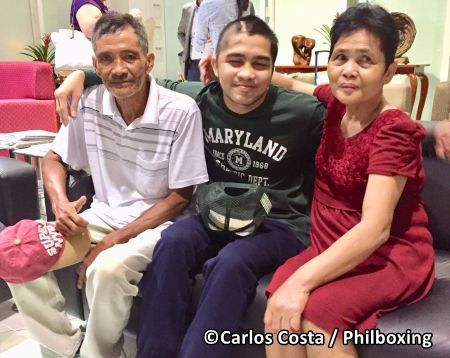 Renerio with his parents Ma'am Jovencia Gemino Arizala and her husband Renerio Arizala Sr. at NAIA May 15.

"There are no medications at all. We will observe him closely. He will eat, rest and will work on his rehab, and get his strength back again."

Meanwhile, Philippine's Games and Amusement Board (GAB) Chairman Baham Mitra, the country's government body overseeing boxing, commented:

"GAB is very grateful to the Japan Boxing Commission (JBC), as well as to the Japanese doctors and the Japan boxing community for all the help/assistance that they have extended to our Filipino boxer Renerio Arizala, and we are grateful to The All mighty God for his safe Operations and speedy recovery.

"We shall continue to do our Job at GAB by looking after the welfare of our boxers. It's a tough job, but we need to implement the Rules that were set ahead of us.


"We will do it for the safety of our boxers. The GAB Board with commissioners Ed Trinidad and Mar Masanguid welcome our Filipino Boxer Arizala home and we promise to look after him."

A press conference has been scheduled by GAB for Thursday, May 16, at 2 PM (local time) at GAB Main office in Makati.

In that presser, the Japanese and Filipino boxing officials, as well as doctors, will talk to the media and will answer questions on the situation that the brave Filipino boxer Renerio Arizala went thru.

"Thanks be to our God, and to the doctors and to all who cared about my son," said Renario's mother.

"His two brothers and sister love him and prayed for him so much. We all prayed. And our prayers were heard," said Renerio's mom, a devout Roman Catholic.

The united, and now very happy Arizala Family, mom, dad, and four kids live in Molino III, Bacoor City, Cavite, Philippines.

Welcome home Renerio Arizala!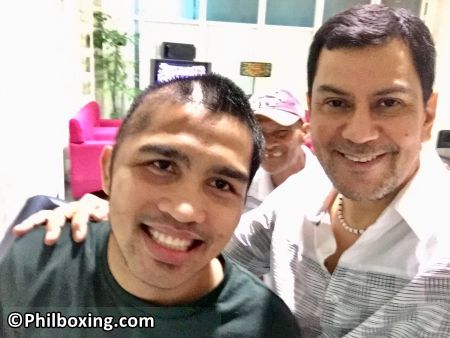 Selfie. Renerio Arizala with the author Carlos Costa at NAIA. In the middle smiling is Renerio's father.
The author Carlos Costa is a Panama boxing reporter living in the Philippines. Carlos can be reached at carlos512@hotmail.com and whatsapp/viber/wechat: +639184538152.
---
Recent PhilBoxing articles: