Mobile Home | Desktop Version




NIETES AND VILORIA ALL SET FOR SUPERFLY 2

By Maloney L. Samaco
PhilBoxing.com
Thu, 22 Feb 2018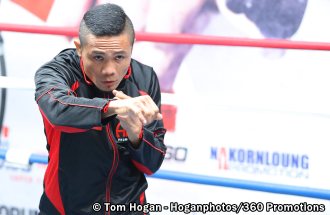 Three-time world champion Donnie Nietes (40-1-4, 22 KO's) will defend his IBF world flyweight title for the first time in 12-rounds against two-time world champion and mandatory challenger Juan Carlos Reveco (39-3-0, 19 KO's) from Las Heras, Argentina at the much awaited Superfly 2 card scheduled on Saturday, February 24, 2018 at the "Fabulous" Forum.

"Reveco is essentially a boxer, one who works behind a left jab-overhand right combination. He is relatively small at 5-2 and is susceptible to the counter right as he tends to get lazy with the left jab as he moves in," said boxing analyst Atty. Ed Tolentino. "Reveco is a great champion," said trainer Edito Villamor over Spin.ph. "He is talented and strong but the way I see it, Donnie has the same strength. Donnie is ready."

"Fighting in Los Angeles for the third time in front of the great Filipino fans, along with fighting on HBO, is a great honor for me," Nietes said. He knows how tough Reveco is, but he will be well-prepared to defend his title on February 24.

Reveco, on the other hand, is excited over his US debut. He stated that this is his tremendous opportunity to finally fight in the United States and against a great champion in Donnie Nietes. "I know there will be a huge amount of Argentinean fans at The Forum for the fight, and I look forward to winning the IBF flyweight world title in front of them," Reveco said.

In a non-televised part of the card, four-time two-division world champion and No. 2 contender Brian "The Hawaiian Punch" Viloria (38-5, 22 KO's) of Los Angeles, Californua via Waipahu, Hawaii will encounter No.1 contender Artem Dalakian (15-0, 11 KO's) of Dnipropetrovsk, Ukraine in a scheduled 12-round bout for the vacnt WBA world flyweight title.

When asked by BoxingScene about what does he know about his Ukrainian foe, the Filipino-Hawaiian answered, "Not that much actually. I've been told to look over some tapes on him and try to figure him out and what his style is. As far as I'm concerned he has that typical European-style, stick-your-hand-out, straight up fighter."

* * *

Former world champion, now No. 1 contender and mandatory challenger Juan Francisco "El Gallo" Estrada (36-2-0, 25 KO's) of Sonora, Mexico, closed his training camp in Hermosillo, Mexico with a final sparring session before a big crowd of supporters. Estrada will challenge WBC super flyweight world champion Srisaket Sor Rungvisai (43-4-1, 39 KO's) of Si Sa Ket, Thailand, in a 12-round main event

"I'm ready for The Champ, this has been a tremendous camp with great sparring, " said Estrada who was accompanied by his trainer Alfredo Caballero in front of cheering fans. "It's great to be here in front of the media and my supporters, many of whom are coming to the fight."

Estrada said he will dedicate his victory, if he is triumphant, to his country. "As soon as I was offered the fight I accepted, it's a great opportunity to become a world champion again and to honor Mexico." He appreciates his opponent but he is positive of beating him.

"I know how good Sor Rungvisai is from his last two fights with Roman Gonzalez, he's very strong but I have the skills to defeat him. The whole country of Mexico and boxing fans all over the world will be watching Superfly 2 and I look forward to putting on a spectacular performance for them."

Co-featured on the HBO Boxing After Dark telecast, former WBC Super Flyweight World Champion, Carlos "Principe" Cuadras, (36-2-1, 27 KO's) of Mexico City fights two-time world title challenger McWilliams Arroyo (16-3, 14 KO's) of Fajardo, Puerto Rico in a ten round super flyweight encounter.

* * *

The World Boxing Organization (WBO) ranked Roman "Chocolatito" Gonzalez as number one contender in the superfyweight division in January. The title was vacated by Japanese champ Naoya Inoue who moved up to the bantamweight, where he is slated to face World Boxing Association (WBA) champion Jamie McDonnell.

Managua sports writer and deputy mayor Enrique Armas stated earlier that there were current negotiations to make Gonzalez and Donnie Nietes fight for the vacant throne on a date to be set in June.

But Gonzalez's manager Carlos Blandon, said everything is still on schedule for a ring return in May, and said there is a very slim chance of fighting Nietes in June. "There is a 0.0% chance of that happening, but if you have to put a percentage on it.. it would be 0.01, because you never know what God could present... but the possibility of Roman fighting in May is always the plan," Blandon was quoted by BoxingScene.





---
Recent PhilBoxing articles: