The Past Week in Action 29 March 2023: Benavidez Outpoints Plant; Okolie Defeats Light; Ramirez KOs Commey

By Eric Armit
PhilBoxing.com
Wed, 29 Mar 2023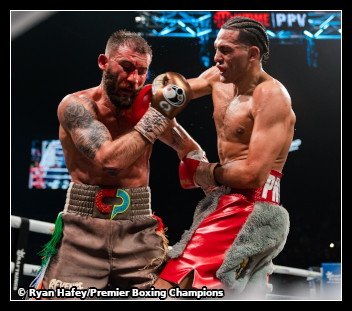 Highlights:
-David Benavidez comes from behind to outpoint Caleb Plant in WBC interim super middleweight title defence
-Lawrence Okolie retains the WBO cruiserweight title with points victory over David Light
-Jose Ramirez scores an eleventh round kayo over Ricard Commey
-Seniesa Estrada unifies the WBA and WBC minimum titles with her win over Tina Ruppert
-Christian Mbilli and Simon Kean score wins in Montreal
-Jose Zepeda outpoints Neeraj Goyat in Guadalajara
-Srisaket gets a stoppage win in Bangkok
- There are wins for Ivan Zucco, Lyndon Arthur, Yokasta Valle, Gimiel Magramo, Raymond Muratalla, Jesus Ramos, Chris Colbert and Cody Crowley
World Title/Major Shows
MARCH 25
Las Vegas, NV, USA: Super Middle: David Benavidez (27-0) W PTS 12 Caleb Plant (22-2). Super Welter: Jesus Ramos (20-0) W TKO 7 Joseph Spencer (16-1). Light: Chris Colbert (17-1) W PTS 10 Jose Valenzuela (12-2). Welter: Cody Crowley (22-0) W PTS 12 Abel Ramos (27-6-2). Super Bantam: Kevin Gonzalez (26-0-1) W PTS 10 Jose Sanmartin (34-7-1). Super Light: Orestes Velazquez (7-0) W PTS 10 Marcelino Lopez (37-3-1). Super Feather: Demier Zamora (10-0) W Jesus Ibarra (15-0).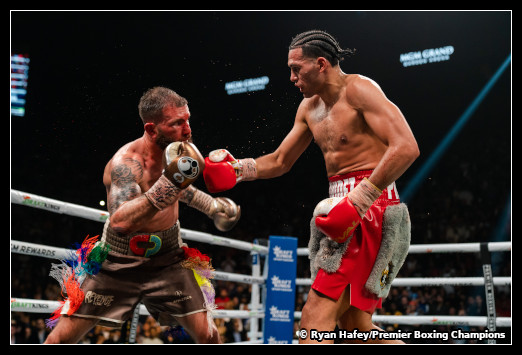 Benavidez vs. Plant
After being behind for much of the fight Benavidez turned up the power over the closing rounds to outpoint Plant. The first round saw Plant using plenty of movement, jabbing well, landing left hooks and outscoring Benavidez. That pattern continued in the second with the quicker Plant constantly sliding punches through Benavidez guard with Benavidez slow to react and off on his timing and distance. Benavidez finally had some success in the third getting through with left hooks but Plant again outboxed him in the fourth. At that point two judges had Plant in front 40-36 and 39-37 with the third having them even at 38-38. A frustrated Benavidez was swinging wildly in the fifth and showed his frustration by signalling for Plant to stand and fight. Plant ignored the gesture and continued to jab and move and took the round-which turned out to be the last success Pant enjoyed in the fight. Plant did enough to make the sixth close but Benavidez took the round as he finally began to trap Plant against the ropes and land heavy punches. Plant had spent a great deal of energy with the speed and movement he had used to build his lead and in the seventh he slowed and his punch output dropped as Benavidez began to grind Plant down. Benavidez was now in control and he landed heavily in the eighth with Plant in trouble and holding desperately after being rocked by a right to the head. With Benavidez in full flow the referee stopped the action to inspect a cut Plant had suffered in a clash of heads earlier in the round and that might have just have saved Plant from a stoppage. The scores were now much closer with Plant ahead 77-75 on one card Benavidez 77-75 up on the second and the third having it 76-76 but effectively the fight was over. Benavidez was now in control and he proceeded to dismantle a cut and tiring Plant. The ninth was all Benavidez and the tenth saw Benavidez again pounding Plant with jabs, hooks and uppercuts with Plant looking close to folding. His corner threatened to pull him out of the fight if they saw he was unable to fight back. Benavidez handed out more brutal punishment in the eleventh with a gutsy Plant just looking to hold on and see out the round. He managed that and although bruised, battered, bloodied and rocked by left hooks in the twelfth he fought his way to the bell. Scores 117-111, 116-112 and 115-113 for Benavidez with all three judges having Benavidez wining the last seven rounds from the sixth to the twelfth. Benavidez was defending the WBC interim belt and is the WBC's mandatory challenger to Saul Alvarez. However, Alvarez is set to defend all four belts against John Ryder on 6 May, so Benavidez will have to see what happens in that fight. Plant is still very much a name so there are good fights out there if he wants them and if Alvarez relinquishes the belts, then the situation as super middleweight will be wide open.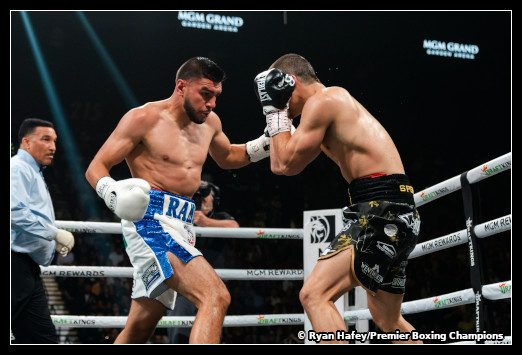 Ramos vs. Spencer
Ramos defeats Spencer in nine rounds. Ramos made a great start putting Spencer down with a short left hook late in the first round. Spencer was up quickly and piled into Ramos only to be badly shaken by another left hook at the bell. It was obvious that Ramos weas the bigger puncher but Spencer persisted in trying to batter his way to victory and just kept walking into punishment. He was finding gaps for his punches but they were bouncing off Ramos and by the end of the sixth Ramos was landing heavily. Spencer refused to crumble but was taking serious punishment in the seventh and the towel came in from his corner. Ramos, 22, makes it sixteen wins by KO/TKO. He is rated WBC 7 and WBO 9. It is starting again time for Spencer.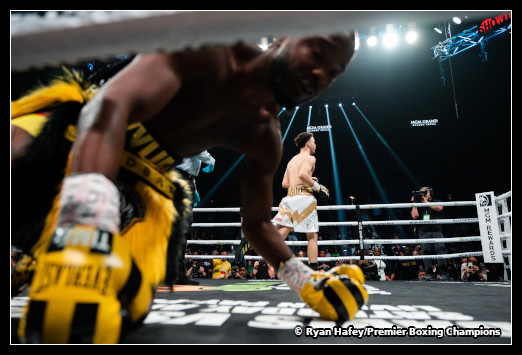 Colbert vs. Valenzuela
Colbert gets a controversial decision over Valenzuela in a clash of fighters in need of a win. Valenzuela put Colbert down with a sweeping left hook just seconds into the first round and almost had him down again later in the round. Colbert recovered and used some clever boxing and pressure to work his way into the fight but Valenzuela was always dangerous and worked away to Colbert's body. Valenzuela broke through in a big way again in the sixth when he sent Colbert tumbling into the ropes with a left. Colbert managed to stay on his feet and had a good seventh but Valenzuela did most of the scoring in the eighth and the last two rounds were close with Valenzuela looking to have done enough to take the decision but all three judges gave it to Colbert 95-94. First fight for Colbert since his loss to Hector Garcia in February last year. Valenzuela had been stopped after three wild rounds by Edwin De Los Santos in September.
Crowley vs. Ramos
Crowley takes a majority decision over Ramos. Crowley opened by putting Ramos under tremendous pressure banging away to head and body with Ramos forced to fight with his back against them ropes feeding Crowley some hurtful counters. Crowley looked to have built a lead over the opening rounds but they were close. Ramos started to roll from the fourth and he landed well in the fifth with Crowley's face beginning to mark up. Crowley continued his aggressive attacks with Ramos blazing back as the war continued with Crowley just having a slight edge from a higher work rate. They poured on the punches in the eighth and ninth and Crowley briefly touched down in the tenth but it was ruled a slip after an instant replay. The attrition continued over the last two rounds with Crowley just holding on to the slight edge he had. Scores 116-114 and 115-113 for Crowly and 114-114. Canadian Crowley is No 2 with the WBO and No 3 with the WBC so in with a chance at either title later this year. He was emotional after this fight the first time he had been in the ring since his father committed suicide last year. Ramos lost a split decision to Yordenis Ugas for the vacant WBA secondary title in 2020.
Gonzalez vs. Sanmartin
Mexican Gonzalez takes a unanimous decision over Colombian Sanmartin. Gonzalez was equally at home either on the back foot using his quicker hands to counter Sanmartin and darting inside to score with a burst of punches or going toe-to-toe and swapping hooks and uppercuts. He changed those tactics from round to round and although Sanmartin worked hard to edge a couple of rounds late in the fight he was comprehensively outboxed. Gonzalez won on scores of 99-91,98-92 and 97-93. Wins over some credible opposition has seen him climb to No 3 with the WBA and with the top spot vacant effectively he is No 2. Sanmartin had won eight of his last nine fights with the loss a third round kayo by Mauricio Lara
Velasquez vs. Lopez
Cuban Velasquez was too slick and quick for Lopez. Whether on the front foot or the back he used his superior skills and hand speed to find the target. Lopez was always dangerous with his wild rights but never really threatened to unsettle Velasquez who boxed his way to the win with the scores being 99-91 twice and 97-93. The 30-year-old Velazquez did not turn pro until he was 27 but has considerable amateur experience on his ledger. This was the first time he had been taken the distance. Experienced Argentinian Lopez, 36, was unbeaten in his first 30 bouts and had won his last five by KO/KO.

Manchester, England: Cruiser: Lawrence Okolie (19-0) W PTS 12 David Light (20-1). Heavy: Frazer Clarke (6-0) W RTD 2 Bogdan Dinu (20-5). Super Feather: Michael Gomez (19-1) W PTS 10 Levi Giles (13-1). Super Middle: Callum Simpson (11-) W TKO 3 Celso Neves (9-4-2). Super Feather: Kariss Artingstall (3-0) W PTS 6 Linzi Buczynskyi (4-2).
Okolie retains the WBO title with a dominant performance in a fight with too much clinching and few highlights.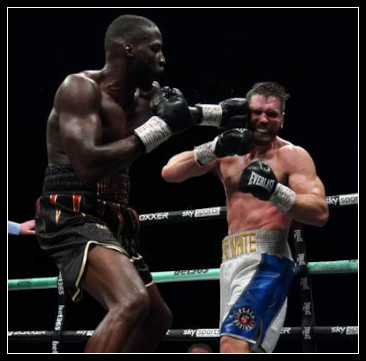 Okolie vs. Light
Round 1
Okolie was using his advantages in height and reach to pop Light with jabs and landed a right to the head. When Light did get inside Okolie was tying him up. Okolie connected with a pair of rights and held inside and there was already too much holding.
Score: 10-9 Okolie
Round 2
Okolie's tactics were simple. He was using the jab as a range finder and then banging over straight rights with Light unable to close the distance. The only variety was a right to the body from Okolie and Light just could not get past the jab.
Score: 10-9 OkolieOkolie 20-18
Round 3
Okolie was again working the jab. There was no power behind it but it was a scoring punch and having Okolie's jab in his face was preventing Light from launching attacks. Okolie was warned for pushing Light's head down in the clinches. Light was circling away from Okolie's rights but could not get away from Okolie's jab and Okolie was using it like a paint brush dabbing Light's face.
Score: 10-9 OkolieOkolie 30-27
Round 4
Light was trying to throw rights over the top of Okolie's jab but the extent of Okolie's reach was such that Light was forced to leap forward leaving himself open to counters. The pattern remained the same with Okolie scoring with his jab and holding whenever Light did get inside. It was effective but not entertaining.
Score: 10-9 OkolieOkolie 40-36
Round 5
Okolie was bouncing on his toes with Light padding flat-footed when he needed speed to get past Okolie's jab and close the distance before Okolie could use his long strides to dance out of distance. Okolie kept popping Light with his jab and choosing his time to throw a right with a frustrated Light just lunging at air.
Score: 10-9 OkolieOkolie 50-45
Round 6
Score: A good round at last for Light. He was coming forward quicker putting Okolie under pressure scoring with his own jab and blocking Okolie's jab. He was also able to land a couple of rights. Okolie's jab was largely absent and he was finally warned for stiff-arming Light with a rigid left hand.
Score: 10-9 LightOkolie 59-55
Round 7
Okolie's best round so far. He was firing his jab again and landing rights. What had changed was that instead of taking a step back when Light ploughed forward, he was standing and banging home punches and then getting away cleanly rather than holding.
Score: 10-9 OkolieOkolie 69-64
Round 8
Another round for Okolie. He was on target with his jab and countering the oncoming Light rather than always holding. A frustrated Light just could not land anything of note but he did have a justified beef over punches to the back of the head.
Score:10-9 OkolieOkolie 79-73
Round 9
It was jab and move and jab and move from Okolie with the occasional straight right included. Light was just following him around the ring looking for a chance to get past the jab. Light scored with a couple of good left hooks and a right to the head but Okolie was doing most of the scoring banging Light with straight rights -and doing a lot of holding.
Score: 10-9 OkolieOkolie 89-82
Round 10
Okolie caught alight in this one. He hammered Light with three successive neck jarring head punches driving Light across the ring and continued to bombard him with punches. Light saw out the storm but Okolie continued to land heavy rights and you have to wonder why he did not show that fire earlier in the fight.
Score: 10-9 OkolieOkolie 99-91
Round 11
Light put in a big effort at the start of this round and was able to connect with some hooks. Okolie was warned twice for holding and finally the referee deducted a point*. That angered Okolie and he landed a series of punches that had Light reeling.
Score: 10 (9*)-9 OkolieOkolie 108-100
Round 12
Okolie continued to dominate the action with his jab and rights. Light tried to apply pressure but just could not get close enough often enough and when he did get inside, he was suffocated by Okolie's holding.
Score: 10-9 OkolieOkolie 118-109
Official Scores: Judge Deon Dwarte 119-108 Okolie, Judge Jean Gauthier 117-110 Okolie, Judge Michael Alexander 116-112 Okolie.
Third successful defence of the WBO title for Okolie. Light never found a way to deal with Okolie's jab and was too often open for straight rights. With Okolie holding tight every time Light did get close Light had no way to win. Light was the mandatory challenger with Brits Chis Billam-Smith and Richard Riakporhe at No 2 and 3. Okolie has talked about going up the heavyweight and having disposed of his mandatory challenger he has plenty of choices. Light is better than he showed but he did not see to have a workable plan or a plan B game and was already looking dispirited in the eighth and ninth at his lack of success
Clarke vs. Dinu
Clarke beats Dinu on a second round retirement. Clarke quickly put Dinu on the back foot with some jarring jabs and scored well tom the body. Dinu fired the occasional counter but was mostly on the defensive. Clarke increased them pressure in the second firing rights and again going to the body with some hefty hooks. Dinu was keeping a high guard to block Clarke's jab so Clake banged homed some hurtful body punches and at the end of the round Dinu retired blaming an injured rib. Clarke was moving up to eight round fights but instead made it his fifth early finish. Dinu came in as a very late replacement after Rydell Booker fell ill.
Gomez vs. Giles
Gomez overcomes an early deficit to win a split decision over Giles. The better skills of Giles saw him outboxing Gomez over the first half of the fight. Gomez took over after the half way mark as Giles slowed but it was close at the end with Gomez getting the decision on scores of 97-93 and 97-94 for Gomez and 96-95 for Giles. Gomez gets his tenth consecutive victory and wins the vacant English title.
Simpson vs. Neves
Simpson gave another demonstration of his power as he crushed Portugal's Neves in three rounds. A right to the head floored Neves and although he made it to, his feet the referee waived the fight over. Ninth win by KO/TKO for the youngster from Barnsley.
Artingstall vs. Buczynskyi
Another former top amateur is making her way slowly up the professional ranks. Artingstall, a bronze medallist at the Tokyo Olympics and a silver at the European Championships, cruised her way to victory over fellow-English boxer Buczynskyi 60-55 on the referee's card.

Fresno, CA, USA: Super Light: Jose Ramirez (28-1) W Richard Commey (30-5-1). Minimum Seniesa Estrada (24-0) W PTS 10 Tina Rupprecht (12-1-1). Light: Raymond Muratalla (17-0) W KO 9 Humberto Galindo (14-3-1). Heavy: Antonio Mireles (7-0) W PTS 6 Patrick Mallata (6-2).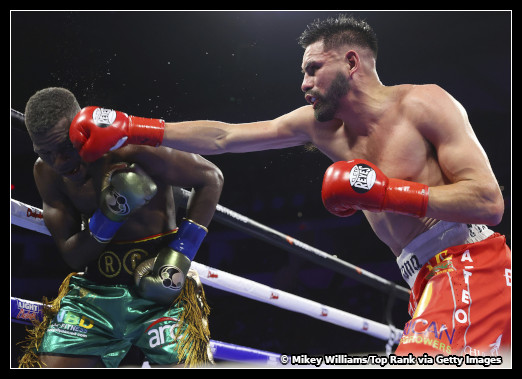 Ramirez vs. Commey
Ramirez puts Commey down twice in the twelfth for victory. Ramirez came out firing hooks and uppercuts and trying to catch Commey cold and overwhelm him. Commey was trapped in a corner with Ramirez unloading on him. The Ghanaian refused to cave in and fought his way out of trouble. Ramirez continued to swarm forward throwing punches over the next three rounds. From the fourth Commey started to find the distance with his jab and was catching Ramirez with some dangerous right hand counters. For the next four rounds it was close with Ramirez still storming forward but he was less effective and Commey was again dangerous with his rights. Commey seemed to slow over the ninth and sensing the Ghanaian might be tiring Ramirez upped the pressure level in the tenth with Commey still banging back but looking arm weary. Early in the eleventh a right to the side of the head sent Commey sprawling on the canvas. He made it to his feet and after the count lunged forward into Ramirez who twisted and almost threw Commey through the ropes. Ramirez was warned but he tore into Commey again and drove him to the ropes. He bombarded Commey with punches until the Ghanaian dropped his gloves and slid away from Ramirez's attack and knelt on the canvas and was counted out. A year of inactivity has seen Ramirez drop down the ratings but he will be looking to reverse that trend this year. Commey put his strange surrender down to a punch to the back of the head. Whatever reason for his surrender this is a blow to him and at 36 it will be difficult for him to rebound.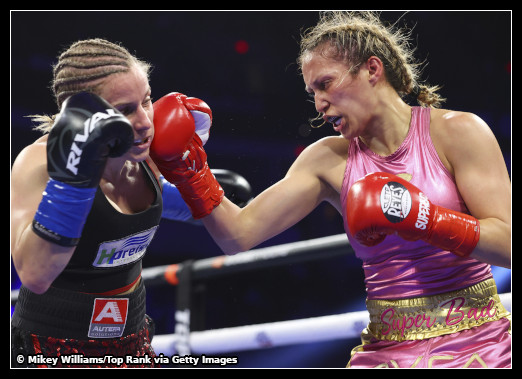 Estrada vs. Ruppert
Estrada wins this unification scrap on a unanimous decision. Estrada boxed well using her longer reach to score at distance and countering the aggressive Ruppert on the way in. Ruppert pushed Estrada hard but Estrada was more accurate and quicker. Ruppert stayed competitive and had some success of her own snapping Estrada's head back with stiff jabs and working to the body but Estrada outworked her and was a clear winner although the three cards of 100-90 were too wide. Estrada retains her WBA title and wins Ruppert's WBC title.
Muratalla vs. Galindo
Muratalla comes off the floor to kayo Galindo. The fight started badly for Muratalla as Galindo landed with a beautiful left/right combination dropping Muratalla on his rump in the first round. Muratalla was up quickly and not too badly shaken and he repaid Galindo in the fourth as he spun from the ropes and connected with a left hook to the ribs that saw Galindo drop to a knee. Galindo made it to his feet and survived the round but. Muratalla proceeded to break Galindo down with a focused body attack. Galindo fought back but was drained by the ninth and another left hook to the body saw him down on one knee and counted out. Eleventh win by KO/TKO in his last twelve fights for Muratalla. Second loss in a row to an unbeaten fighter for Galindo having been outpointed by Artem Harutyunyan in Germany in June.
Mireles vs. Mallata
Mireles continues unbeaten but has to climb off the floor for his split decision win. Mireles found the smaller Mallata a handful early and it looked like it was going to be a bad night when Mallata floored him in the third. A right to the temple unhinged Mireles legs and he wobbled badly before going down on his knees. He still looked shaken when he made it to his feet but survived. From there Mallata tired and Mireles took over and ended the fight strongly to take the split decision on scores of 57-56 twice for Mireles and 57-56 for Mallata. Mireles had won his six previous fights inside the distance but this one shows he has lots of work to do. Samoan-born Mallata was carrying 321lbs on his 6'5" frame so his tiring was not unexpected

MARCH 21

Buenos Aires, Argentina: Super Middle: Sergio Martinez W KO 1 Jhon Tehran (18-3).
This homecoming for Martinez failed to live up to anyone's expectation. His opponent Teheran was pathetic. Martinez marched after him with Teheran retreating along the ropes just pushing out a few miserable jabs. Martinez managed to land a few of shots and then trapped Teheran against the ropes. Teheran hid behind a high guard as Martinez landed a couple of body punches and when Martinez did connect with a hard left to the head Teheran fell to the canvas on his hands and knees and watched the referee count to ten. Teheran claimed he had been offered $5,000 to lose the fight but then retracted his claim. First fight in his homeland for 48-year-old Martinez since his points victory over Martin Murray in a WBC title defence in 2013. Teheran, 38, was out of the ring for seven years before returning in 2021. He was 3-1 since his return with the three fighters he beat having combined records of 1-24.

MARCH 22

Rangsit, Thailand: Bantam: Petch CP Freshmart (70-1) W PTS 10 Renz Rosia (17-10-1).
CP Freshmart (Tasana Salapat) holds on to the WBC ABC belt as he outpoints Filipino Rosia in an all-southpaw clash. CP Freshmart dictated this one with some strong jabbing and impressive body punching. Rosia, much the smaller man, boxed on the retreat countering and launching quick attacks doing enough to win an occasional round but lacking the power to seriously hamper CP Freshmart who won on scores of 97-93 twice and 98-92. CP Freshmart's lone defeat came in 2018 when he lost to Takuma Inoue for the WBC interim belt and he has now won his last 22 fight. In his two previous bouts Rosia, the Philippines super-fly title holder, had score good wins over former WBO super fly title challenger Aston Palicte and Cris Paulino.

MARCH 23

Montreal, Canada: Super Middle: Christian Mbilli (24-0) W PTS 10 Carlos Gongora (21-2). Heavy: Simon Kean (23-1) W T KO 7 Eric Molina (29-9) Super Light: Steve Claggett (34-7-2) W RTD 7 Rafael Guzman (26-3-2,1ND).
Mbilli vs. Gongora
Mbilli comes through his toughest test so far as he decisions former IBO champion Gongora in a fight that is a candidate for Fight of the Year and a round that could qualify for Round of the Year. In typical style Mbilli tried to overwhelm Gongora but the Ecuadorian made a strong start and as they traded punches in some fierce exchanges Gongora looked to have taken the first and the second was close. Mbilli upped the pressure from the third and although Gongora scored with some scorching counters Mbilli was getting the better of the toe-to-toe action banging away with body shots and building a lead. They continued to trade heavy punches in furious exchanges over the middle rounds before Gongora came close to turning things around in a wild eighth. As they continued to swap bombs Gongora nailed Mbilli with a left hook. Suddenly Mbilli came unhinged at the knees and was holding desperately Gongora piled on the punches looking to put away the dazed Mbilli but then Mbilli recovered and the round swung the other way and it was Gongora fighting to survive as Mbilli blazed away. A riotous round. Mbilli ended the fight strongly and looked to be within a punch or two of stopping Gongora with the final bell coming to Gongora's' rescue. Cameroon-born Frenchman Mbilli is now based in Montreal hoping to improve his chance of a title shot. He is No 2 with the WBC and with WBC No 1 Caleb Plant fighting David Benavidez for the interim WBC title he could move into the No 1. That left hook from Gongora in the eighth is the first sign of a chink in the impressive Mbilli's armour. Former IBO champion Gongora had lost his IBO title on a split decision against Lerrone Richards in December 2021 but had returned with a routine win in August.
Kean vs. Molina
Kean stops Molina in seven rounds. Kean just did enough to take a slow first round and a ponderous Molina making the second close. The pace continued to be less than pedestrian in the third and fourth with Kean landing the better shots. Neither fight is speedy but Kean was the one throwing more and landing more with Molina already looking gassed. Molina did better in the fifth landing a heavy right and although he was down the referee ruled it a push. Molina was exhausted in the sixth with Kean fitter and a little faster. In the seventh Kean landed a huge straight right that sent Molina staggering back and another right puts him down. He made it to his feet but was wobbling on unsteady legs and leaning on and holding the top rope to avoid going down again. He was in no condition to continue and the fight was stopped. Eighth inside the distance win in a row for Kean. He has power but he is slow and his defence is rudimentary at best. Molina, 40, suffers his ninth inside the distance defeat.
Claggett vs. Guzman
Claggett beats Guzman. The fight started at a fast pace with both fighters scoring well to the body in the first with Guzman having a slight edge. Claggett evened things up with some choice uppercuts to take the second and scored again with uppercuts and useful body punches to win the third and fourth with Guzman already tiring. Guzman rallied making the fifth close but the stronger Claggett took over again with a focused body attack in the sixth and seventh which proved too much for Guzman who did not come out for the eighth. Now 24 victories by KO/TKO for Claggett and his fifth win in a row. Guzman's last fight was February 2022 and he was 6-0-1 going into this one.

MARCH 24

Bolton, England: Light Heavy: Lyndon Arthur (22-1) W PTS 10 Boris Crighton (10-2). Welter: James Moorcroft (19-2) W TKO 2 Nathan Bennett (12-3). Super Light: Kane Gardner (16-2) W PTS 8 Conah Walker (11-2-1). Super Feather: Sultan Zaurbek (14-0) W TKO 5 Facundo Arce (15-10-2). Middle: Denis Radovan (17-0-1) W TEC DEC 5 Fouad El Massoudi (18-20-1)
Arthur vs. Crighton
Athur wins unanimous decision over Crighton. When original opponent Braian Suarez did not pass the medical and Crighton came in at very short notice. Arthur made use of his much longer reach to box his way through the first two rounds but was shaken by a left hooks in both the third and fourth rounds. Arthur was back on target with his jab and connects with some strong straight rights in the fifth and although Crighton rebounded to make the sixth close Arthurs jab gave him the edge. Crighton had a strong seventh only for Arhtur to finally put together some combinations to show the gap in class in the eight and shake Crighton in the ninth. There was some good trading in the tenth before Arthur dropped Crighton just before the bell. Scores 99-91, 98-92 and 96-93. Not a very impressive showing from Arthur but he did have to adjust to a late change of opponent. Good performance by Crighton who had won his previous four fights.
Moorcroft vs. Bennett
Moorcroft destroys Bennett in two rounds. After scoring heavily in the first Moorcroft dropped Bennett with a series of punches inn the second. Bennett managed to beat the count but was unsteady and the referee stopped then fight. Sixth win in his last seven fights for Moorcroft. Bennet came in on the back of three wins.
Gardner vs. Walker
Gardner comes from behind to outpoint Walker. Over the early rounds Walker forced the pace hard getting in close and working to the body with Gardner spending too much time punned against the ropes. Gardner upped his pace over the second half of the fight and boxed cleverly with plenty of movement to give himself punching space and more accuracy. Walker slowed late and that was enough to have Gardner close the points gap and emerge the winner 78-76 on the referee's card. Four wins on the bounce for Gardner. Walker's other loss was a very close decision against Samuel Antwi for the English belt in February last year.
Zaurbek vs. Arce
Kazakh southpaw Zaurbek floored and stopped Argentinian Arce in the fifth round. First fight in eleven months for Zaurbek and his tenth inside the distance finish. He turned pro in Britain and is 7-0 in fights there. Five losses in his last six fights for Arce.
Radovan vs. El Massoudi
German Radovan pops up on this card and wins technical decision over France's El Massoudi. Radovan was much too good for El Massoudi. He handed out steady punishment over then first two rounds. El Massoudi did a bit better in the third but both fighters were cut in a clash of heads. Radovan did most of the scoring in the fourth and El Massoudi was deducted a point early in the fifth for careless use of his head before the doctor ruled that El Massoudi's cut was too bad for him to continue and it was decided on the referee's score of 59-56 for Radovan. This was only Radovan's second fight in fifteen months. He is No 4 with the IBF and hopes to be in an IBF eliminator for the title vacated by Gennady Golovkin. Just one win in in his last eleven fights for El Massoudi.

Milan, Italy: Super Middle: Ivan Zucco (17-0) W PTS 10 Germaine Brown (12-2). Super Welter: Christian Mazzon (10-4) W TKO 4 Francesco Russo (12-3) W. Welter: Maxim Prodan (21-2-1) W TKO 2 Mirko Marchetti (8-5).
Zucco vs. Brown
Southpaw Zucco took control in the first putting Browne under plenty of pressure and sent Brown flying to the ropes at the bell to end of the second round which would have meant a count if it had happened earlier. Zucco shook Browne with punches in the fourth. The Italian was too strong for Browne to hold off and Zucco's punches raised a big swelling over Browne's right eye and a bump under the same eye, but Browne landed some good counters particularly in the sixth. Zucco's pressure had Browne under fire in the eighth but he fought back in the ninth despite some heavy hooks from Zucco as they worked inside. With Browne's left eye almost closed Zucco scored with thumping body punches over the ninth and tenth with Browne fighting back all the way but Zucco was a good winner on scores of 99-91 from the three judges. Zucco was making the first defence of the WBC International title. He is a strong relentless fighter and was just too good for Browne.
Mazzon vs. Russo
Mazzon wins the national title with a fourth round stoppage of champion Russo. Both landed well in the first and in the second a right from Mazzon sent Russo tumbling back across the ring and he bombarded Russo with punches. Russo survived and scored heavily late in the round. Mazzon floored Russo with a perfect left hook in the third but Russo made it to his feet and then sent Mazzon flying into the ropes with a right and Mazzon was given a standing count. The fourth was frantic and savage. The swapped punch after punch with Mazzon eventually looking to be in deep trouble from the heavier shots from Russo until he exploded with a two left hooks that sent Russo face down under the bottom rope with the referee immediately stopping the fight. Fourth win by KO/TKO for Mazzon. Russo was making the first defence of the title.
Prodan vs. Marchetti
Prodan dispenses with Marchetti in two rounds. Prodan had Marchetti under pressure in the first with body punches. Marchetti has no power so Prodan ends it in the second. A body punch puts Marchetti down early in the round and the fight is stopped after another knockdown. Ukrainian-born Romanian Prodan had his career derailed by back-to-back losses against Florian Marku and Luis Romero and has eased his way back with two wins in low level outings. Third loss in a row for Marchetti.

Villa Carlos Paz, Argentina: Light: Fabricio Bea (20-0-1) W PTS 10 Cesar Paredes (17-4-1). Super Fly: Carla Merino (11-2) W PTS 10 Debora Gomez (8-9-2).
Bea vs. Paredes
Bea preserved his unbeaten record with a majority verdict over Peruvian southpaw Paredes but was far from convincing. Bea forced then fight over all ten rounds but Paredes proved a quick and clever and opponent. Bea kept applying pressure but Paredes boxed well on the back foot and scored with short bursts of punches. Bea did better as Paredes slowed but it was a very flat performance by the local. Scores 98-92 and 96-94 for Bea and 95-95.
Merino vs. Gomez
Merino overcomes a poor start to outpoint Gomez. Gomez looked sharp at the start as she shook Merino with some hard southpaw lefts in the first. Merino was boxing and countering with accuracy in the second but went down from a left although it looked more like a slip. That gave Merino a hill to climb but she controlled the fight from the third jarring Gomez with jabs and landing straight rights. Gomez slowed and her work became untidy as Merino continued to pile up the points and ended a good winner. Scores 97-93 for Merino from the three judges. Eighth victory on the trot and fourth defence of the South American title for Merino. Gomez has challenged unsuccessfully for the IBF and WBC titles.

Maria Enzersdof, Austria: Light Heavy: Bernardin Jakaj (14-0) W PTS 10 Marko Nikolic (30-3). Heavy: Dardan Avdylaj (10-0) W TKO 2 Pancho Tsvetkov (7-2).
Jakaj vs. Nikolic
Kosovan-born Austrian Jakaj floors and decisions Serbian Nikolic. Jakaj was giving away some height but won by a large margin on the three cards which read 100-89 twice and 99-90. After winning his first 26 fights Nikolic's current 4-3 run is more realistic
Avdylaj vs. Tsvetkov
Avdylaj wins the vacant Austrian title as he floors Bulgarian Tsvetkov in both the first and second round to force the stoppage. Seventh consecutive inside the distance victory for 27-year-old 6'3" Avdylaj. Tsvetkov was stopped in 65 seconds by Frazer Clarke in September.

MARCH 25

Buenos Aires, Argentina: Welter: Yoel Peralta (13-1-1) W PTS 10 Geronimo Vazquez (15-1). Bantam: Florencio Juarez (11-1) W TEC DEC 7 Juliana Basualdo (10-3).
Peralta vs. Vazquez
Peralta floors and outpoints Vazquez. An overhand right followed by a left dropped Vazquez in the first and dominated from there. He found plenty of gaps for his jab and rocked Vazquez with straight rights. Vazquez was cut over his right eye by a punch and deducted a point the fifth for biting Peralta and lost every round. Scores 100-89 on the three cards. Peralta is unbeaten in his last 13 fights and wins the vacant IBF Latino title. Southpaw Vazquez was up at ten rounds for the first time and out of his depth.
Juarez vs. Basualdo
Juarez gets controversial split technical verdict over Basualdo to go 2-1 in their series of fights. Juarez was quicker and showed some clever movement but Basualdo scored with the heavier shots. Basualdo made that power count in the sixth when she landed heavily and looked to be starting to dominate. A clash of heads in the seventh opened a gash on Basualdo's forehead and she was unfit to continue. The judges scored it 70-63 and 68-65 for Juarez and 67-66 for Basualdo. Juarez retains the South American title and wis the vacant Argentinian title.

Melbourne, Australia: Heavy: Kris Terzievski (11-1-2) TEC DRAW 3 Faiga Opelu (15-3-2). Cruiser: Benjamin Kelleher (16-5-2) TKO 8 Khalid Baker (11-1).
Terzievski vs. Opelu
The Commonwealth title remains vacant as Terzievski suffers an injury to his left ankle and is unable to continue. The taller Terzievski looked to have the better work in the first but an aggressive Opelu evened things up with a better second. In the third as Opelu drove forward they both overbalanced and went down. When he arose Terzievski was limping and the fight was stopped. Terzievski was also defending the Australian belt. Opelu had beaten Terzievski on a fifth round retirement in 2019 and was coming off a good victory over 19-0 Hemi Ahio in October.
Kelleher vs. Baker
Kelleher wins the vacant Australian title with stoppage of baker. It was Baker who made marginally the better start in the first. After that although some rounds were close Kelleher had taken over and was in control when the fight was stopped in the eighth round. Former champion Kelleher had lost 3 of his last 4 fights but had faced much higher quality opposition than Baker.

Maicao, Colombia: Cruiser: Vincenzo Carita (25-1-1) W RTD 4 Deibis Berrocal (19-14).
Boston's "American Nightmare" Carita, 38, makes it 24 wins by KO/TKO as local southpaw Berrocal retires after the fourth round. Carita was defending the American Boxing Federation Inter-Continental belt. Eighteen years a pro without facing a single serious test-that must be some kind of record. Berrocal is now 2-11 in his last 13 fights with his two wins coming over a couple of novices without a win between them.

Guanacaste, Costa Rica: Minimum: Yokasta Valle (27-2) W PTS 10 Jessica Basualdo (11-1). Middle: Marciela Cornejo (15-5) W Olivia Curry (6-1). Light Fly: Yessica Bopp (37-3) W Norieldys Graterol (13-2).
Nicaraguan-born Costa Rican Valle proves too classy and too experienced for Mexican Basualdo. The early rounds were close but with Valle having the edge. As the fight went on Basualdo, who had only once gone past six rounds, faded badly and Valle was a clear winner in scores of 100-90 twice and 98-92. Valle, a former IBF atomweight champion, was defending the IBF minimum title for the eighth time and the WBO minimum for the second time.

Jarvenpaa, Finland: Cruiser: Samuli Karkkainen (17-1) W PTS 10 Serhiy Demchenko (23-19-1).
Finnish cruiser Karkkainen gets his seventh consecutive win as he outpoints experienced traveller Demchenko with the three judges all turning in cards of 100-90 for the local boxer. The
6' 2 ½" Finn suffered his single loss when he dropped a split decision against Jarkko Ojapalo in a fight for the vacant Finnish cruiserweight title in 2019. Ukrainian-born Italian Demchenko, 43, has fought in eleven different European countries in his in over 18 years as a pro and only suffered one loss by KO/TKO

Hamburg, Germany: Super Welter: Milan Prat (19-0) W KO 2 Abol Mina (16-3). Heavy: Felix Langberg (12-0) W TKO 1 Patrick Korte (19-3-1). Super Middle: Simon Zachenhuber (20-0) W TKO 2 Patrick Rokohl (23-4). Feather: Mina Meinke (16-3) W TKO 2 Angela Cannizzaro (6-19-1). Heavy: Oleksandr Zakhozhyi (18-0) W TKO 3 Muhammed Ali Durmaz (32-33). Heavy: Viktor Jurk (4-0) W TKO 1Lukas Wacher (3-4).
Prat vs. Mina
Frenchman Prat wins the WBA Inter-Continental title with second round stoppage of Ecuadorian Mina. Both landed some good shots in the first and continued the exchanges in the second. Prat scored with a pair of hooks but was then shaken by right. Prat responded with a left hook to the head that sent Mina face down on the canvas. He struggled to his feet but was shaky and the referee stopped the fight. Eleventh consecutive inside the distance victory for Prat. Mina was coming off a couple of decent level wins in Ecuador.
Langberg vs. Korte
Langberg moves up to ten round level for the first time but destroys Korte in less than three minutes. Korte tried to take the fight to Langberg but was wide open and sent down four times before the fight is stopped after just 2:45 of the round. The 6'5" German gets his eleven win by KO/TKO. Fellow-German Kote was 7-1-1 in his most recent outings.
Zachenhuber vs. Rokohl
Zachenhuber disposes of Rokohl in two rounds. Zachenhuber raked Rokohl with punchers in the first and ended it with three knockdowns in the a second with Rokohl counted out 2:32 of the round. Zachenhuber, 24, moves to twelve inside the distance finishes. Third loss in his last four fights for Rokohl.
Meinke vs. Cannizzaro
In a terrible non-title match Meinke overwhelms Italian Cannizzaro. Meinke put Cannizzaro on the canvas with a body punch in the first and again in the second and after a couple more knockdowns the referee stopped the massacre. Meinke, the holder of the IBF and Global Boxing Union belts, has won 9 of her last 10 fights. Cannizzaro has lost her last 15 fights.
Zakhozhyi vs. Ali Durmaz
Zakhozhyi flattens Ali Durmaz in the third round. After a couple of low activity rounds Zakhozhyi puts Ali Durmaz down and out. The 6'9" Ukrainian has 14 inside the distance wins. Loss No 29 by KO/TKO for 42-year-old Ali Durmaz.
Jurk vs. Wacher
German giant Jurk scores three knockdowns with Wacher counted out just before the bell to end the first round. The 6'8 ½" 22-year-old Jurk has won all four of his fights in the first round taking less than seven minutes to do so. Third consecutive time in his four lo0sses that Wacher has failed to last more than four rounds.

Abruzzo, Italy: Super Light: Charlemagne Metonyekpon (12-0) W PTS 10 Stefano Ramundo (10-1).
Benin-born Metonyekpon retains the Italian title with a unanimous decision over Ramundo. Metonyekpon's better skills saw him build an early lead with Ramundo getting into it over the middle rounds as it developed into an entertaining contest. Metonyekpon's experience of already having gone ten rounds twice saw him pace the fight well and finish strongly. Scores 97-93 twice and 95-94 for Metonyekpon. Second title defence for Metonyekpon. Ramundo's first experience of going past eight rounds.

Ferrara, Italy: Heavy: Emanuele Venturelli (7-0-1) DREW 10 Gianmarco Cardillo (10-0-2).
The Italian title remains vacant as these two fight to a majority draw. Venturelli used his longer reach and some hefty body punches to outscore Cardillo over the first four rounds. Cardillo who came in as a late substitute, was having his first fight since June 2021 and only his second fight since 2018 so his slow start was not unexpected. From the fifth Cardillo upped his pace taking the sixth and although Venturelli, who had not gone past the sixth round, had a good seventh Cardillo swept the last three rounds making it a hard one to call. Scores 95-95 twice and 96-94 for Cardillo. They will have to do it all; over again

Guadalajara, Mexico: Super Light: Jose Zepeda (37-3,2ND) W PTS 10 Neeraj Goyat (17-4-2). Super Welter: Carlos Ocampo (34-2) W RTD 4 Mauricio Gutierrez (7-2,1ND). Feather: Rafael Espinoza (22-0) W TKO 4 Rafael Rosas (19-3-2). Super Middle: Aaron Silva 12-0) W TKO 4 Jaime Hernandez (10-9)
Zepeda vs. Goyat
Zepeda has to go the full ten rounds for victory over India's Goyat. He found Goyat a tricky opponent who tried a variety of ploys and plenty of bobbing and weaving to disturbed Zepeda's focus. Despite his frustration Zepeda stuck to his task outscoring Goyat in every round without ever having Goyat in any serious trouble. The fans did not appreciate Goyat's largely negative tactics or the way he continually raised his arms to celebrate his defensive work. The cards read 100-90 from all three judgers. Last time out in November Zepeda was stopped in the eleventh round by Regis Prograis for the vacant WBC super light title so has a rebuilding job on his hands. After starting his career with a 0-2-2 run Goyat has travelled around finding fights where he can and had won his last eight contests.
Ocampo vs. Gutierrez
Ocampo punches too hard for late replacement Gutierrez. It took four rounds of pounding for Ocampo to beat the fight out of a gutsy Gutierrez. By fourth Ocampo was driving Gutierrez around the ring hammering him with punches. Guitierrez was bleeding heavily from the nose but made it to the bell and then retired. Ocampo's losses have come in a one round kayo against Errol Spence in an IBF title shot and on points by Sebastian Fundora in a fight for the interim WBC title. Gutierrez seriously overmatched.
Espinoza vs. Rosas
Espinoza halts late substitute Rosas in the third round. With a seven inch height advantage and a much longer reach the 6'1" Espinoza landed heavily over the first two rounds. Rosas absorbed the beating but when he was staggered by a series of punches in the third the referee stepped in to save him. Only three of Espinoza's victims have survived to the last bell. First inside the distance defeat for Rosas.
Silva vs. Hernandez
Silva batters Hernandez to defeat in four rounds. Silva scored heavily over the first three rounds with Hernandez lacking the power to keep Silva off. A clash of heads opened a vertical cut over Silva's left eye. Despite that in the fourth Silva drove Hernandez to the ropes and connected with a series of punches to the head which saw Hernandez drop to his knees. He made it to his feet but then immediately went down again without a punch and the fight was stopped. Ninth victory by KO/TKO for Silva with Hernandez having just one win in his last eight fights.

Paranaque City, Philippines: Fly: Giemel Magramo (27-3) W TKO2 Sanchai Yotboon (9-6). Light Fly: Arvin Magramo (17-1-1) W PTS 10
Joel Lino (12-4-1).

http://philboxing.com/news/pix/magramo-yotboon.fn.330w.jpg

Vicious body punches from Magramo finish Yotboon in the second round. Yotboon just kept marching forward throwing punches. He was shaking off body shots that almost seemed to be cutting him in half and Magramo was more than happy to keep landing those punches. Having stood up to that punishment in the first Yotboon finally began to crumble in the second. Magramo trapped him in a corner and dug in body punches until Yotboon dropped to his knees, He was not finished he got up and marched into the maelstrom again but was sent down twice more and the fight was stopped. Magramo wins the vacant WBO Global title.

Bangkok, Thailand: Bantam: Srisaket (51-6-1) W TKO 3 Mike Tawatchai (48-17-2). Fly: Thananchai (16-1) W PTS 10 Roland jay Biendima (17-32-1).
Srisaket vs. Tawatchai
In his first fight since losing to Jesse Rodriguez Srisaket halts Tawatchai (Pipat Chaiporn) in the third round. Srisaket was hunting down Tawatchai in the first two rounds as he shook off the rust from nine months if inactivity. In the third Srisaket put Tawatchai down with a left to the head. Tawatchai made it to his feet but was soon back on the canvas from a left hook to the body. Once again, he beat the count but a series of punches rounded-off by another body punch brought the third knockdown and the referee stopped the fight. The former WBC super fly champion has said he plans two more fights this year and then will be seeking another title shot. Tawatchai,37, suffers his six inside the distance defeat.
Thananchai vs. Biendima
Thananchai makes his third successful defence of the WBC Asian Boxing Council belt with a points win over Filipino Biendima. Thananchai floored Biendima with a counter left hook in the third and used his height and longer reach to outbox the limited Biendima taking the decision on scores of 99-90 twice and 100-89 making it 15 wins in a row for the 22-year-old Thai.

Newark, England: Super Fly: Emma Dolan (5-0) W PTS 10 Halima Vunjabel (11-10-1).
Local fighter Dolan became the first holder of the Commonwealth super-flyweight female title with a unanimous decision over Tanzanian Vunjabel. Dolan had big edges in height and reach but was having her first fight for eight months and was facing a much more experienced opponent. Dolan made full use of her physical advantages scoring with long powerful jabs and hard rights. Vunjabel had problems getting past Dolan's jab but she was dangerous with right crosses Dolan had never gone past six rounds but she paced the fight well and was a deserving winner with the judges scoring it 98-92, 97-94 and 97-93. Vunjabel has fought for the WBA and ABU titles so a good scalp for Dolan

Telford, England: Middleweight: Nathan Heaney (17-0) W PTS 10 Jack Flatley (20-4-1). Super Bantam: Jason Cunningham (32-7) W PTS 10 Miguel Gonzalez (33-4). Super Bantam: Ionut Baluta (16-4) W PTS 10 Andrew Cain (10-1). Heavy: Moses Itauma (2-) W KO 1 Ramon Ibarra (2-1-1,1ND). Feather: Raven Chapman (6-0) W PTS 10 Linda Lecca (15-5-2).
Heaney vs. Flatley
Heaney Gets his second win over Flatley. These two had fought for the IBO International title in September. Heaney won that fight on a technical decision after he was cut in a clash of heads and unable to continue. He won this one also on a unanimous decision on scores of 97-93 twice and 99-91 to pick up the vacant WBA Continental title.
Cunningham vs. Gonzalez
"Iceman" Cunningham returns to the winner's enclosure with a comprehensive points victory over Chilean Gonzalez with the three judges all agreeing on a score of 99-91. First fight for Cunningham since being knocked out in four rounds by Zolani Tete in July. He wins the vacant WBO International title in preparation for challenging Liam Davies next month for the British and European titles. Former IBF super-fly title challenger Gonzalez lost to Paul Butler in Britain in 2013
Baluta vs. Cain
Romanian Baluta recovers from near disaster to floor and outpoint Cain on a split decision. Baluta was down twice in the first round and only just survived. He fought his way back into contention but it looked as though he would come up short until he put Cain down in the ninth and took the decision on scores of 95-92 and 94-93 with the third judge going for Cain 96-91. Baluta has had some good wins in Britain and looked unlucky to lose a majority verdict against Michael Conlan in 2021. Defending champion Cain had won his last two fights
in the first round and he nearly made it three here.
Itauma vs. Ibarra
Teenage heavyweight prospect Itauma put a pathetic Ibarra down and out in the first round. A left hook dropped Ibarra in a heap on the canvas after just 35 seconds. The short, flabby Argentinian was a lamb to the slaughter and farces like this will do nothing for Itauma.

Fight of the week (Significance): Benavidez's win over Plant might just get him a shot at Alvarez-but don't hold your breath.
Fight of the week (Entertainment): Christian Mbilli vs. Carlos Gongora just gets my vote from a number of good fights this week
Fighter of the week: Benavidez for coming back from behind on the cards to sweep the last seven round on all three cards in his win over Plant
Punch of the week: I go for the left hook from Jose Valenzuela that sent Chris Colbert down in the first
Upset of the week: None
Prospect watch: None I have not already noted

Observations
Rosette: To the Las Vegas show with good matches in profusion
Red Card: To the WBA. How can they rate Sergio Martinez No 2 middleweight. After six years out of the ring Martinez has beaten Jose Fandino, Jussi Koivula, Brian Rose, Macauley McGowan, Noah Kidd and Jhon Teheran none of whom have been remotely near being rated when Martinez beat them-and Sergio is now 48!
Red Card also to the matches on the show in Hamburg. Nine fight on the show with 68 rounds scheduled and they all resulted in inside the distance wins for the favourites. 2 ended in the first round. 5 ended in the second round, 1 in the third and 1 in the sixth so 21 rounds instead of 68

It was a weekend of big beef:
Antonio Mireles 6'9"
Olek Zakhozhyi 6'9"
Viktor Jurk 6'8 ½"
Frazer Clarke 6'6"
Felix Langberg 6'5"
Lawrence Okolie 6'5"
Simon Kean 6'5"

About the Author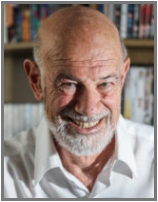 Born in Scotland, Eric Armit started working with Boxing News magazine in the UK in the late 1960's initially doing records for their Boxing News Annual and compiling World, European and Commonwealth ratings for the magazine. He wrote his first feature article for Boxing News in 1973 and wrote a "World Scene" weekly column for the magazine from the late 1970's until 2004. Armit wrote a monthly column for Boxing Digest in the USA and contributed pieces to magazines in Mexico, Italy, Australia, Spain, Argentina and other countries. Armit now writes a Weekly Report covering every major fight around the world and a bi-weekly Snips & Snipes column plus occasional general interest articles with these being taken up by boxing sites around the world. He was a member of the inaugural WBC Ratings Committee and a technical advisor to the EBU Ratings Committee and was consulted by John McCain's research team when they were drafting the Ali Act. He is a Director and former Chairman of the Commonwealth Boxing Council. Armit has been nominated to the International Boxing Hall of Fame the past two years (2019 and 2020) to which he said, "Being on the list is an unbelievably huge honour."


Click here to view a list of other articles written by Eric Armit.

---
Recent PhilBoxing.com In-House articles: