The Past Week in Action 27 September 2022: Shakur Stevenson Defeats Conceicao But Loses Title: Joe Joyce Brutally Stops Joseph Parker in 11

By Eric Armit
PhilBoxing.com
Wed, 28 Sep 2022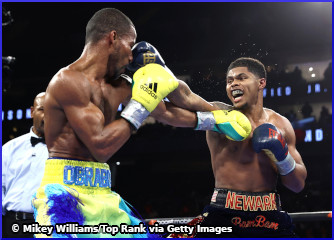 Highlights:
-Shakur Stevenson outclasses Robinson Conceicao but loses his WBC and WBO super featherweight titles as he fails to make the weight
- Joe Joyce scores brutal eleventh round stoppage victory over Joseph Parker
-Amanda Serrano unifies the four major female featherweight belts as she outpoints Sarah Mahfoud
-In IBO title bouts Anthony Cacace outpoints super featherweight champion Michael Magnesi and Maxi Hughes decisions Kid Galahad to retain the lightweight title.
-Ekow Essuman makes a successful defence of the British and Commonwealth welterweight belts as he decisions Samuel Antwi
-Eric Donovan wins the vacant European Union super featherweight title with points win against Khalil El Hadri
-Terri Harper outpoints title holder Hannah Rankin to win the WBA and IBO female super welterweight belts

World Title/Major Shows

September 23

Newark, NJ, USA: Super Feather: Shakur Stevenson (19-0) W PTS 12 Robinson Conceicao (17-2). Super Feather: Henry Lebron (17-0) W PTS 8 Andy Vences (23-4-1). Light: Keyshawn Davis (6-0) W TKO 5 Omar Tienda (25-6). Feather: Misael Lopez (14-1,1ND) W PTS 8 Orlando Gonzalez (18-2). Feather: Bruce Carrington (5-0) W PTS 6 Jose Argel (9-5). Super Bantam: Floyd Diaz (7-0) W PTS 6 Juan Hernandez (2-2-1).
Stevenson vs. Conceicao
Stevenson returns to his home city and outclasses Conceicao but is stripped of his WBC and WBO titles as he exceeds the division weight limit by 1.6lbs.
Round 1
There was lots of pawing and probing with jabs early. Stevenson was on the back foot using nifty foot work to get away from Conceicao and then stepping in quickly with straight lefts. Conceicao wasn't quick enough to close the distance and his punches were falling short.
Score: 10-9 Stevenson
Round 2
Stevenson's footwork was too slick for Conceicao. When the challenger lunged forward Stevenson danced out of reach and then nipped back in to score with straight lefts. Conceicao connected with a couple of rights but Stevenson ended the round on the front foot sliding right jabs home.
Score: 10-9 StevensonStevenson 20-18
Round 3
Stevenson was looking to trade punches in this round and as a result Conceicao was able to find the target with lefts and rights. Stevenson was crowding Conceicao and using his superior hand speed to get through with lefts and finished the round strongly to take it but it was close.
Score: 10-9 StevensonStevenson 30-27
Round 4
Dominant round for Stevenson. He consistently pierced Conceicao's guard with right jabs and scored with a series of left hooks. Conceicao was swinging wildly without much success but Stevenson was straying low with some of his body punches. As they came together just before the bell Stevenson connected with a left. It didn't seem to connect cleanly but Conceicao slid to the canvas whilst holding on to Stevenson and was given a count. He was up quickly and there was no time for any more action.
Score: 10-8 StevensonStevenson 40-35
Official Scores: Judge Lynne Carter 40-35 Stevenson, Judge Steve Weisfeld 39-36 Stevenson, Judge John Signorile 39-36 Stevenson
Round 5
Plenty of pressure from Stevenson. He was getting in close and firing fast jabs and left hooks and Conceicao was having to rely on occasional long shots leaving himself open to counters. Both needed to be warned Stevenson for again going low and Conceicao constantly clinching and wrestling to smother Stevenson's attacks.
Score: 10-9 StevensonStevenson 50-44
Round 6
Stevenson was in total control. Instead of stepping back away from Conceicao's punches he was staying inside and using clever upper body movement to sway away. He was on top of Conceicao and in position to score with straight shots and hooks inside. He hammered Conceicao with a left cross which was the best punch so far in the fight.
Score: 10-9 StevensonStevenson 60-53
Round 7
There was no way into this fight for Conceicao. The most he was achieving was landing an occasional right. He was now the one stepping back. He was trying to get some punching room and would then lunge forward with a right. Stevenson knew it was coming and was able to dodge or block it and he landed a burst of punches just before the bell.
Score: 10-9 StevensonStevenson 70-62
Round 8
A much better round from Conceicao. He just kept throwing punches. Not a lot of accuracy but plenty of leather flying and he did get through with lefts and rights and kept Stevenson busy defending. He then held to prevent Stevenson getting many clean shots and just did enough to take the round.
Score: 10-9 ConceicaoStevenson 79-72
Official Scores: Judge Lynne Carter 79-72 Stevenson, Judge Steve Weisfeld 79-72 Stevenson, Judge John Signorile 79-72 Stevenson
Round 9
Conceicao again threw plenty of shots early but Stevenson reverted to quickly stepping back and then stepping in with hard, accurate counters. As they clinched Stevenson hoisted Conceicao on to his shoulder and threw him to the canvas. The referee stopped the action and penalised Stevenson a point*. With Stevenson no longer staying inside Conceicao was too slow to land his punches and Stevenson kept banging home straight left counters
Score: 9-9* TIEDStevenson 88-81
Round 10
Brilliant boxing from Stevenson whether in offence or defence. Conceicao had some success early with rights but Stevenson was firing rights and lefts through the Brazilian's defence and rolling his shoulder to block of deflect Conceicao's attacks. Conceicao was holding and wrestling and a frustrated Stevenson again threw him to the canvas but this time the referee gave him a warning but did not deduct a point.
Score: 10-9 StevensonStevenson 98-90
Round 11
Stevenson scored with two cracking left crosses at the start of the round. After that Conceicao decided to try to play counter puncher but he was too slow and Stevenson was able to rake him with lefts with Conceicao short with attempts to counter.
Score: 10-9 StevensonStevenson 108-99
Round 12
Stevenson continually speared Conceicao with straight lefts with very little coming back as Conceicao seemed to be happy just to go the distance. Stevenson put together one good attack but other than that he just stuck to the lefts and eased to victory.
Score: 10-9 StevensonStevenson 118-108
Official Scores: Judge Lynne Carter 117-109 Stevenson, Judge Steve Weisfeld 117-109 Stevenson, Judge John Signorile 118-108 Stevenson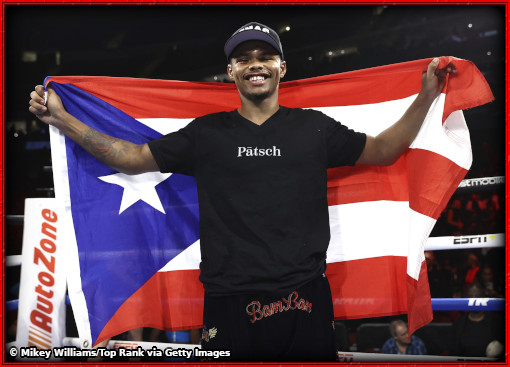 The dazzling speed and skill of Stevenson were just too much for a strong but limited Conceicao who never really posed a threat. If there was a criticism it is that there was very little variety in Stevenson's work almost exclusively straight lefts and very little body punching. He will now fight in the talent-rich lightweight division where Devin Haney, Vasyl Lomachenko, Gervonta Davis, Ryan Garcia and George Kambosos await him. For Conceicao with Stevenson moved out the super featherweight division is not strong so he could get another title chance.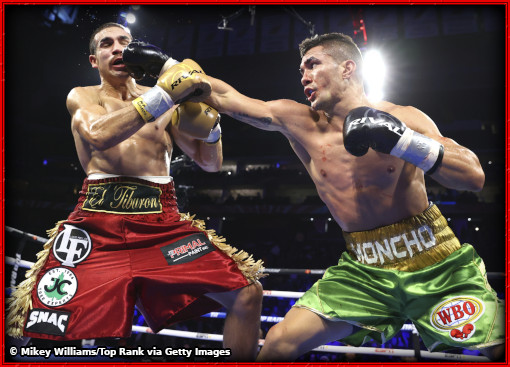 Lebron vs. Vences
Puerto Rican southpaw Lebron boxes his way past a good test in the shape of Vences with all three judges seeing him a clear winner. They traded shots in the first with Lebron having the edge and Vences being cut over his right eye. Lebron landed the better shots in the second before being cut but suffering a cut over his left eye in a clash of heads. Vences did enough to make the fight close but Lebron built a good lead with Vences having a good seventh and some success as Lebron eased off in the last. Scores 80-72, 79-73 and 78-74 for Lebron. Another in a run of good wins for Lebron which has seen him climb to No 9 with the WBO. Vences sliding against tough opposition and has just one win in his last four fights.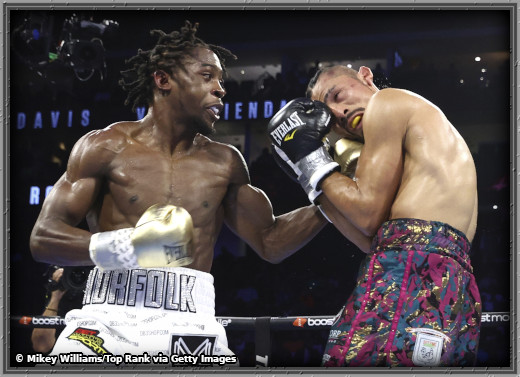 Davis vs. Tienda
Davis gets another win. Tienda had a useful first round but then Davis dominated the action from there. With his quicker hand longer reach and sharp movement. Tienda went down in the first but it was ruled a slip. Davis was constantly finding gaps and switching his attacks from head to body and Tienda just could not land on the quick and elusive Davis who had Tienda pinned against the ropes in the fourth with Tienda against going down and Davis also touched the canvas but with no count on either occasion. Davis stepped up the punishment n the fourth and then put the advancing Tienda down with a right in the fifth. Tienda made it to his feet but was driven to the ropes and with a series of hooks bouncing off Tienda's head the referee stopped the fight. Fifth inside the distance win for Davis. Both he and Shakur Stevenson won silver medal at the Olympics with both losing to a Cuban. Similarly Stevenson won the WBO feather title in his thirteenth fight and Davis has the talent to match that. Tienda had won his last seven fights by KO/TKO. The level of opposition faced by Tienda had been modest at best but he came in as a winner.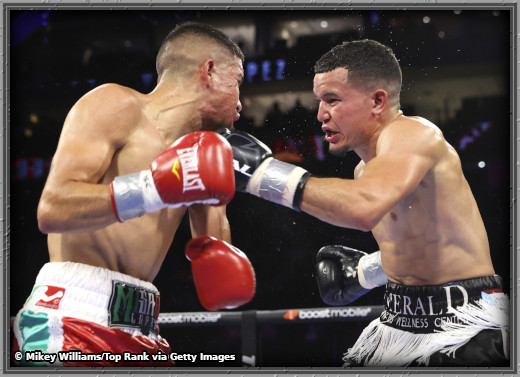 Lopez vs. Gonzalez
Lopez gets a hard earned unanimous decision over Puerto Rican southpaw Gonzalez. It was Gonzalez who settled first and outfought Lopez early. Lopez finally started rolling from the third with some work to do. From there he boxed brilliantly mainly on the back foot blocking or dodging Gonzalez's attacks and digging hooks to the body with both hands. Gonzalez pressed hard trying to force Lopez to stand and trade but when they did the short hooks inside from Lopez saw him winning the exchanges. Lopez took the fight to Gonzalez more over the last two rounds and there was some great two-way action in the eighth. Scores 79-73, 78-74 and 77-5 for Lopez who gets his third win since returning to the ring for the first time in ten months in January. A bump in the road for Gonzalez who had his seventeen-bout winning run ended by Cuban Robeisy Ramirez in October but had scored a win over useful Pablo Cruz in June.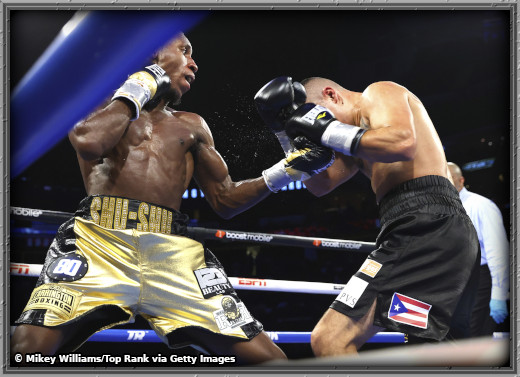 Carrington vs. Argel
Carrington wins every round against Chilean but there is a down side to the night. Carrington outclassed the modest Argel with the speed and accuracy of his punching and a fourth consecutive stoppage victory looked on its way. However Carrington injured his right hand in the third round and boxed the second half of the fight one handed but still won on scores of 60-54 on the cards of the three judges. The former PAL national champion and New York Golden Gloves winner is progressing steadily. Only one win in his last six fights for Argel.
Diaz vs. Hernandez
Las Vegas teenager was given a reasonable test by tougher than expected novice Hernandez. An outstanding performer at Junior Youth championships Diaz dropped Hernandez in the third but was rocked in the third and fifth before winning on scores of 58-55 twice and 59-54.

September 24

Manchester, England: Heavy: Joe Joyce (15-0) W KO 11 Joseph Parker (30-3). Feather: Amanda Serrano (43-2-1) W PTS 10 Sarah Mahfoud (11-1). Super Feather: Anthony Cacace (20-1) W PTS 12 Michael Magnesi (21-1). Welter: Ekow Essuman (18-0) W PTS 12 Samuel Antwi (14-2). Middle: Nathan Heaney (15-0) W TEC DEC 5 Jack Flatley (19-3-1). Super Middle: Mark Heffron (29-2-1) W TKO 1 Martin Bulacio (10-7).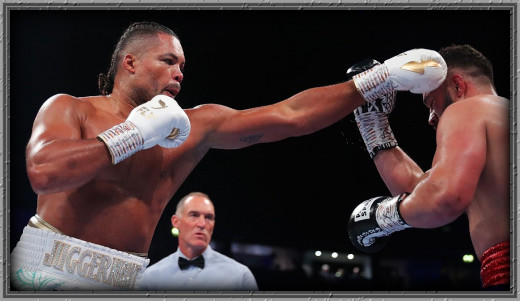 Joyce vs. Parker
Joyce wins the vacant WBC Interim title with brutal eleventh round stoppage of Parker. Joyce was the first to score with some stabbing jabs as Parker circled the ring just avoiding trading. After the first minute Parker began to land with his jab and some body punches and got through with a sneaky right. Joyce stepped up the pressure in the second landing a clubbing right with Parker firing back with his own right. Joyce maintained the pressure landing heavily with his jab and a couple of clubbing rights. Parker connected with jabs at the start of the third but then Joyce shook him with a big left. He then drove Parker across the ring landing heavy hooks. Parker looked to be in trouble but came back with some uppercuts late in the round but they just bounced off Joyce. Parker took the fourth. He was on target with jabs throughout the round and connected with two hefty rights. At that stage I had it 38-38. Relentless pressure from Joyce in the fifth. He was walking Parker down connecting with clubbing hooks and uppercuts. Parker launched the occasional attack but just could not keep Joyce off. Dominant round from Joyce in the sixth. He started by trapping Parker on the ropes and bombarding him with hurtful hooks from both hands. Parker escaped but Joyce tracked him for the rest of the round again landing heavily. Joyce stepped up the pressure and the punishment over the seventh with a punch opening a cut over Parker's right eye and he clobbered Parker with jabs and hooks in the eighth. After the eighth I had Joyce in front 78-74. Joyce continued to bully Parker in the ninth. Parker produced a great uppercut but Joyce hardly blinked and Parker was exhausted. The blood was steadily dripping from the cut over his right eye and his left eye was closing. Parker found some reserve of energy in the tenth. He refused to be forced back and instead took the fight to Joyce scoring with jabs and long rights. Joyce did back him up eventually but Parker ended the round scoring with a series of left hooks. Joyce ended it in the eleventh. He came out punching driving Parker around the ring with a succession of brutal hooks until a final left hook dumped Parker on his back in a corner. Parker struggled to rise but the referee had already waived the fight over. A good stoppage although Parker protested. Joyce will be hoping that winning the interim title will get him a shot at Tyson Fury but with Fury no one knows what will happen as he throws out a new name every day and the interim title can sometimes just turn out to be a blind alley. Joyce was No 2 in the WBC rankings for August and Parker No 3 (presumably because of the interim title fight neither of them appeared in the September rankings) with Deontay Wilder still No 1 but Wilder is probably a "Dillian Whyte clone" waiting for Fury to thrown him the crumb of a title shot with the WBC unlikely to press his case. This win makes Joyce the mandatory challenger for the WBO title so that is another avenue that might be explored. Joyce showed again his strength and iron chin. His mobility has improved but whether he can catch the bigger and much more mobile Fury is questionable. Parker had never been knocked down before as a pro. At 255 ¼ lbs he was a career heaviest and he looked slower and tired earlier than in his prime but he is still marketable.
Serrano vs. Mahfoud
Serrano unifies four featherweight titles with point's victory over Mahfoud. The first two rounds were close but Serrano a bit more accurate and busier with Mahfoud suffering a cut in a clash of heads in the second. Mahfoud had a better third but Serrano stepped up the pressure in the fourth and fifth landing well to head and body. Mahfoud fought back well and looked to have edged the sixth but Serrano was walking through Mahfoud's counters and although the pace dropped outscored Mahfoud over the seventh and eighth. Mahfoud had a good ninth scoring with rights as Serrano looked to be saving something for the last round. They traded heavy punches in the last but both were tired and Serrano had to settle for a points win. Scores 97-93 twice and 99-92 for Serrano. She was defending her WBC, WBO and IBO belts and collects Mahfoud's IBF title. Serrano's first fight since losing to Katie Taylor in April and if there is going to be a return it looks as though it might come early next year. Danish Mahfoud was defending her IBF belt for the second. She may be the only currently active boxer to be born in the Faroe Islands.
Cacace vs. Magnesi
Cacace goes from considering retirement to a title holder as he takes a hotly contested split decision over IBO champion Magnesi. Cacace was quickly into his stride scoring with some sharp jabs and a crisp uppercut. An exciting second saw both fighters letting their hands go with Magnesi probably doing enough to pocket the close round. Magnesi took the fight to Cacace in the third but the Belfast southpaw continually found gaps for crafty counter. Magnesi continued to march forward in the fourth and outlanded Cacace scoring with hurtful body shots. The rounds had been close and that was illustrated by the scores at that point with two judges having them tied at 38-38 but the Canadian judge giving all four rounds to Cacace at 40-36. Magnesi kept the pressure up over the fifth and sixth with Cacace cut by his left eye in a clash of heads in the sixth. The seventh was close with both landing well and with Cacace overcoming a slow start to outscore Magnesi in the eighth. The scores at the end of the eighth are 77-75 for Cacace, 77-75 for Magnesi and 78-73 for Cacace. Some effective body punching saw Magnesi take a close ninth but excellent counter punching made the tenth Cacace's. He was handling Magnesi's pressure in the eleventh but the better shots were landed by the Italian. Both have success in the last which is close but maybe just one for Cacace. Scores 117-111 and 116-112 for Cacace and 116-112 for Magnesi. First fight for thirteen months for Cacace with the activity causing him to consider walking away. Magnesi was making the third defence of the IBO title but this always a very risky fight tackling Cacace and he really deserves a chance for revenge but probably won't get it.
Essuman vs. Antwi
Essuman successfully defends the British and Commonwealth titles with a unanimous verdict over Antwi. Solid and close if unspectacular opening round for both. Antwi showed impressive hand speed in the second getting his punches off first. Plenty of pressure from Essuman in the third and he also showed some slick defensive work. In the fourth and fifth once again it is Essuman coming forward forcing the fight outlanding Antwi but the rounds are close. Essuman looked to be taking charge as he landed heavily to the body in the sixth. Antwi made a bright start to the seventh but a huge overhand right rocked him and Essuman won the round. Antwi worked hard to make the eighth close and he was lively in the ninth boxing well with Essuman's pace dropping. Essuman picked it up in the tenth getting back into the groove and landing some strong right hooks. Antwi rebounded to take the eleventh with some skilful boxing and made a good start in the last but a series of left hooks from Essuman turned things his way. Scores 117-112, 116-113 and 115-114 all for Botswana-born Essuman. Good, entertaining fight but with Essuman just too strong for Antwi. Third defence for Essuman the IBF No 13(12). Antwi had won his last seven fights.
Heaney vs. Flatley
Heaney retains the IBO International belt on a technical decision after he is badly cut in a clash of heads in the fifth. Both had some success in a lively opening round with Heaney just getting the better of the exchanges and he was busier than Flatley in the second. Both landed some sharp body punches in the third with Flatley rocking Heaney with a left hook but Heaney doing enough good work to edge the round. Flatley looked to be coming on as he moved on to the front foot with Heaney's output dropping. A clash of heads in the fifth saw Heaney suffer an ugly gash above his right eye and the doctor ruled it too bad for the fight to continue so it was decided on the scorecards with Heaney in front 49-46 on two and 50-45 on the third. Second defence of the IBO title for Heaney. Flatley had won his last two contests rebuilding after a ninth round kayo loss against Kerman Lejarraga in December.
Heffron vs. Bulacio
Heffron obliterates Bulacio the first round. Heffron connected with a thunderous right. He then drove Bulacio into a corner and a left had Bulacio reeling and ready to go and the referee came in to save him. Done and dusted in 76 seconds. Now 23 wins by KO/TKO for the British and Commonwealth champion. Fourth loss in his last five fights for poor Argentinian Bulacio.

Nottingham, England: light; Maxi Hughes (26-5-2) W PTS 12 Kid Galahad (28-3). Super Welter: Terri Harper (13-1-1) W PTS 10 Hannah Rankin (12-6). Heavy: Solomon Dacres (5-0) W PTS 10 Ariel Bracamonte (11-10). Cruiser: Cheavon Clarke (3-0) W TKO 4 Marcos Karalitzky (7-6-2). Welter: Cyrus Pattinson (5-0) W TKO 6 Jorick Luisetto (12-5).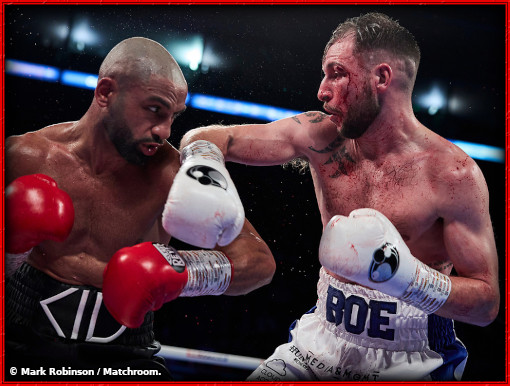 Hughes vs. Galahad
Hughes holds on to his IBO title with a majority decision over Galahad in a disappointing fight. Galahad was that bit quicker in the first two rounds looking sharp and scoring with classy jabs and straight rights. Galahad kept pressing in the third but Hughes was getting into his stride and finished the round strongly but all of the rounds had been close. It was the same in the fourth with Hughes just having a slight edge. After the fourth two judges had it 38-38 and the third saw Hughes up 39-37. Hughes also collected the fifth and sixth with some sharp southpaw lefts but it was hard to separate them and Galahad came back to outwork Hughes in the seventh and eighth. It was so close between them that you could understatedly have scored all eight rounds to Hughes or to Galahad. The judges scores reflected how tight it was with Hughes 77-75 up on two cards and Galahad 77-75 up on the third. The ninth and tenth rounds were swing rounds for Hughes. He outfought Galahad throughout the ninth and Galahad was docked a point for being careless with his head in the tenth. It opened a gap and although Hughes was cut in a clash of heads in the eleventh and Galahad staged a strong finish winning the eleventh and twelfth on two cards the point deduction denied him a draw that would have given him a strong case for a return. Scores 116-111 and 114-113 for Hughes (would have been 114-114 without the deduction) and 114-114 (would have been 115-114 for Galahad without the deduction). Second defence of the IBO title for Hughes. He had compiled five good wins in a row in fights in which he was never the favourite. It looked like the end of the road was looming for Galahad after dropping his IBF feather title in a crushing kayo loss against Kiko Martinez in November but he did not look unhappy at lightweight and finished the stronger man here.
Harper vs. Rankin
Harper wins the WBA and IBO belts with a wide unanimous verdict over defending champion Rankin. The first round was close with Rankin pressing the action and Harper countering accurately and taking the round. Harper took the fight to Rankin in the second landing stabbing jabs and short hooks from both hands and Rankin was cut over her left eye in a clash of heads. Rankin did a bit better in the third and fourth but Harper was boxing cleverly stepping back from Rankin's attacks and then darting forward to score with quick burst of punches. Rankin continued to roll forward in the fifth and sixth making the rounds close but being outboxed. The seventh saw Harper moving a lot but not throwing much practically giving the round to Rankin. Harper was back in control over the eighth and ninth raking the aggressive Rankin with counters and she boxed through the last taking no chances. Scores 98-92 twice and 97-93 for Harper who becomes a two division title holder. Harper actually climbed up three divisions for this fight having held the WBC and IBO titles at super featherweight. Second defence of her titles for Rankin.
Dacres vs. Bracamonte
Dacres outpoints fat Argentinian Bracamonte. In the first Dacres was able to pick his spots as the obese Bracamonte plodded forward behind a leaky guard launching the occasional wild punch but catching Dacres with a couple of those in the second. Dacres was just stabbing his jab and then firing a right to the ample waist line of Bracamonte but showing no snap and very little variety and Bracamonte was just walking through Dacres punches. Despite the number of free shots Dacres was under pressure as the 75lbs heavier Bracamonte just kept coming and throwing clubbing shots. Dacres upped his punch output over the second half of the fight but was unable to make a dent in Bracamonte who just kept on walking into punches but never looking in any trouble except from some low punches and Dacres was deducted a point for a low punch in the ninth. Dacres was exhausted over the closing rounds and it was a far from impressive performance. Scores 99-90 for Dacres on the three cards. He is better than he showed here. Bracamonte was a late substitute. At 305lbs the gutsy Argentinian is virtually a walking punch bag for fighters such as Dacres.
Clarke vs. Karalitzky
Clarke hammers Karalitzky to defeat in four rounds. Karalitzky was in survival mode from the start. Clarke patiently hunted him down behind a strong jab. Karalitzky circled the perimeter of the ring not looking to engage and his only contribution was plenty of holding and an occasional wild right. Clarke landed a couple of hefty rights in the second but was becoming frustrated by Karalitzky's holding. Clarke found the target more in the third with hooks to the body and uppercuts and began some flashy showboating. What he needed to do was get Karalitzky out of there and he did that with some ferocious hooks and uppercuts in the fourth that had Karalitzky helpless against the ropes and the referee stopped the fight. Impressive punching from Jamaican-born Olympian Clarke in his third win by KO/TKO and for Argentinian Karalitzky his third loss in a row.
Pattinson vs. Luisetto
Pattinson floors and stops a competitive Luisetto in the sixth. Pattinson had considerable height and reach over fellow-southpaw Luisetto. The visitor was a busy, neat boxer and although having trouble with Pattison's sharp jabs was making Pattison fight at a good pace. Pattison began to put his punches together in the third scoring with straight rights and left hooks to the body but Luisetto found the target with occasional right crosses. Luisetto was not there just to survive and although being outscored remained ready to mix it with Pattinson giving Pattison exactly the kind of work he needed at this stage of his career. Luisetto was cut on the forehead in the fourth as Pattison dialled up the pressure. Finally in the sixth Pattison broke through dropping Luisetto on his back with a series of punches. He was up at six but when the action began again Pattison drove him back and dropped him just as the referee stepped in to stop the fight. A former Great Britain champion and gold medallist at some major tournaments Pattinson wins his vacant IBO Continental belt-his first pro title. WBC Mediterranean belt holder Luisetto made Pattison fight for his win.

September 23

Miami, FL, USA: Ryan Martin (25-2) W TKO 1 Carlos Padilla (18-13-1). Welter: Harold Calderon (27-0) W TKO 3 Ezequiel Fernandez (28-6-1,1ND). Super Bantam: Jorge De Jesus Romero (23-0-1) W PTS 10 Julian Aristule (35-16,1ND).
Martin vs. Padilla
Ryan "Blue Chip" Martin ends this one in quick time blitzing Padilla with it all over in just 47 seconds. Martin's losses have come against Josh Taylor in 2018 and Robert Easter in 2021. Padilla on a steep slope with nine defeats in his last eleven fights eight of his losses by KO/TKO.
Calderon vs. Fernandez
Calderon chalks up win No 18 by KO/TKO as he stops Argentinian Fernandez in three rounds. The Illinois southpaw was having his first fight for eleven months. Four consecutive losses for Fernandez who has been overmatched in all four of those fights.
Romero vs. Aristule
Romero outclasses another Argentinian as he takes wide decision over Aristule. Romero pressed the fight all the way with a too-casual hands-down Aristule lacking the power to keep Romero out. Romero had Aristule down from a right but failed to get the finish and had to settle for a points victory on scores of 99-89 twice and 98-90. Sixth win for Romero since a disappointing draw against Daniel Lozano in 2020 and he is yet to be risked in a real test. Aristule is 1-7 in his last 8 outings.

Ontario, CA, USA: Super Welter: Joeshon James (7-0) W TKO 7 Richard Brewart (12-1). Feather: Isaac Avelar (18-5) W PTS 8 Roberto Meza 15-2-1).
James vs. Brewart
James stops Brewart in the seventh. James used his longer reach to control the fight over the first four rounds before putting Brewart down in the fifth. Brewart beat the count and fought hard and looked to have edged the sixth. James banged back and floored Brewart with a series of punches in the seventh and the referee stopped the fight. Fourth win by KO/TKO for the 6'1" 24-year-old James. Big set-back for Brewart.
Avelar vs. Meza
Avelar decisions Meza in an entertaining scrap. After a couple of even rounds the busier Avelar edged in front outworking Meza but the round were close and fiercely contested. Meza bounced back into the fight with a good sixth but was rocked in the seventh and southpaw Avelar just did enough to take the eighth. Scores 77-75 twice and 78-74 for Avelar. A needed win as Avelar was 2-5 going in but had been matched tough and upset 23-0 Sakaria Lukas with a wide unanimous decision in December 2020. Meza was 7-1-1 before this one.

Essington, PA, USA: Light: Nahir Albright (15-2) W PTS 8 Estivan Falcao 11-1).
Albright outboxes previously unbeaten Brazilian Falcao. His better skills and accuracy gave Albright the edge and he won comfortably on scores of 80-72 twice and 79-73. Good return to winning ways for Albright who had lost over ten rounds against unbeaten Jamaine Ortiz in February. First fight outside Brazil for Falcao.

Villa Maria, Argentina: Middle: Juan Taborda (18-0-1) W RTD 4 Jhon Teheran (18-2-0). Super Bantam: Marianela Ramirez (11-7-2) W PTS 10 Diana Rodriguez (14-2-1).
Taborda vs. Teheran
Fighting in front of his home fans Taborda retained the WBO Latino belt with a win over Colombian Teheran. Taborda put Teheran down in the fourth and Teheran did not come out for the fifth citing an arm injury. Eleventh win by KO/TKO for Taborda and his third defence of the Latino title. Teheran had won his last three fights but this is his second inside the distance defeat.
Ramirez vs. Rodriguez
Ramirez holds on to her South American belt with split decision over Rodriguez. This one was tight all the way with both having good spells and neither able to dominate. In the end it was decided on a point deduction from Rodriguez for a number of punches to the back of the head without which the result would have been a majority draw. Ramirez retains her title on a split decision with scores of 95-94 twice for Ramirez and 95-94 for Rodriguez. Ramirez extends her current unbeaten run to six fights. Rodriguez had won her last two contests.

Cancun, Mexico: Super Bantam: Christopher Lopez (16-0-1) W PTS 10 Alejandro Gonzalez (11-5-2). Super Bantam: Bryan Mercado (23-1) W KO 4 Victor Albino (14-2).
Lopez vs. Gonzalez
Tough test for unbeaten Lopez. Gonzalez has the better skills and makes a good start winning the first round but pressure from Lopez sees him edge ahead by taking the second and third. Better boxing from Gonzalez makes the rounds close and it is all even after the eighth. Lopez stages the stronger finish with his superior power and he sweeps the eighth and ninth to win the decision on scores of 99-91, 97-93 and 96-94 with the first score no reflection of Gonzalez's effort. Tenth win in a row for Lopez. Gonzalez slips to 1-3 in his last four fights.
Mercado vs. Albino
Mercado goes to 22 consecutive wins with fourth round kayo of Albino. The first two rounds were close but Mercado started to land some heavy shots in the third. A right in the fourth sent Albino down and as he tried to rise he toppled over and was counted out. Eighteen wins by KO/TKO for Mercado who is only now moving up to main event level. Albino had won his last 5 outings including a victory over 19-0-1 Ruben Vega in November.

September 24

Belfast, N Ireland: Super Feather: Eric Donovan (16-2) W PTS 12 Khalil El Hadri (13-2). Cruiser: Tommy McCarthy (20-4) W PTS 8 Reinis Porozovs (20-19-1).
Donovan vs. El Hadri
Irish southpaw Donovan wins the vacant European Union title with controversial points victory over El Hadri. Neat start from Donovan against a composed El Hadri and they both landed well in the second. The third was Donovan's as he pierced the Frenchman's guard regularly with head punches. The fight changed in a dramatic fourth. El Hadri hurt Donovan early and then landed a series of punches sending Donovan slumping into the ropes. The referee decided the ropes had held Donovan up and he gave him a count. El Hadri did the better work in the fifth and although Donovan connected with some good lefts in the sixth he was also cut and rocked by a punch. Donovan outboxed El Hadri in the seventh with El Hadri edging the eighth before Donovan landed heavily in the ninth. El Hadri had a big tenth shaking and staggering Donovan who struggled hard to survive. Both tired and the last two rounds were close and could have been scored either way. Scores 115-112, 115-113 and 114-113 for Donovan. Donovan, 37, left it late before turning pro and has been pushed hard with his losses coming in challenging fights against Zelfa Barrett and Robeisy Ramirez. This one was close and the French team protested bitterly and El Hadri deserves another shot.
McCarthy vs. Porozovs
Useful run out for McCarthy as Latvian Porozovs proves competitive and gives McCarthy some useful ring time. The referee scored it 78-74 for McCarthy giving him his second win after consecutive defeats against Chris Billiam-Smith.

Lodz, Poland: Light Heavy: Osleys Iglesias (7-0) W KO 1 Ezequiel Madera (27-10).
Cuban Iglesias is making waves even if below the radar-or should that be sonar? He wiped out experienced Argentinian Madera in the first round. Iglesias attacked hard from the start and at the two minute mark floored Maderna with a left hook to the body and a right to the head. Maderna went down and was counted out. The only fighter to so far last the distance with Iglesias is Isaac Chilemba and Iglesias won that one by 9, 9 and 13 points. Former Olympian Maderna suffers his fourth loss by KO/TKO and his fourth loss in a row.

Saint Petersburg, Russia: Heavy: Sergey Kuzmin (18-2,1ND) W PTS 10 Tian Fick (9-2). Super Middle: Fedor Chudinov (26-3-1) W PTS 10 Farrukh Juraev (7-8-1).
Kuzmin vs. Fick
Kuzmin was conceding quite a bit in height and reach against Fick but was too strong and too experienced for the South African. Kuzmin lost a point for punches to the back of the head but won a wide unanimous verdict on scores of 99-90, 98-92 and 96-92. Kuzman's career went off the rails with consecutive losses against Michael Hunter and Martin Bakole but he has steady things with three wins. Fick had lost his South African title and his unbeaten record when losing to Juan Roux in December
Chudinov vs. Juraev
Very much a low key performance from Chudinov as he does not impress in winning unanimous decision over novice Juraev but no scores available. After losing a wide unanimous decision to Uzbek novice Azizbek Abdugofurov in April Chudinov could not afford a second defeat. Not much of a risk here with Juraev with just one win in his last four fights.

Libertad, Argentina: Fly: Gabriela Alaniz (14-0) W RTD 8 Debora Rengifo (18-10-1). Feather: Marcela Acuna (51-8-2) W PTS 10 Laura Griffa (18-8). Super Light: Alan Chaves (10-0) W KO 7 Carlos Santana (16-5).
Alaniz vs. Rengifo
Argentinian Alaniz successfully defends her WBO title as she batters Venezuelan Rengifo to defeat. Alaniz was just too god for the brave Rengifo. She scored heavily in every round before dropping Rengifo in the seventh and pounding her throughout the eighth with Rengifo's corner retiring their fighter at the end of the round. First defence for Alaniz. Sixth unsuccessful title challenge for Rengifo.
Acuna vs. Griffa
"Tigress" Acuna won the vacant national title with a unanimous decision over Griffa. The hugely experienced 45-year-old Acuna had outpointed Griffa in a fight for the vacant IBF super bantamweight title in 2018 and was a clear winner again here. Griffa was competitive enough to steal a couple of rounds but Acuna countered her every move and rocked Griffa badly in the eighth and had her under heavy pressure in the ninth and tenth to win on scores of 98-92,97-93 and 96-94. A pro since 1997 Acuna lost her first two pro fights against Christy Martin and Lucia Rijker but went on to hold titles of all four main sanctioning bodies. Griffa is a former Argentinian and South American champion.
Chaves vs. Santana
Argentinian No 4 Chaves gets another inside the distance victory. Chavez was in control all the way. Santana was given a standing count in the fifth and was dropped by two southpaw lefts in the seventh with the referee stopping the fight. Now eight wins by KO/TKO for Chaves. Santana's first fight in sixteen months.

Amay, Belgium: Welter: Quentin Gomes (15-0) W RTD 5 Milos Janjanin (16-37)
Belgian champion Gomes gets his fifth victory by KO/TKO as he beats Bosnian Janjanin on a fifth round retirement. Although Bosnian Janjanin has previously challenged for the Belgian title. He is 1-7 in recent action.
Janjanin 16 wins id 10 losses id, B & H 1-7 now Belgium fought for Belgian title

Barranquilla, Colombia: Super Fly: Isaac Arias (11-0) W PTS 10 Dewayne Beamon (21-5-3). Fly: Yunberjen Martinez (2-0) W KO 1 Jimson Garcia (11-5-1).
Arias vs. Beamon
Arias wins majority decision over Beamon in a bout where both fighters were affected by a slippery canvas. Arias looked to have done enough to take the first round but then the busier work came from Beamon and he looked to have outscore Arias over rounds two to six. Arias came on strong from there but did not seem to have done enough to overtake Beamon's early lead but it was very close and the judges saw it 96-94 twice for the Venezuelan and 95-95. Arias wins the vacant WBC International Silver title. Although he is Venezuelan Arias holds the Colombian super flyweight title. Beamon was unbeaten in his last six fight. The fighter from North Carolina lost on a ninth round stoppage against Juan Estrada for the WBC title in 2019.
Martinez vs. Garcia
Martinez wins the vacant WBC Latino belt in his second pro fight as he flattens Garcia with a booming right hook. Martinez jabbed strongly to keep Garcia on the back foot. Late in the round he stunned Garcia with a right and then stepped in with a crunching right hook that sent Garcia down on his back out cold. Quite a power show from the be-medalled local who won silver medals at both the Rio Olympics and Pan American Games also gold at the Central American Championships and a bronze medal at the World Championships. Third inside the distance defeat for Venezuelan Garcia.

Suva, Fiji: Cruiser: Joseph Kwadjo (25-12, 2 ND) W TKO 2 Apisai Naciqa (5-3-1),
Kwadjo wipes out inexperienced Naciqa. For the first two minutes Naciqa demonstrated some neat boxing using his longer reach to keep Kwadjo out but in the last minute of the opening round Ghanaian-born Kwadjo had Naciqa reeling under an array of punches. Naciqa made it to the bell but was being bombarded with punches in the second and the referee stopped the fight. The 37-year-old Kwadjo was having his first fight for three years. He started out as a super welter but was always tall for that weight. All three of Naciqa's losses have come inside the distance.

Ludwigshaven, Germany: Minimum: Sarah Bormann (15-0) W PTS 10 Elizabeth Lopez (10-5-5). Cruiser: Huseyin Cinkara (19-0) W TKO 3 Al Sands (22-5-1). Super Welter: Felice Moncelli (24-7-1) W TKO 7 Ahmad Ali (17-1-1).
Bormann vs. Lopez
Bormann makes the second defence of her WBC Silver title with a points victory over Lopez. Bormann's superior skills were too good for the ever aggressive Lopez. Bormann dominated the diminutive 4'9" Mexican throughout the fight and was a good winner on scores of 98-92 twice and 99-92. Bormann is a former undefeated IBF title holder and currently holds the IBO belt. Lopez had lost in a challenge for the IBF minimum title and drew in a fight for the WBC Atom title in her last two contests.
Cinkara vs. Sands
Cinkara wins the vacant WBA International title with third round stoppage of Sands. The 37-year-old German has won twelve of his last thirteen fights by KO/TKO but the modest Sands is as near to a test as he has faced. Haitian-born Sands suffers his fifth loss by KO/TKO in only his second fight in thirty-two months.
Moncelli vs. Ali
Sweet revenge for Italian Moncelli as he stops home town fighter Ali gaining revenge for a defeat in May and also winning the IBF European belt. Moncelli had lost a unanimous decision to Ali in their earlier fight but dominated this return bout for his sixth win by KO/TKO.

Colima, Mexico: Light: Czarina McCoy (10-1) W RTD 6 Paulina Cardona(25-28-7) Super Bantam: Andree Garcia (15-0-1) W DISQ ? Colombian Ronald Ramos (42-23-4).
McCoy vs. Cardona
McCoy beats Cardona on a retirement. McCoy was on her way to victory when Cardona pulled out before the start of the seventh round citing an arm injury as the cause. The 21-year-old "Black Rose" McCoy from Las Vegas picks up the vacant UBO and IBA belts. Cardona falls to 0-5-1 in her last six contests.
Garcia vs. Ramos
"El Gitano" Garcia from Cancun won on a disqualification against Colombian Ramos. After two butts from Ramos had both opened cuts over the eyes of Garcia the Colombian was disqualified but no round given.

Mtwara, Tanzania: Super Middle: Twaha Kassim (20-8-1) W PTS 10 Abdo Khaled (7-5-1).
Kassim (Kiduku) retains his UBO African title with a unanimous decision over Egyptian Khaled. Although Khaled towered over the 5'8 ½" Kiduku he just could not keep the Tanzanian out. He had lots of show but very little substance. Kiduku registered a dubious knockdown in the ninth but did not really need it as he pressurised Khaled for ten rounds and won on scores of 99-90 twice and 100-89. Most of Kiduku's losses have come when he has been overmatched on the road against European opposition. Second loss in a row for Egyptian champion Khaled.

Leicester, England: Super Welter: Kyle Haywood (10-1-1) DREW 10 Ryan Amos (9-0-1).
Haywood holds on to the BBB of C Midlands Area title but only just as the referee scores the fight 96-96. First defence for Haywood and first ten round fight for Amos.

London, England: Super Feather: Liam Dillon (12-0-1) W PTS 12 Joshua Wahab (22-1).
Dillon springs an upset as he takes majority decision over Nigerian Wahab. Scores 117-111 and 115-113 for Dillon and 114-114. English champion Dillon was taking a big step up in the level of his opposition as the unbeaten Wahab was ranked No 13 by the WBO but the gamble paid off. Wahab, who fights in both Ghana and Nigeria is 24 so has time to rebound from this.
117-111, 115-113, 114-114

Miami, FL, USA: Bantam: Melvin Lopez (27-1) W TKO 2 Victor Ruiz (23-14). Super Fly: Winston Guerrero (18-0) W PTS 8 Sammy Gutierrez (16-38-6).
Lopez vs. Ruiz
Lopez takes another step down recovery road as he stops Mexican Ruiz in two rounds. Seventh inside the distance in a row for the 24-year-old Nicaraguan since losing his unbeaten record on a ninth round stoppage against little Chilean Jose Velasquez in 2019. Just one win in his last nine attempts for Ruiz.
Guerrero vs. Gutierrez
It's a double for the Nicas as Guerrero outpoints seasoned Mexican Gutierrez. First fight in the USA for the unbeaten Nicaraguan. Gutierrez is a dispiriting 0-19-1 in his last 20 fights.

Fight of the week (Significance): An over the weight victory for Shakur Stevenson sees him leave the super featherweights with some great fights awaiting him at lightweight. Joe Joyce's win over Joseph Parker gives him a seat at the top table at heavyweight
Fight of the week (Entertainment): Not a great deal to get excited about.
Fighter of the week: Joe Joyce for his crushing of Joseph Parker
Punch of the week: The right from Yubergen Martinez that knocked Jimson Garcia out cold was fearsome
Upset of the week: Liam Dillon was an outsider against world ranked and unbeaten Nigerian Joshua Wahab
Prospect watch: Colombian flyweight Yubergen Martinez 2-0 won a stack of medals in the amateurs and could make waves in the prom ranks.

Observations

Rosette Super Saturday for British boxing with major shows in Manchester and Nottingham and nine other shows
Red Card Shakur Stevenson for not making the weight for his triumphant return to his home city. Not even the sniff of a big show in the USA on Saturday
Prayers please for Colombian boxer Luis Quinones who is fighting for his life in a hospital in Colombia and is in an induced coma following an operation. There was no sign of distress in the last round when his opponent Jose Munoz lost his mouthguard. The referee signalled for Quinones to go to a neutral corner but Quinones went to the wrong corner and stumbled. The referee realised Quinines had gone to the wrong corner and indicated the one he should go to. Again Quinones stumbled as he crossed the ring and held on to the ropes when he reached the corner. When Munoz's mouthguard was placed in his mouth the referee indicated for the fight to start. Quinones was still in the corner and Munoz landed a couple of jabs and Quinones collapsed unconscious with just thirty seconds remaining in the fight. Now Quinines is in the hardest fight of his life.

About the Author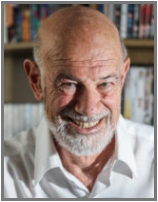 Born in Scotland, Eric Armit started working with Boxing News magazine in the UK in the late 1960's initially doing records for their Boxing News Annual and compiling World, European and Commonwealth ratings for the magazine. He wrote his first feature article for Boxing News in 1973 and wrote a "World Scene" weekly column for the magazine from the late 1970's until 2004. Armit wrote a monthly column for Boxing Digest in the USA and contributed pieces to magazines in Mexico, Italy, Australia, Spain, Argentina and other countries. Armit now writes a Weekly Report covering every major fight around the world and a bi-weekly Snips & Snipes column plus occasional general interest articles with these being taken up by boxing sites around the world. He was a member of the inaugural WBC Ratings Committee and a technical advisor to the EBU Ratings Committee and was consulted by John McCain's research team when they were drafting the Ali Act. He is a Director and former Chairman of the Commonwealth Boxing Council. Armit has been nominated to the International Boxing Hall of Fame the past two years (2019 and 2020) to which he said, "Being on the list is an unbelievably huge honour."


Click here to view a list of other articles written by Eric Armit.

---
Recent PhilBoxing.com In-House articles: