Reliving the Pac-Man's Greatest Hits

PhilBoxing.com
Thu, 22 Sep 2022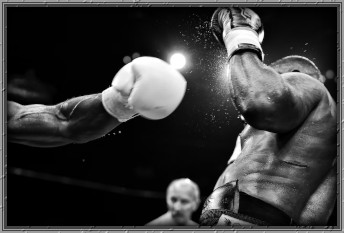 There's little doubt that the greatest Filipino boxer to ever lace up a pair of gloves is Manny Pacquiao. Born in the Philippines in 1978, Pacquiao went on to achieve a real rags to riches story, as he was forced to drop out of high school due to extreme poverty, and then ended up becoming one of the world's highest paid athletes. The now 43-year-old retired from professional boxing in 2021, and we already miss his ferocious tenacity in the ring.

With the recent news that Pacquiao is fighting an upcoming match in Saudi Arabia against Frenchman Jaber Zayani, which we reported on here at http://www.philboxing.com/, it will go the same way to provide us with some relief to our Pac-Man cravings. However, as it's just an exhibition bout, we feel like it won't have the same blistering energy to it that became so synonymous with his professional bouts.

Instead of crying because his best boxing days are behind him though, let's instead smile because they happened. So, here's a small celebration of some of Pacquiao's top fights in his remarkable career, where we relive some of the Pac-Man's greatest hits.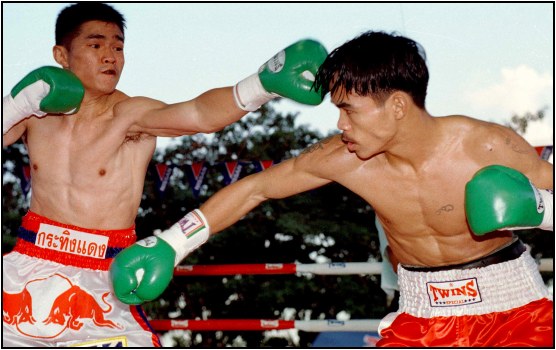 Pacquiao v Chatchai Sasakul

This was the 1998 fight that captured the first of many world titles for Pacquiao. He was aged just nineteen, basically a massive unknown in the sport, and was in only his third year as a professional. He faced Chatchai Sasakul, a decent fighter who was worshipped as a national hero back in his home country of Thailand.

Sasakul was the much more polished boxer in the bout, teasing Pacquiao many times with some clever combinations. But even as a youngster, the Pac-Man was able to dig deep, and show that never say die attitude. He got his reward in the eighth round, with a clean knockout that won him the WBC flyweight title.

Whilst this fight wasn't a big draw in the Western world, it was massive in Asia, and was a big feature of the gambling scene. There'd be even more eager bettors if the fight was to take place today though, as thanks to the rise of online casinos and bookmakers, Asia's gambling scene is thriving.

Head over to https://www.asiabet.org/ if you want to experience the most trusted online gambling guide available in the region. They'll match visitors up with the best online sportsbooks in their country, which allow them to bet on boxing, as well as a massive variety of other sports. Plus, there's an amazing array of bonus offers available, such as cash-back deals, enhanced odds, and free bets, making sure users get off to a winning start.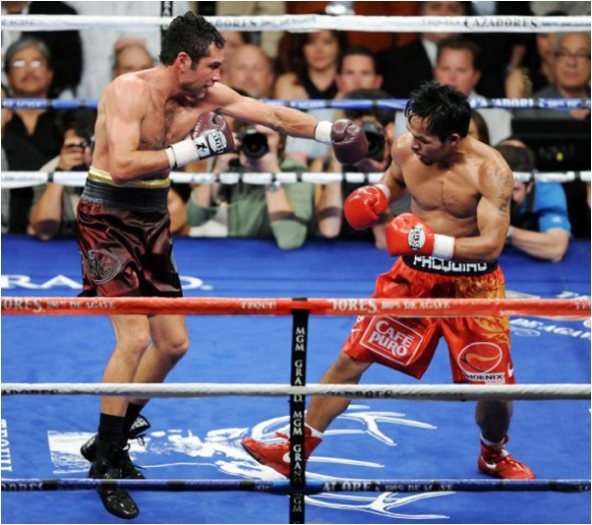 Pacquiao v Oscar De La Hoya

This fight properly solidified Pacquiao as a boxing superstar worldwide, and showcased the extreme desire that he had to overcome all opponents. Oscar De La Hoya was the heavy favourite for this 2008 matchup, with most pundits feeling that it was too much of an ask for Pacquiao to go up the two weight divisions he did, to meet De La Hoya at welterweight.

Pac-Man managed to more than hold his own though, and showed no fear for the man that was, at that point, the golden boy of American boxing. Pacquiao's intense speed and unrelenting combinations, completely rattled De La Hoya, throwing him completely off his game. Then, in the eighth round, Pacquiao managed to trap his opponent against the ropes and unleashed some real damage.

It was enough for De La Hoya, whose corner decided he'd had enough punishment, and the fight was stopped in the break before the ninth round.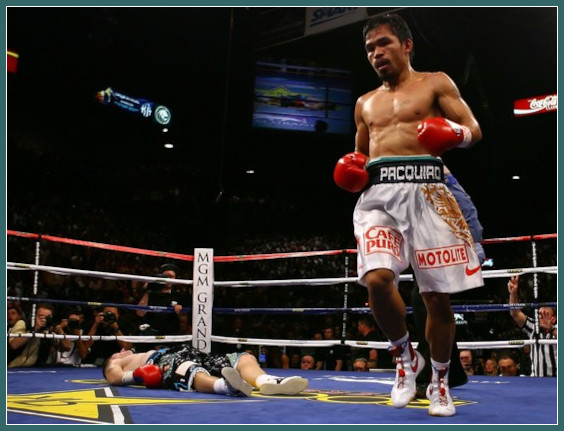 Pacquiao v Ricky Hatton

Ricky Hatton built up a fierce reputation as one of the sport's hardest hitters, and is still celebrated as one of Britain's best boxers, as reported over at https://www.givemesport.com/88016820-footage-of-ricky-hatton-proves-why-he-is-one-of-britains-best-boxers. The man from Manchester had racked up some seriously impressive knockouts, and left many of his opponents wincing on the mat after a withering body-shot. In the lead up to their 2009 fight then, many wondered if Pacquiao would simply be broken by such a powerful force.

However, when the two faced off, it was Hatton who was actually overwhelmed, as Pacquiao came out swinging from the very first bell. In what was a complete shock to most of the thousands watching, Pac-Man managed to go toe to toe with Hatton, and effortlessly slipped most of the punches thrown at him, whilst connecting with most of his.

He ended up dropping Hatton twice in the first round, and then finally knocked him out at the end of the second, with one of the sweetest left-hooks you'll ever see.



---
Recent PhilBoxing.com In-House articles: