SPORTS SHORTS 33: CONOR MCGREGOR FACES DUSTIN POIRIER IN A REMATCH AT UFC 257, NEEDS TO DEFEAT A CONTENDER TO CHALLENGE FOR WORLD TITLE SAYS SULAIMAN

By Maloney L. Samaco
PhilBoxing.com
Sat, 23 Jan 2021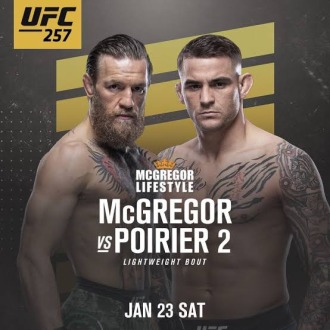 UFC two-division champion Conor McGregor will be back in the octagon on Saturday night when he faces Dustin Poirier in a rematch, as the pay-per-view main event at UFC 257 on Fight Island, Abu Dhabi United Arab Emirates. Should McGregor win, he wants to finalize a deal to have a boxing match with eight division world champion Manny Pacquiao.

* * *

The MMA superstar is confident the match will take place sometime this year. "It's almost a certainty," McGregor said regarding the Pacquiao fight in an exclusive interview with Sportsnet's Arash Madani. "I'm hearing there's a contract and all coming... it's that close. We haven't (spoken) but it should happen in 2021."

* * *

McGregor was issued a boxing licence to face Floyd Mayweather in 2017 and a so-called "Money Belt" was put at stake by the WBC for the winner of the bout, which ended in a TKO victory for Mayweather. If McGregor would follow up his upcoming UFC rematch against Dustin Poirier with a return to boxing as planned, "The Notorious" should not expect an immediate world title fight even with his status as an MMA celebrity and a PPV box office earner.

* * *

"I would say, he needs to face and defeat a ranked fighter, then he would be eligible to be ranked and to compete for a title," WBC President Mauricio Sulaiman told The Sun. "Because, we have plenty of examples of Muay Thai fighters, who turn professional in international boxing, and they are eligible to fight for the title. We also have amateur superstars like Vasiliy Lomachenko, they come into professional boxing and fight for the title and it's proven it works."

* * *

While McGregor has fought only one professional boxing match, the Irish fighter should not be considered a newcomer according to Sulaiman. He said McGregor's immense experience at the highest level of combat sports should be regarded as a very different novice compared to someone with one win and has no other fighting experience. "Conor has a mixed martial arts resume, so if he comes into boxing and wins a fight against a ranked fighter, he would be eligible to be ranked," added Sulaiman. "This is not a rookie entering the sport, he has a long history of combat sports, so it's a different scenario of what it used to be in the past."

* * *

UFC 257: Poirier vs. McGregor 2 is a mixed martial arts event produced by the Ultimate Fighting Championship that will take place on January 24, 2021 at the Etihad Arena on Yas Island, Abu Dhabi, United Arab Emirates. A lightweight rematch between former UFC featherweight and lightweight champion Conor McGregor and former interim champion Dustin Poirier will be the main event. They fought for the first time in a featherweight bout at UFC 178 in September 27, 2014, where McGregor won by first round TKO.

* * *

Mixed martial arts (MMA), sometimes referred to as cage fighting, is a full-contact combat sport based on striking, grappling and ground fighting, incorporating techniques from various combat sports and martial arts from around the world, as defined by Britannica. The first documented use of the term mixed martial arts was during an analysis of UFC 1 event by television commentator Howard Rosenberg in 1993. A forerunner to modern MMA was the 1976 Muhammad Ali vs. Antonio Inoki fight, a clash between boxer Muhammad Ali and wrestler Antonio Inoki in Japan.

* * *

The Ultimate Fighting Championship (UFC) is an American mixed martial arts (MMA) promotion company based in Las Vegas, Nevada. It is the largest MMA promotion company in the world and features some of the highest-level fighters in the sport on its roster. The UFC produces events worldwide that showcase twelve weight divisions (eight men's divisions and four women's divisions) and abides by the Unified Rules of Mixed Martial Arts. As of 2020, the UFC has held over 500 events. Dana White has been UFC president since 2001. Under White's stewardship, the UFC has grown into a globally popular multi-billion-dollar enterprise.

* * *

Brooklyn Nets Big Three Kevin Durant, Kyrie Irving and James Harden played together for the first time on Wednesday night against the Cleveland Cavaliers. But the Cavaliers beat them 147-135 in double overtime. Collin Sexton was the star of the game, scoring a career-high 42 points to go with five rebounds and five assists. At one instant he scored 20 straight points for the Cavs, with an amazing streak in double-overtime to put the game away. Cedi Osman contributed 21 points, seven rebounds and seven assists. Durant sank 38 to lead the Nets, while Irving had 37 and Harden 21.

* * *

The Los Angeles Lakers maintained its undefeated record on the road after beating the Milwaukee Bucks, 113-106, on Thursday. The victory enabled the Lakers to extend their best franchise start to 8-0 on games away from home. LeBron James sealed the win with a 3-pointer to surge the Lakers' lead to eight, 111-103, in the last minute of the game. James top scored with 34 points, including six 3-point shots, and eight assists. Kentavious Caldwell-Pope contributed seven treys and a total of 23 points.

Click here to view a list of other articles written by Maloney L. Samaco.

---
Recent PhilBoxing.com In-House articles: