Remembering Roger Mayweather, the Original Black Mamba

By Teodoro Medina Reynoso
PhilBoxing.com
Wed, 18 Mar 2020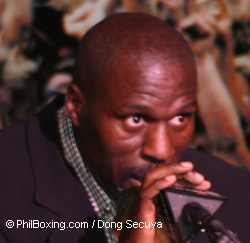 Roger Mayweather.

Roger Mayweather, noted/notorious uncle and former trainer of Floyd Mayweather, Jr. has reportedly passed away due to still undisclosed lingering boxing-related illnesses recently at the age of 58.

Roger was part of the Mayweather fighting brothers that also included Floyd, Sr. and Jeff and proved as the most successful of the siblings having won two major world titles in his checkered career that saw him fight from super featherweights through the welterweights.

The temperamental Roger was also credited for guiding his famous nephew, Floyd, Jr. for most parts of his successful pro career especially during the imprisonment of the latter's father and original trainer Floyd, Sr.

Long before the also now deceased pro basketball superstar Kobe Bryant adopted and became more famously known as The Black Mamba, it was Roger Mayweather who first assumed and came to be known for that alias which aptly defined his style of fighting atop the ring.

I first came to know of and became a fan of Roger Mayweather when he fought and defeated Samuel Serrano in 1982, thus ending his six year hold of the WBA super featherweight championship.

I had an axe to grind against Serrano because it was the tall and lanky Puerto Rican who ended the title reign of and effectively retired one of my favorite Pinoy ring warriors, Ben Villaflor late in 1976 after the two had figured in a controversial title draw early the same year.

Serrano had earned the reputation as a favored fighter and later, protected champion of the Panama-based WBA and these were evidenced by his being given an immediate rematches with Villaflor and Yasutsune Uehara when he first lost the title in 1980 and being pitted against not so worthy challengers, mostly Japanese and South Koreans, in title defenses.

Hence when, the Black Mamba agreed to take on him right in his hometown San Juan on January 19, 1983 and proceeded to score a brutal stoppage, I felt that Villaflor was somewhat avenged and Serrano finally got his comeuppance.

Roger Mayweather was also establishing a reputation as a Latin assassin or Mexicutioner as he had beaten, among others, Adrian Arreola, Arturo Leon, Roger Munoz, Jorge Alvarado and Benedicto Villablanca, the last two in title defenses in 1983.

But his winning streak and title reign came to a sudden and vicious halt when he was stopped by the rugged Rocky Lockridge in 1984.

His Latin assassin tag also took a hit as he was also defeated by Tony Baltazar late in 1984. But he recovered by back to back stoppage of Efraim Nieves and Martin Quiroz followed by another back to back technical knockout wins over then undefeated Billy White and Kenny Baysmore.

That set the stage for his title bid against then undefeated (46-0, 39 KOs) WBC super featherweight champion Julio Cesar Chavez on July 7, 1985 in Las Vegas.

Mayweather swept the first round but Chavez came on stronger in the second and floored the American twice to force a stoppage.

He would move up in weight and his first fight was against Mexican Mario Martinez, the guy Chavez beat for his WBC title and the same guy who earlier frustrated the bid of Rolando Navarette, another Pinoy boxing idol of the time via technical knockout.

Roger Mayweather would score a close split decision over Azebache Martinez and proceeded to win five of his seven bouts at lightweight losing only to future world champions Freddie Pendelton and Pernell Whitaker. Among his victims included a trio of Latinos Oscar Bejines, Sammy Fuentes and Sergio Zambrano, again reinforcing his tag as Latino killer.

He would move up to the super lightweight and after posting two straight convincing TKO wins, faced then durable Mexican WBC champion Rene Arredondo for his title on November 12, 1987 in California.

Mayweather, ahead on all score cards after five rounds, stopped Arredondo in the sixth round to wrest the world title.

He would defend his second world crown four times against Harold Brazier and another trio of Latin fighters Mauricio Aceves, Gato Gonzales and Vinnie Paziencia before he was ranged against familiar foe, Julio Cesar Chavez then playing the role of challenger.

The second meeting with Chavez, then still unbeaten with 62-0, 49 KOs, held on May 13, 1989, lasted much longer than their first but after taking a hellacious beating for nine rounds, Roger retired on his corner and surrendered the WBC super lightweight title to the Mexican legend.

Mayweather would fight on for ten more years until 1999 where he would suffer seven of his 13 career losses, two more by stoppages, ironically mostly against Latino opponents as Fidel Avendano, Rafael Pineda, Zack Padilla, Ray Lovato and Jose Soberanes.

He would also lose just on points to prime Kostya Tzyu and Darryl Tyson while beating the likes of Terrence Alli, Livingstone Bramble and Carl Griffith.

He had just one Pinoy foe in his resume, Rod Sequenan whom he fought and beat on points in 1994, his last truly active fighting year.

Vaya Con Dios, original Black Mamba!

The author Teodoro Medina Reynoso is a veteran boxing radio talk show host living in the Philippines. He can be reached at teddyreynoso@yahoo.com and by phone 09215309477.


Click here to view a list of other articles written by Teodoro Medina Reynoso.

---
Recent PhilBoxing.com In-House articles: