Floyd told Manny's ready

By Joaquin Henson
PhilBoxing.com
Tue, 08 Oct 2019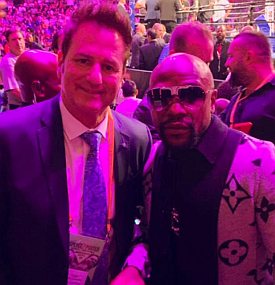 Sean Gibbons (left) and Floyd Mayweather, Jr.

MP Promotions head Sean Gibbons and Floyd Mayweather, Jr. shared a laugh about the supposed exhibition that the man called Money announced in social media to involve super WBA welterweight champion Sen. Manny Pacquiao in Tokyo when they met up at ringside during the recent Las Vegas card featuring Errol Spence and Shawn Porter in the main event.

Last Sept. 14, Mayweather came out with a startling declaration in his Instagram account that his team in Tokyo, Bertrnk.com, is laying the groundwork for an exhibition with Pacquiao. ?What I?m working on right now is the Mayweather-Pacquiao exhibition right here in Tokyo, Japan, stay tuned,? he said. The post generated 139,263 likes.

When asked about it, Pacquiao said he was surprised. ?Why an exhibition?,? he said. ?Make it a real fight.? Pacquiao has been trying to get Mayweather to agree to a rematch since their first meeting ended in a somewhat controversial fashion in 2015. Mayweather won by a unanimous decision but Pacquiao fought one-armed from the fourth round after dislocating his right shoulder. Despite the handicap, Pacquiao gave Mayweather a scare and not a few ringsiders thought he did enough to earn the verdict.

Gibbons said he told Mayweather whenever he?s ready, Pacquiao is just waiting. ?We laughed about the exhibition in Japan,? he said. ?I told him the Senator is ready to go when he is ? 12 rounds in 2020.? Gibbons said Mayweather didn?t comment one way or the other.

?Floyd is a tremendous poker player,? continued Gibbons. ?He laughed when I told him 12 rounds in 2020.? Gibbons said Mayweather may be waiting for Pacquiao to slow down because the way the Senator performed against Keith Thurman last July, no way Money will un-retire and risk blemishing his 50-0 record. Mayweather is now 42 and Pacquiao, 40.

Mayweather gave a hint of his hesitation when right after the Pacquiao-Thurman fight, he left the MGM Grand Garden Arena before the decision was announced. He knew Pacquiao won and didn?t want to be cornered by reporters on a possible rematch. Mayweather has been described as a control freak and will avoid any uncomfortable situation where he could be forced into making an untimely comment.

Pacquiao?s Australian strength and conditioning coach Justin Fortune was on the same wavelength as Gibbons. ?Floyd?s not silly,? he said. ?He knows what he?ll be up against if he faces Manny again. If it happens, I predict Manny beats up Floyd pretty bad. I think if there?s enough public interest in making the rematch, it?ll happen. It?s all up to Manny, MP Promotions and Floyd.?

Gibbons said Pacquiao?s world doesn?t revolve around Mayweather. ?Until we get an indication from Floyd, we?re carrying on,? he told worldboxingnews.com. ?We will fight whoever is presented and try to make entertaining fights for another year into 2020. And that?s even though the Senator, at this point in his career, takes one fight at a time. Funnier things have happened in life. You just don?t know when that one day is, maybe the guy gets the itch. Maybe, he says, ?I?m tired of people talking about it again.? Floyd likes to talk about being 50-0, that?s wonderful. Senator is 62-7-2 and has won eight titles in eight divisions. Plus he?s still beating the best. Floyd, when he was rolling out, beat up an MMA guy and some little poor Japanese guy. His legacy is going out on beating up people on freak shows.?


Click here to view a list of other articles written by Joaquin Henson.

---
Recent PhilBoxing.com In-House articles: