PACQUIAO VS. MAYWEATHER IN SOCIAL MEDIA

By Maloney L. Samaco
PhilBoxing.com
Sat, 27 Jul 2019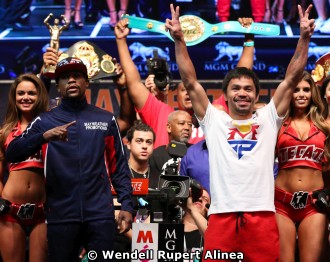 Their first encounter atop the ring was billed as the Fight of the Century or the Battle for Greatness, a professional boxing match between undefeated five-division world champion Floyd Mayweather Jr. and eight-division world champion Manny Pacquiao.

It happened on May 2, 2015, at the MGM Grand Garden Arena in Las Vegas, Nevada. The PPV broke revenue records in the US with $410 million in sales, making it the highest-grossing PPV in history with 4.6 million buys. Mayweather triumphed with a unanimous decision for the unified WBA (Super), WBC, WBO, and The Ring welterweight titles.

Mayweather posted on Instagram that he finds it "real ironic how every time Pacquiao's name is brought up in the media, my name is always attached to it." He added that Pacquiao's "entire legacy and career has been built off its association with my name" and told fans and media to "all stop using my brand for clout chasing and clickbait and let that man's name hold weight of its own."

Pacquiao answered that Mayweather was trying to stay relevant by watching his WBA Super welterweight title fight vs. Thurman last Saturday in Las Vegas. The senator posted, "@FloydMayweather You come to my fight and then use my name in a post but I?m the one that is trying to stay relevant? If you want to be relevant again... #MayPac2", referring to a rematch.

Mayweather replied that "For years, all you heard was that 'Floyd is afraid of Manny Pacquiao'. But what's funny is, when we finally fought, I won so easily that everyone had to eat their words!"

The undefeated former No. 1 fighter pound-for-pound lambasted the "so called boxing experts, critics and jealous American fan base" who went "mute and ran for cover or made every excuse in the world as to why I should give Manny Pacquiao a rematch."

He criticized the fans who he believes are upset that he broke Rocky Marciano's record and "hate the fact that a Black, high school dropout outsmarted you all by beating all odds and retiring undefeated while maintaining all my faculties simply by making smart choices and even smarter investments."

In bitterness he concluded saying, "Ultimately, I will always have the last laugh!"

As the exchange of posts heated up, Pacquiao told Mayweather he was not on the list of fighters lining up to fight him. "Excuse me Floyd, your name has not been on any of my PBC contracts. But if you would like to be on the next one, I will have one drawn up and sent to you. #CounterfeitMoney," wrote Pacquiao.

Mayweather answered Pacquiao, "Let's stick to the facts! Bob Arum is no longer your promoter, so when it comes to @mayweatherpromotions & PBC events I?m the HNIC!" HNIC is Head Narcissist In Charge or Head Negro In Charge.

"Bottom line, I make more money than you," Floyd continued. "I beat you, then I signed you! I was only at your fight supervising you, my employee, as any real BOSS would do. You made $10Million for 12 rounds, when I just made $9M in under 3 minutes playing around in an exhibition with a pizza delivery guy! I beat you mentally, physically and financially!"

Then he took a swipe at the senator, "Remember, you fight cause you have to, I fight when I want to!"

More than four years after Mayweather defeated Pacquiao, several fans have sought for a rematch. Mayweather has already retired from boxing, while Pacquiao continues to fight championships, recently defeating previously undefeated Thurman who is 10 years younger.

Mayweather was at the ringside watching Pacquiao fought Thurman and dethroned him of his WBA Super belt, the Filipino icon's twelfth title in eight divisions. Manny said that Mayweather even cheered for him when he knocked Thurman down in the first round. Mayweather last fought Conor McGregor, the MMA fighter turned boxer, and won via 10th-round technical knockout.

All these bickerings in social media suggest that the much-sought rematch is inevitable. Such social media wars happened before the 2015 MayPac first encounter.

But Mayweather insists that he is already retired and enjoys life outside the hassles of boxing, while Pacquiao is eyeing a return to the ring in January next year with the opponent possibly the winner of the Erroll Spence vs. Shawn Porter WBC and IBF unification bout.


Click here to view a list of other articles written by Maloney L. Samaco.

---
Recent PhilBoxing.com In-House articles: