It's 50-50, says Donaire

By Joaquin Henson
PhilBoxing.com
Sun, 21 Jul 2019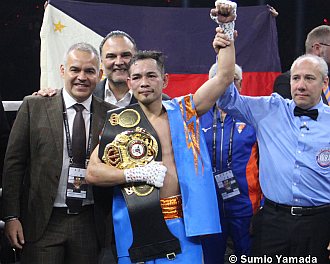 LAS VEGAS. ?Super? WBA bantamweight champion Nonito Donaire, Jr. isn?t picking a winner in the WBA welterweight unification title showdown between Manny Pacquiao and Keith Thurman at the MGM Grand Garden Arena here this morning (Manila time).

?I think the early rounds will determine the outcome of the fight,? said Donaire. ?Thurman is a strong starter but tends to fade in the late rounds. Manny is a more experienced fighter who knows how to pace himself and wait for the right timing to attack. It?s 50-50. Thurman?s a talented and athletic fighter. He can be a difficult opponent especially if he uses his athleticism to a point where he can outwork Manny. He has a height and reach advantage. Manny wants to prove that at 40, he?s still at his best. If he can figure out how to take away Thurman?s strengths, he should win. But it won?t be an easy fight.?

Donaire attended yesterday?s weigh-in with his wife Rachel, their two sons Jarel and Logan and his in-laws Gerry and Becky Marcial. He also visited the Media Center the other day. Donaire is getting ready to take on ?regular? WBA and IBF bantamweight champion Naoya Inoue of Japan in the World Boxing Super Series (WBSS) final late this year.

Donaire broke down the fight into 10 factors and rated who has the edge. ?First, there?s power and that?s Manny?s advantage,? he said. ?Second is speed and I think Thurman has the edge. Remember his legs are 10 years younger. Third is experience and that?s definitely Manny?s advantage. Manny hasn?t only fought more fights but has also fought a higher quality of opposition. Fourth is youth which is Thurman?s advantage. Fifth is combinations. Manny is a volume puncher and throws a lot more than Thurman. Sixth is strategy. This is also the ability to make adjustments during the fight. It?s a close call but I give this to Thurman. He is quick on his feet, can box or punch, can counter or engage. Basically, Manny isn?t expected to do anything different. He?ll rely on his explosiveness. Seventh is conditioning and this is Manny?s advantage. Manny is a strong finisher and I?m not sure if Thurman can sustain a high pace for 12 rounds. Eighth is the jab. With Thurman?s length, he has the advantage of being able to keep Manny at a distance with his jab. Ninth is variety of punches. I?ll give this to Manny who throws different kinds of punches from different angles. Finally, there is durability. Because he?s younger, Thurman is fresher. Manny has been hurt before while Thurman has never lost. Manny?s not the same as he once was. But Thurman hasn?t fought anyone like Manny.?

Tallying Donaire?s ratings, it?s dead even with Pacquiao and Thurman topping five factors each, justifying the Filipino Flash?s 50-50 assessment. Donaire said he?s not discounting a Pacquiao win by knockout. ?There?s a solution to everything,? he said. ?If Manny is able to crack Thurman?s style and find the right timing to land his power punches, he could score a knockout. We?re in for an exciting fight. It could be tactical, it could be toe-to-toe. It depends on how each fighter approaches the fight.?

Ringstar Sports CEO and WBSS co-founder Richard Schaefer, the former Swiss banker who used to run Golden Boy Promotions, said Thurman?s chances would?ve been better against Pacquiao if they fought two years earlier. ?Maybe, Thurman might have beaten Pacquiao at the time he fought Shawn Porter and Danny Garcia,? said Schaefer. ?I know Thurman well. I brought him to the pros from the amateurs and promoted his first few fights. But his injuries and long layoff have slowed him down. Now, it?s a different story. If Manny knocks him out, he?ll deliver a strong statement that could bring (Floyd) Mayweather out of retirement for a rematch. But then again, if Manny puts on a dominant performance, maybe Floyd will hesitate to come back and risk losing his unbeaten record.?

Schaefer is Donaire?s promoter. ?I?m expecting Mr. (Akihiko) Honda to fly in from Japan to watch Manny?s fight and I?ll talk to him to finalize plans for Nonito?s fight against Inoue,? said Schaefer. Donaire said the WBSS final is long overdue. ?It should?ve taken place last month or this month at the latest,? he said. ?I leave the negotiations up to Richard. He knows what?s best. I?ll just keep working in the gym so once the date and place are confirmed, I?ll be ready for any eventuality. I?m open to whatever options Richard has in mind.?


Click here to view a list of other articles written by Joaquin Henson.

---
Recent PhilBoxing.com In-House articles: