Pressure's on Thurman, not Manny

By Joaquin Henson
PhilBoxing.com
Sat, 20 Jul 2019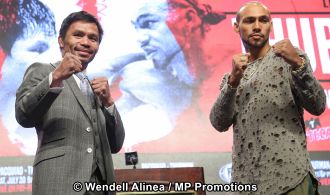 LAS VEGAS. Take it from boxing guru Sean Gibbons who?s been involved in the fight game as a matchmaker, promoter and boxer for over 30 years. The pressure is on Keith Thurman, not Manny Pacquiao, to perform in their scheduled 12-round battle for the WBA welterweight unified championship at the MGM Grand Garden Arena here tonight (tomorrow morning, Manila time).

?The Senator feels no pressure at all,? said Gibbons. ?He?s fought Hall of Famers like Erik Morales, Oscar de la Hoya and Marco Antonio Barrera. He?s used to big-time fights. This is his 15th fight at the MGM Grand. The pressure?s all on Thurman. I think he?s nervous. He?s talking a lot and that?s a sign of nervousness.?

Gibbons said Pacquiao never predicts the outcome of his fights but it appears that he?s looking to knock out Thurman. ?This is the closest thing to a prediction that the Senator has made,? continued Gibbons. ?He announced that the fight won?t go the distance. And believe me, it?s not the Senator who?s going down. Is the Senator going for a knockout? Absolutely.?

Gibbons said throughout Pacquiao?s training camp, he has been composed and calm. ?He?s feeling good and he hasn?t looked this good in years,? noted Gibbons. ?He?s ready for Thurman. The way I see it, Thurman will engage Manny early and try for a quick knockout. He?s supposed to be a strong starter. But as the fight goes on, Thurman will do a lot more boxing and take advantage of his length and distance.?

Will Thurman fight like Floyd Mayweather, Jr. or Sugar Ray Leonard? Gibbons said he can try but he?s not nearly as skilled as Mayweather or Leonard. ?Once he tastes the Senator?s power, you can be sure Thurman will run just like (Adrien) Broner did,? he said. ?Thurman won?t be able to keep pace with Manny.?

Thurman has put in more work than usual in eight weeks preparing for Pacquiao in St. Petersburg, Florida. His training team is made up of head coach Dan Birmingham, strength and conditioning coach Yo Murphy, nutritionist and fitness pro Kimberly Doehnert, physical therapist Eric Wilson and cutman Carlos Vargas. One thing that Thurman worked on in camp was strengthening his core to withstand a body attack. ?He really needed something else to add to his core training,? said Doehnert, quoted by writer Mark Lelinwalla in sportingnews.com. ?He needed training for having to be strong for those type of blows. He felt he needed different angles of strength added to his training.?

Thurman said he?s been talking trash because it?s more fun than thanking Pacquiao for the opportunity to earn the biggest paycheck of his career. If it?s to hype the fight, Thurman has gone way overboard. He has disrespected Pacquiao with insults and fans are wondering if he?s the second coming of Mayweather as boxing?s most irreverent villain.

Gibbons said Thurman is no joke as a fighter although he doesn?t come close to the caliber of opposition that Pacquiao has mowed down. Pacquiao?s experience will go a long way in establishing control of the fight. For Thurman to make an impact, he?ll need to pump the left jab continuously to throw off Pacquiao?s rhythm then follow up with a right straight or overhand right. Pacquiao?s window of opportunity will open up in between Thurman?s execution of the combination. The split second interval will leave Thurman a little off-balance and for Pacquiao, that?s all he needs to land the finisher.


Click here to view a list of other articles written by Joaquin Henson.

---
Recent PhilBoxing.com In-House articles: