Manny in good hands with cutman

By Joaquin Henson
PhilBoxing.com
Wed, 10 Jul 2019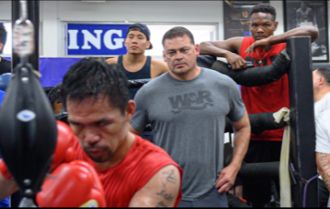 Cutman Mike Rodriguez (in grey shirt) watches Manny Pacquiao work out at the Wild Card Gym in Los Angeles.

There?s a new man on the block in Manny Pacquiao?s team and he?s called the crime-fighting cutman. Mike Rodriguez, a homicide detective from Los Angeles, was called by Freddie Roach to join the band of brothers over a week ago and will make his debut in Pacquiao?s corner for the Keith Thurman fight at the MGM Grand Garden Arena in Las Vegas on July 20.

Rodriguez, 53, has worked with nearly 20 world champions, including Julian Williams, Abner Mares, Sergey Lipinets and Denis Lebedev but the opportunity to attend to Pacquiao is a major milestone in his ?second? career. ?I?m very proud to be added to Manny?s list of cutmen,? said Rodriguez who has been employed in the Los Angeles County sheriff?s office for 31 years, 15 as a homicide detective. ?This is my biggest assignment ever. To work with a legend and Hall of Famer is a huge honor. Over the last 10 years, I?ve worked up the food chain to earn a good reputation. I was a US Air Force boxer and boxing trainer before my police work cut him into my time. I?ve learned from the best cutmen in the business like Stitch Jabran, Rudy Hernandez, the late Joe Chavez, Miguel Diaz, Dave Martinez, Ruben Gomez and Carlos Vargas who will be in Thurman?s corner for Manny?s fight. I?ve had great mentors who took me under their wing. I?ve handed down what I know to my son Andrew, who?s 30 and also doing work as a cutman.?

Rodriguez said practice and preparation are critical in his job. ?Every second counts,? he said. ?In between rounds, there are only 60 seconds so if you?re a cutman attending to a fighter with trauma to his face, you?ve really got just 45 seconds. You owe it to your fighter to make sure when he comes out for the next round, he?s ready to go. I use my police, military and boxing background to do the best I can in the corner. Being organized and prepared sets me apart from others. People like stability in the corner and someone they can count on. The worst feeling is if a fighter has no faith in his corner. You need a comfort level, a close relationship where you can work together and get things done.?

Rodriguez said Roach reached out to him then MP Promotions Sean Gibbons arranged a meeting with Pacquiao. ?Manny consults with Buboy (Fernandez), Freddie and Justin (Fortune) in strategizing,? he said. ?My role is strictly as a cutman. I?ve met Manny and he?s wonderful to work with. I watch his workouts so I get familiar with his movements and nuances. I told Manny that when I do things in the corner, it doesn?t mean something?s wrong. It just means I?m looking out to prevent things from happening. I?m 6-4 so my length helps in attending to fighters through the ropes.?

Rodriguez said elbows and butts, more than punches, cause a lot of face damage. ?If it?s a horizontal cut, it?s usually from a punch but if it?s crooked, it?s usually from an elbow or a butt,? he said. ?When there?s swelling, you don?t want it to cross a cut. That?s like mixing gasoline with wild fire. If there?s swelling, you attend to it right away to alleviate a bad situation. I work with adrenalin and thrombin. I also use War Tape, an athletic tape I developed with the Vittore brothers, who are half-Filipino, over nine years ago. It?s extra adhesive and an easy rip. It?s what?s used to wrap a fighter?s hands. I?ve worked with a lot of bleeders and luckily, I?ve been able to make sure cuts don?t make a difference in their fights.?

Rodriguez said some fighters like the late Alexis Arguello or Kid Gavilan added torque to their punches to cause a cut. ?With Thurman, he throws rapid punches in succession,? he said. ?When a righthander fights a southpaw, there?s a higher probability of heads colliding so you watch for that. I?ve noticed in Thurman?s last five or six fights, he was susceptible to swelling. As for Manny, he has high cheekbones so bone structure is something I look into in preparing for a fight. His skin isn?t the same as it was 20 years ago so I?ll watch for that, too. In the (Jeff) Horn fight, Manny was cut because Horn fought him real close and got away with rough stuff. But Manny?s skin isn?t like Israel Vazquez? where it came to a point, his skin was like paper because of so much scar tissue and wear and tear.?

Rodriguez said he?s still active in detective work. He was recently interviewed for a two-hour special on the ?Lomita Black Widow? case which will be featured on Dateline NBC in September. The case involved a Filipina, Sonia Rios, who was suspected of killing her two husbands, both former US military men, 17 years apart for insurance money. Rios allegedly hired hitmen to murder her husbands in Cavite. Then, her grandnephew Eric de la Cruz and his Navy buddy Fernando Romero conspired to murder Rios, who owned a hair salon, in Lomita, California, for money in 2007. De la Cruz and Romero were eventually sentenced to 26 years to life in prison.


Click here to view a list of other articles written by Joaquin Henson.

---
Recent PhilBoxing.com In-House articles: