Two Pinoy shoo-ins for SEAG boxing

By Joaquin Henson
PhilBoxing.com
Sun, 14 Apr 2019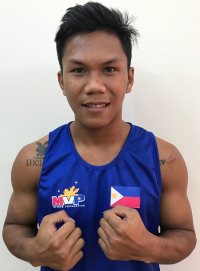 Eumir Marcial.

Only middleweight Eumir Marcial and lightheavyweight John Marvin are assured of slots in the Philippine boxing team that will vie for honors at the Southeast Asian (SEA) Games here late this year with the host country allowed to name entries in all 13 weight categories, eight for men and five for women.

ABAP secretary-general Ed Picson confirmed that Marcial, 23 and Marvin, 26 are guaranteed tickets to the SEA Games because they?re the only fighters in the national pool in their classes. Besides, they?re highly qualified as the only Filipino boxers to capture gold in the previous SEA Games in Kuala Lumpur in 2017.

Picson said the other competing countries may bring in fighters up to only 10 classes unlike the Philippines? privilege. Thailand, Indonesia, Malaysia, Timor Leste, Cambodia, Singapore, Laos, Myanmar and Vietnam are sending 10 boxers each. Brunei is the only country not participating in boxing.

The eight men?s divisions are lightflyweight (46-49 kg), flyweight (52), bantamweight (56), lightweight (60), lightwelterweight (64), welterweight (69), middleweight (75) and lightheavyweight (81). The five women?s categories are lightflyweight (48), flyweight (51), bantamweight (54), featherweight (57) and lightweight (60).

In a test of fighters competing for slots in the SEA Games, the Philippines will be represented by seven men and three women at the 30th Asian Championships in Bangkok on Aug. 16-27. The male boxers are lightflyweight Ramel Macado, 23, flyweight Marvin Tabamo, 22, bantamweight Ian Clark Bautista, 24, lightweight Jeorge Edusma, 23, lighttwelterweight Sugar Rey Ocana, 22, welterweight Joel Bacho, 26 and Marvin. The female boxers are lightflyweight Josie Gabuco, 31, bantamweight Nice Zzaa Petecio, 24 and featherweight Nesthy Petecio, 26. The Petecios are sisters. Their brother Norlan, 17, is also in the national boxing pool in the youth category. The contingent will include coaches Don Abnett, Ronald Chavez, Boy Velasco, Romeo Brin and Michelle Martinez. Abnett, an Australian, joined the ABAP coaching staff as consultant last February.

Picson said elite Team A fighters Carlo Paalam, Rogen Ladon, James Palicte, Mario Fernandez and Marcial will skip the Asian tournament to recover from injuries. ?Paalam, Ladon, Palicte and Marcial are all nursing minor injuries,? said Picson. ?We?re reserving them for the big ones----the World Championships and SEA Games. Fernandez is still recovering psychologically from his shock knockout loss at the Asian Games.?

Picson said it?s the prerogative of the host country to name boxers in every weight class in the SEA Games while the others may send in up to six male and four female fighters. The lightheavyweight division will assemble boxers only from the Philippines, Malaysia and Timor Leste, guaranteeing each country a medal. For a while, only the Philippines and Malaysia were listed in the lightheavyweight class, endangering its inclusion as there must be at least three countries in every division. But Timor Leste eventually joined in to preserve the category.

Picson said Abnett is familiar with the ABAP program. ?Don?s been coming to the Philippines with the Australian boxing team regularly since 2009,? he said. ?Don has outstanding credentials, having been involved with the Australian team in two Olympics, 10 World Championships and two Commonwealth Games. He?s easy to get along with. He rooms with two Filipino coaches in Baguio and has assimilated well. We?re comfortable with him and he?s comfortable with us.?

Picson said Abnett was hired to look over the ABAP training program. ?He?s working with our coaches and boxers,? he said. ?He?s introducing new systems and techniques to make us better. He?s well-rounded. He?s handled boxers in different levels, men and women so we can learn from his experience.?

It was former Philippine consultant Kevin Smith, an Englishman, who tipped Picson off about Abnett?s availability. Smith took over the Australian team?s head coaching job from Abnett. ?We?ve known Don for years,? said Picson. ?He?s brought over 10 to 12 Australian boxers to train with us, sometimes for three weeks at a time. I remember on his first visit, Don was stranded in Baguio because of Ondoy. He enjoys the atmosphere of our training camp. We?ve got 13 Filipino coaches and they?re learning a lot from him.?


Click here to view a list of other articles written by Joaquin Henson.

---
Recent PhilBoxing.com In-House articles: