There are 1,856 articles attributed to this author.
Displaying articles 1751 to 1760.

FILIPINO AND GERMAN ACES CLASH ANEW IN PBB'S FACE OFF AT PACGOR AIRPORT CASINO
Sat, 22 Oct 2011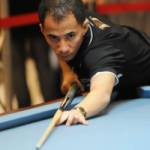 Dennis Orcullo. FILIPINO Dennis "Robocop" Orcollo, current world no.1 and world 8-ball champion expressed his desire to get back at German ace Ralf "Kaiser" Souquet in his sorry loss at the World Pool Masters when the P


7 WBC INTERNATIONAL CHAMPIONSHIP FIGHTS IN NIGHT for THE PPUR NEW 7 NEW WONDERS OF NATURE
Fri, 21 Oct 2011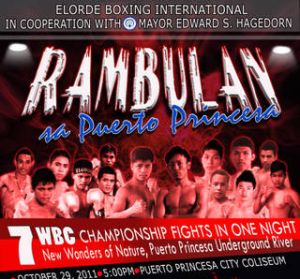 MANILA -- A record breaking event in the history of boxing happens this October 29, 2011 at the city coliseum of Puerto Princesa , as Mayor Edward Hagedorn hosts the 7 WBC INTERNATIONAL CHAMPIONSHIP TITLE FIG


PAGULAYAN, CORTEZA CONTINUE WINNING RUN IN US OPEN 9-BALL
Thu, 20 Oct 2011
FIVE Filipino billiard heavyweights extended their winning streak during Round Three of the 2011 US Open 9-Ball tournament yesterday at the Chesapeake Conference Center in Chesapeake, Virginia, USA. Former World 9-ball champion Alex "The Lion" Pagulayan, ex-national champion Lee Vann "The Slayer"


ORCOLLO BEATS CUARTERO; GAIN SEMIS BERTHS IN BSCP NATIONAL OPEN 9-BALL
Sat, 08 Oct 2011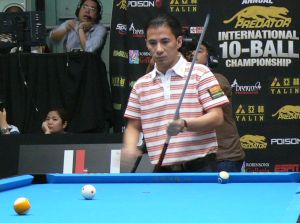 CURRENT World no.1 and World 8-ball champion Dennis Orcollo got the better of Allan Cuartero to storm into the semifinals with a 9-5 victory on Friday in the 9-ball competition of the BSCP National Pool Championship at the Star


BIADO BEATS ORCOLLO, REACH FINALS
Thu, 06 Oct 2011
FOR the second time in five months, up-and-coming star Carlo Biado has beaten fellow Bugsy Promotions mainstay world No.1 and World 8-Ball champion Dennis Orcollo, serving strong notice on his title aspiration in the 8-Ball event and grand championship of the 2011 BSCP National Pool Championships


ORCOLLO, BIADO OFF TO GOOD START IN BSCP NATIONAL POOL CHAMPIONSHIPS
Tue, 04 Oct 2011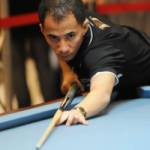 Billiard stars Dennis Orcollo and Carlo Biado got off to a blazing start by posting victories at the start of the 2011 BSCP National Pool Championships at the Star Billiards Center in Quezon City on Monday. The top player


CEBU'S GM BITOON IN SSS SIMUL CHESS
Sun, 25 Sep 2011
PHILIPPINE newest Grandmaster Richard Bitoon flashed his deadly old form for a magnificent performance in a rare simultaneous chess exhibition held Friday at the start of 2011 SSS Inter Group 24 boards Simultaneous Chess Exhibition at the SSS Canteen, 2nd Floor SSS, East Avenue, Diliman, Quezon City


ALTA STOPS LAPUZ TO KEEP SUPER WELTERWEIGHT TITLE
Wed, 21 Sep 2011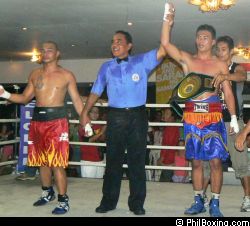 MARLON ALTA of General Santos City retained his Philippine Super Welterweight Title Saturday with a 12th round unanimous decision win against challenger Dondon Lapuz of Cagayan de Oro City which was held at the Elorde Sports Cent


FILIPINO VICTOR ARPILLEDA WINS JOGJAKARTA 9-BALL OPEN; POCKETS $7,000
Wed, 21 Sep 2011
FILIPINO Victor Arpilleda flashed his vintage form by winning the 2011 Jogjakarta 9-ball Open in Indonesia on Sunday. The Jakarta based Arpilleda who hails from Murphy, Quezon City edged Irsal Nasution of Indonesia, 11-10, in the finals to win the US$7,000 top prize and the championship trophy.


DENNIS ORCOLLO BEATS MIKA IMMONEN, WINS PREDATOR 10-BALL; POCKETS $10,000; ENDS MANILA JINX
Mon, 19 Sep 2011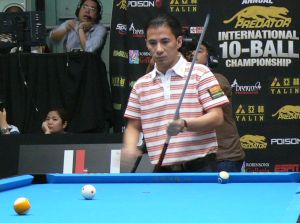 WORLD no.1 Dennis Orcollo of the Philippines put together a big comeback, winning the final three racks to beat Mika Immonen of Finland, 10-8, to capture the 11th Predator International 10-Ball Championship Sunday night at the R


<< First
|
< Previous
|
176
|
177
|
178
|
179
|
180
|
181
|
182
|
183
|
184
|
185
|
Next >
|
Last >>