MATCHROOM POOL LAUNCHES SPANISH OPEN IN STRING OF ANNOUNCEMENTS FOR SPAIN

PhilBoxing.com
Wed, 29 Mar 2023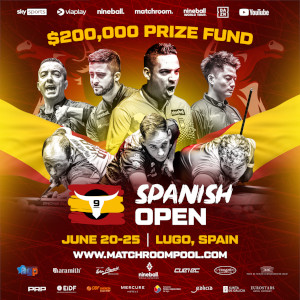 • Spanish Open one of three announcements for the Nineball World Tour in Spain this week
• Spanish Open to take place in Lugo from 20-25 June 2023
• $200,000 prize fund for 256 player field event

Matchroom Pool is delighted to announce another signature multi-table major event, the Spanish Open Pool Championship set to take place from 20-25 June 2023 in Lugo, Spain at Pazo De Feiras E Congresos De Lugo with a $200,000 prize fund and the final two days broadcast live on Sky Sports in the UK and DAZN in Spain.

The Spanish Open Pool Championship is the fifth 256-player field tournament promoted by Matchroom on the Nineball World Tour with players set to fight through a seeded double elimination stage led by the top 128 on the Nineball World Rankings before only 64 make it to the single elimination rounds.

Entries will open Monday, 3 April at 2 pm UK time with the top 64 on the current Nineball World Rankings given priority entry. The remaining spots will be up for grabs with entries costing $250.

In partnership with The Asociación Gallega de Billar Pool (AGP). The AGP was founded in 1992 by Carlos Iglesias Lorenzo in Cangas del Morrazo (Galicia - Spain), with the aim of promoting and disseminating pool billiards in Galicia, a modality that to date was not known.

Years of hard work by Carlos and his team have made billiards a referent point for Pool in Spain today.

This year the 31st edition of the Galician Pool Billiards Championship will be held. Around 1,000 players come together yearly to compete for coveted titles in different categories. 31 years without interruption in which, in addition to Galician Championships, the AGP has organized Spanish Championships and even International Opens that have come to attract world pool figures such as Efren Reyes, Francisco Bustamante or Ralph Souquet among many others, and of course the best national players like David Alcaide or Francisco Sánchez Ruíz.

Nineball World Number One Francisco Sanchez Ruiz will lead the field: "I think I speak for all Spanish players when I say it is something special to have the biggest events being brought to our country with our people supporting us. It would be a unique experience for me! I won my first Spanish championship in Lugo, so it is a special place for me already."

"It's going to be a tournament that's hard to forget for all the players. In Spain there is a lot of fans and a lot of passion for pool in the country and I am sure they will turn out to support us all," Sanchez Ruiz added.

"It is an honour for the AGP to be able to host a tournament like this and we are proud that Matchroom has placed their trust in us to celebrate the 1st edition of the Spanish Open Pool Championship. We hope this is a good push for the Pool in Spain so that it can get the support it deserves." said a spokesperson from the AGP.

Key Dates

• Monday, 3 April – Player Entries open at 2 pm UK time
• Thursday, 6 April - Spectator Tickets available

Alongside the Spanish Open Pool Championship, Matchroom will underline a further commitment to the grassroots of billiards in Spain later this week with further announcements to come this week.

The event will be available live around the world, split across the Double Elimination and Single Elimination stages of the tournament allowing for global coverage. Matchroom.Live and Matchroom Pool social media channels will produce the streamed double elimination stage with Sky Sports, DAZN, Viaplay, and Matchroom.Live televising the Last 16 onwards as well as other broadcasters worldwide including SportKlub, VietContent, TAP with the full broadcaster list coming soon.


---
Recent PhilBoxing.com In-House articles: