JOSHUA VS. FRANKLIN FIGHT WEEK KICKS OFF AT BATTERSEA POWER STATION

PhilBoxing.com
Tue, 28 Mar 2023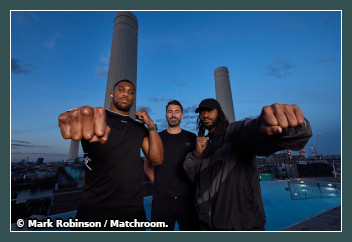 '989 Assassin' meets 'AJ' at The O2 this Saturday live on DAZN

Anthony Joshua and Jermaine Franklin came face to face for the first time since their launch press conference at the beginning of February this evening as they kicked off fight week at the 'New Dawn' launch party ahead of their huge Heavyweight clash at The O2 in London this Saturday April 1, shown live worldwide on DAZN.

The rivals began fight week media activities at the brand new art'otel overlooking the iconic Battersea Power Station on the south bank of the River Thames in Nine Elms, Battersea, in the London Borough of Wandsworth.

Former two-time unified Heavyweight Champion of the World Joshua (24-3, 22 KOs) fights at The O2 in London for the first time since 2016 as he begins life under the tutelage of new head trainer Derrick James. 'AJ' returns to the scene of his first World Title win over Charles Martin to face another American contender in Franklin (21-1, 14 KOs).

Saginaw's '989 Assassin' pushed Dillian Whyte all the way in a close points loss at Wembley's OVO Arena last November and is relishing his shot against one of the biggest names in the sport. British megastar Joshua is ready to begin his ascent back to the top of the Heavyweight division after suffering back-to-back losses to pound-for-pound great Oleksandr Usyk in London and Saudi Arabia.

Eddie Hearn, Matchroom Sport Chairman

"We've just done the promo shoots downstairs and Jermaine Franklin has a six pack. I don't know where it has come from. He's lost 24 pounds. He fought Dillian Whyte and had a nice little belly like most of us and all of a sudden he's ripped to shreds. He's talking the right language, he's telling the guys down there that he's going to knock 'AJ' the f**k out.

"I think you're going to see a great fight on Saturday and it is a dangerous fight. There's a huge amount of pressure on Anthony Joshua on Saturday night and he's got to stick one of this geezer early and hurt him. This is a real fight. If 'AJ' lets him get confident in this fight it is going to be a very difficult fight.

"It's going to be a completely full house at The O2 on Saturday, it'll be absolutely rammed. It will be buzzing for 'AJ's' ringwalk. We're only five days away now. When he ringwalks, check out the energy in that arena, it is going to be electric."

Anthony Joshua

"If Franklin possesses certain weaknesses I'll be able to exploit them. It has been difficult over the past few fights to exploit people's weaknesses because they're very difficult to catch and pin down but hopefully I'll be able to exploit Franklin's weaknesses and show some of my old self.

"At a certain level it's hard to go into the ring and knock someone out within like ten seconds. There's a process to getting that knockout and you have to be disciplined. I understand, there's high expectations. People put their own expectations on other people. People put me in high regard - that's where the pressure comes from, me having to deliver. I understand that and I'll do my best for sure.

"We put a lot of pressure on ourselves, fighters. Hearing that final bell or hearing the ref count it out is such a high feeling that no amount of money can give you that feeling. It's true. It's a mad feeling. Each fight is a new chapter I'd say. Every chapter is so important.

"If Jermaine were to be successful on Saturday night I'd give him the respect he deserves. I'll make the decision if I want to fight on or not. I feel like I can make that decision. If I want to continue fighting I don't think it's up to anyone to dictate to me. I don't think anyone can tell me what to do in my career anyway."

Jermaine Franklin

On Dillian Whyte defeat:

"I'm very strong mentally. My team and the fans made me feel okay about the decision. This is boxing, sometimes it happens in boxing. We don't all get fair shakes. I've never really had a fair shake in my whole career. I didn't cry about it, I didn't complain about it, I just went back home and started working. You've got to knock them out or you've got to dominate them in conclusive fashion."

On size difference:

"He's only four inches taller than me. He's 6'6" and I'm 6'2". I've been sparring big guys my whole career. This is nothing new to me."

On Andy Ruiz Jr comparison:

"We're two different fighters. Me and Andy are two different fighters. We don't have the same style. Andy probably provides a little more pressure than I do, he fights a little more in spurts. I try to use my jab more and work inside/out."

On being overlooked:

"I've always been overlooked. Personally in my opinion I've just got to go out there and show him that I'm not what they think I am. They call me a tune-up and they say I'm going to get knocked out in four or five rounds so I'm just coming here to kick ass and show the world this isn't it."

On people saying Joshua should retire if he loses to him:

"I find that disrespectful. People haven't really seen me. I find it disrespectful that people think that low of me. They think I'm not a great fighter, they think I'm not a good fighter. I find it disrespectful but that is the kind of sport we're in. We don't get love like basketball, football and all the other sports. Boxing is more either you're on top or you're not."

On how he feels about Joshua:

"I respect him as a man. I respect all fighters. When people talk shit we talk it back. I'm a fan of the sport. I've been a fan of the sport for a long time, way before I ever thought we'd get this fight. I feel like all boxers need a little bit of respect. It's a tough sport, it's a real brutal sport and some of us don't make it out of that ring."


Joshua vs. Franklin headlines a huge night of boxing in London, British Heavyweight Champion Fabio Wardley (15-0, 14 KOs) meets American Michael Polite-Coffie (13-3, 10 KOs) for the vacant WBA Continental title, taly's European Middleweight ruler Matteo Signani (32-6-3, 12 KOs) defends his title against former British and Commonwealth Champion Felix Cash (16-0, 10 KOs), undefeated Texas Middleweight Austin 'Ammo' Williams (13-0 9 KOs) fights in the UK for the third time against Coventry's River Wilson-Bent (14-2-1, 6 KOs), Campbell Hatton (10-0, 3 KOs) is back in action against Louis Fielding (10-7, 1 KO) after hitting double figures in Liverpool in March, Essex's John Hedges (7-0 2 KOs) lands his first eight round clash against Poland's Daniel Bocianski (11-2, 2 KOs), Jordan Flynn (8-0, 1 KO) faces the stiffest examination of his credentials when he meets Birmingham stalwart Kane Baker (18-9-1 1 KO) over eight rounds, Albanian Cruiserweight Juergen Uldedaj (15-0, 6 KOs) takes on Switzerland's Benoit Huber (8-3, 6 KOs) over eight rounds, Ziya Almaayouf (2-0, 1 KO) faces Bulgaria's Georgi Velichkov (3-10, 3 KOs) over four rounds and German Heavyweight Peter Kadiru (14-1, 7 KOs) opens the evening's action against Macedonia's Alen Lauriolle (6-1, 3 KOs) over six rounds.


---
Recent PhilBoxing.com In-House articles: