SPORTS SHORTS 219: MANNY PACQUIAO BELIEVES THAT YOUTUBERS FIGHTING PRO BOXERS IS NOT GOOD FOR BOXING

By Maloney L. Samaco
PhilBoxing.com
Thu, 16 Sep 2021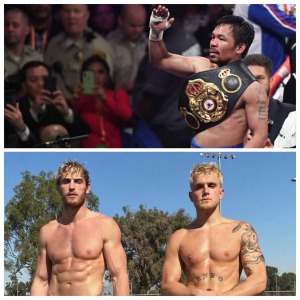 Eight division world champion Manny Pacquiao is mindful of a moneymaking twist of boxing which is "easy to get paid for losing." His fighting career began that way as a 12-year-old boy by his own admission per Agustin Mojica of Sportscasting.

* * *

The future Hall of Famer went on to have an extended, triumphant journey in pro boxing due to his extraordinary expertise and thoughtfully, he readily accepts defeat as part of the game.

* * *

However, Pacquiao is not sold out to the big purses in the recent trend of celebrity bouts to YouTubers facing retired boxers, and for the senator he has no inclination for it. He said it not good for boxing if these are done only for money. Pacquiao does not want to participate in the current circus.

* * *

Manny Pacquiao is not thrilled by Jake and Logan Paul's achievements in the boxing ring. In an interview at GQ, Pacquiao was very frank regarding the Paul brothers' boxing fights. "If you talk about real boxing, it's not good," Pacquiao stated.

* * *

Asked regarding the new trends in mano a mano on the sport of boxing, the lawmaker-boxer was not contented. "If it's just for fans or fundraising, it's good," the former pound for pound king said. "It's good for fundraising. If you talk about serious boxing, it's not good for boxing."

* * *

There were negative outlooks on the Paul family's boxing matches. Former UFC fighter Daniel Cormier refused an offer from Jake and considered it as a joke. Cormier is an American retired professional mixed martial artist and amateur wrestler. He is a former UFC light heavyweight and heavyweight champion.

* * *

Even the fighters themselves who were involved in the bouts deep inside know the fact that they're fighting in a travesty. Floyd Mayweather, who recently fought against Logan in a no-decision, was even caught on camera telling the fight was "fake", as reported by Republicworld.

* * *

Pacquiao's clairvoyance keeps his stand that no amount of money is worth bending to the level of fighting the Paul brothers. But this does not mean he has closed the door of engaging in celebrity matches completely. It could be against another active, professional boxer and he is willing to fight with a big sum of money.

* * *

There were reports that Pacquiao was scheduled to fight Conor McGregor early this year. But agreements were aborted when Pacquiao's team diverted their focus to real professional boxing match on August 21, first with Errol Spence then with Yordenis Ugas.

* * *

But with the reported $3 million advance for Paradigm Sports Management for a Conor McGregor bout, it might get to realization in the near future. It did not push through when the MMA star lost to Dustin Poirier in a rematch last January 24 and lost again in July 11.

* * *

Pacquiao now will choose fights that he can win, if ever he decides to climb the ring one more time before he hangs up his gloves for good. Even if he lost to Ugas he could still provide enough attraction for fans to pay and watch.

* * *

However everything solely depends on Pacquiao's political plans with the nationwide campaign to start in February next year. He said he has only three political goals next year: to run as president, get reelected as senator or retire from politics.

* * *

Pacquiao will decide on his presidential bid in the coming 2022 national elections on or before the September 19 national assembly of his wing of the PDP-Laban, according to Ronwald 'Ron' Munsayac, party executive director.

* * *

MP Promotions president Sean Gibbons once hinted that he's interested in Mikey Garcia as an opponent for Manny Pacquiao's "swansong" final fight of his career. Garcia is an easier for compared to Ugas as some analysts put it.

* * *

Pacquiao's training team wants him to retire from boxing with a big win. And the smaller Garcia could be the opponent they're looking for than the taller and long reached Ugas. That is if the McGregor match couldn't happen.

* * *

Steve Kerr has the most underrated career in NBA history:
1. Played with a young Shaquille O'Neal in Orlando Magic in 1993
2. Three-peated with the Bulls and Michael Jordan
3. Won the All-Star 1997 Three-Point Contest
4. Won two more championships with the San Antonio Spurs
5. Owns the highest career Three-Point Percentage in league history
6. Won 2015-2016 Coach Of The Year award with the Golden State Warriors
7. Led Golden State to five NBA Finals appearances and three title rings
8. Coached the second-best team in NBA history, the 73-9 Warriors
9. Played on the greatest team in NBA history, the 72-10 Bulls
Source: Fadeawayworld

* * *

In 2016, Kerr won Coach of the Year after leading the Warriors to the best overall record in the history of the NBA. The Warriors were 73-9 that season as Steph Curry was named unanimous MVP.

* * *

Kerr's 72-win Chicago Bulls was the team that lost their top spot in NBA history, but many fans still believe that team remains the greatest overall team in NBA history because the Bulls that time won the championship while the Warriors lost in the finals to LeBron James and the Cleveland Cavaliers.

* * *

Kerr owns the highest three-point percentage in all-time history with a .454 clip, which is just better than Seth Curry. In the 1990s Kerr shot 50% or better from the arc in five of the 10 seasons, which includes back-to-back with the Cavaliers in 1991 and 1992, as well as three straight with the Bulls from 1994 to 1996.


Click here to view a list of other articles written by Maloney L. Samaco.

---
Recent PhilBoxing.com In-House articles: