'Forever woman behind the man'

By Joaquin Henson
PhilBoxing.com
Tue, 26 May 2020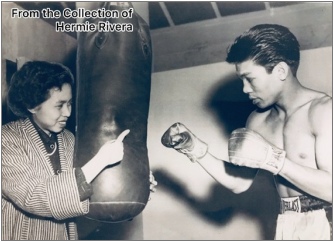 Boxing fan, election lawyer and champion of senior citizens Romy Macalintal reached out the other day to express his condolences to the Elorde family on the recent passing of Flash's widow Mommy Laura. Romy never got to pay his respects during Mommy Laura's wake because of quarantine restrictions but asked if through this column, he could share his thoughts about the First Couple of Philippine boxing.

From his treasure chest of clippings on Filipino fighters dating way back, Romy dug up an article written by Felix Caliwag in the Dec. 10, 1961 issue of the Sunday Times Magazine. It was entitled "Mrs. Gabriel Elorde, Forever Woman Behind the Man." Caliwag quoted Mommy Laura as saying, "Bay (Flash) is a perfect gentleman, he's so respectable that when I first met him, it was a case of love at first sight."

They met in Tokyo where Mommy Laura's father Lope (Papa) Sarreal, Sr. did business shortly after World War II. Papa was a POW in China and as the only Filipino among Americans in camp, was a popular figure as a cook. When the war ended, his American friends encouraged him to get involved in the trading of surplus goods with businessmen in Japan. That led to Papa opening a restaurant and trading company in Tokyo. Papa also brought Filipino fighters to Japan where boxing enjoyed a boom. One of the fighters whom Papa took to Japan was Elorde. Mommy Laura used to visit Tokyo often and stay in Papa's home. It didn't take long before she met Elorde and they fell in love. Elorde, a former bootblack and bowling pin boy in Cebu, reached only up to Grade 3 while Mommy Laura studied elementary in Hong Kong, went to Imus Institute High School and earned a liberal arts degree, major in English and History, at FEU. Despite the disparity in their educational background, they were a perfect match and married in a small ceremony in Tokyo in February 1954.

Curiously, Mommy Laura never attended any of Elorde's fights. "Boxing is a thankless sport," she said, quoted by Caliwag. "You hear so many nasty remarks against a boxer and this does not exempt world champions. I want to avoid seeing Bay being the target of vicious punches. I'm human and I love Bay." Caliwag said they were deeply religious and went to church in the morning of every fight. "We both pray to God not only for us to win but we also ask that no accident or harm would befall Bay and his opponent," said Mommy Laura.

"The humble and very simple character of Laura was demonstrated in her answer to the question how it feels to be the wife of a world champion," said Romy. "She was quoted as saying, 'even the wife of a laborer or a hardy peasant is proud of her husband, now why should I not be proud of Bay even if he's just an ordinary boxer … Bay's attitude towards life is one of humility; his policy----win or lose----is to be thankful to those who helped us and he loves his fans." Romy said Mommy Laura doted on Elorde and took care of his diet. "For breakfast, she gives him toast, soft-boiled eggs and coffee," wrote Caliwag. "For lunch and supper, she gives him steak. Bay's favorite is adobo but he can eat it only after his fights."

Romy said the love, respect and trust that blossomed between Elorde and Mommy Laura are a living testimony that there is such a thing as true love which can last forever. "With Laura's death, she has joined Bay in heaven where they will surely live forever and ever," he said. "My clippings on Flash date back to the '60s and each item is dated. I met Laura during the Elorde Awards Night at Sofitel in 2011 and brought my memorabilia on Flash which I showed to her. She was so impressed and asked to make copies of some of the clippings. To fulfill her wish, I'm now donating all my clippings to the Elorde family to immortalize the memories of one of the greatest Filipino boxers of all time. Anyone who says there is no such thing as true love that lasts forever has not heard of the love story of Flash and Laura."


Click here to view a list of other articles written by Joaquin Henson.

---
Recent PhilBoxing.com In-House articles: