Lyons, Fathers and Sons: A Class Act

By Emmanuel Rivera, RRT
PhilBoxing.com
Wed, 25 Dec 2019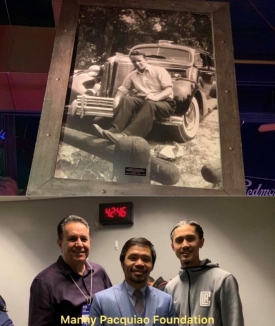 Top half: Richard P. Lyons. Bottom (L-R): Robert Lyons, Senator Emmanuel "Manny" Pacquiao, Blake Lyons (@Staples Center January 21, 2019)
December 25, 2019

Merry Christmas from PhilBoxing.com!

Now, for some heartwarming news.

The late Mr. Richard Lyons was a heck'of a man; one who made life, as he found it, better for his family and their friends.
His All-American moxie, with looks to match, even makes a 1938 Buick Special taxicab look cool.

Just ask the gents featured in the photo above if and when you meet them.

In the spirit of the Holiday Season, please allow me to share his story as told by his son Robert Lyons by way of PhilBoxing.com and PinoyGreats.com.

"My dad never graduated from high school due to the Great Depression, but he made the most and very best of what he had. He fought for what is right and knew the value of family and friends, loyalty and hard work. His love for history, sports and culture was infectious. I hope his dreams and legacy is evident in this narrative."

Richard's story began 1913 in Berwyn and Cicero, Illinois near Chicago and settled in a town called Lyons. For the uninitiated (or unfamiliar like myself), Cicero was a rough-and-tumble town during the Prohibition era. Cicero and the whole of Chicago was the stomping grounds of one Alphonse "Scarface" Capone who loomed large in things economic, social and political. A lifelong union man, he retired from Automobile Mechanics Local #701. Interestingly, Mr. Lyons survived the Great Depression and Al Capone's reach; both men are interred in the same cemetery.

He enlisted in the armed forces in World War II to fight for the underdogs and against all evil. After the war, he met his wife Martha F. Conforti. Through the years until his death at age 91, they were blessed with their six children---Rae (Jim) Wilde, Dolores (Lynwood Collins) Plechsmid, Lucille (Mark Lukac) Lyons, Richard Jr. and Robert (Susan) Lyons and the late Carmela Kuska. He is a loving grandfather of 19 and great-grandfather of 18, dear brother of Joseph (Jean) and George (Evelyn) Lyons and Dolores Kelly, uncle of many nieces and nephews.

____________________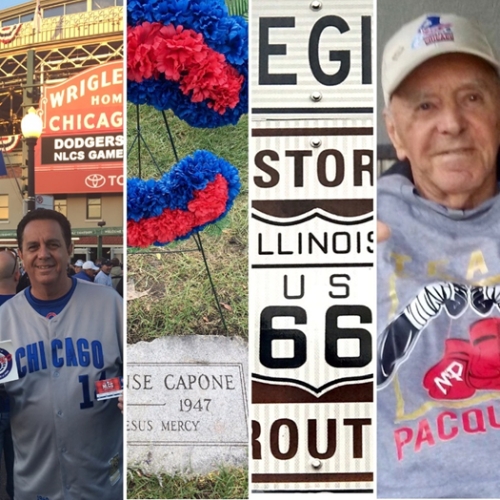 (L-R) Robert Lyons, The tomb of Scarface, Route 66 near Cicero,Illinois, and unabashed Many Pacquiao fan 92 year-old Uncle George Lyons who fought in WW II against the Nazis.

____________________

Upon meeting Robert Lyons, one gets a sense of Zen-like tranquility and a generous spirit evident in his career and humanitarian efforts. He is humble and reluctant to discuss his accomplishments.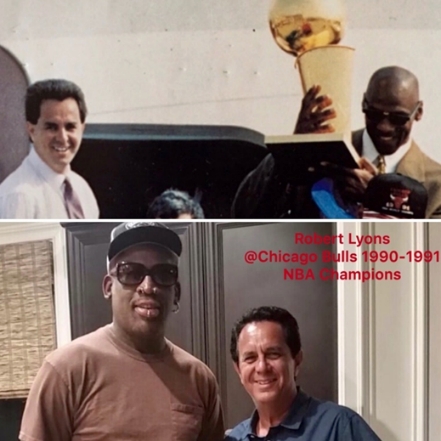 Top: (L-R) Robert Lyons, Michael Jordan; Bottom (L-R) Dennis Rodman, Robert Lyons.

A lifelong fan of sports, particularly baseball, basketball and later boxing, he made a career in the competitive world of aviation catering to the discerning clients like Michael Jordan, Bruce Springsteen, Guns and Roses, The Rolling Stones, Garth Brooks, Fleetwood Mac, The Beach Boys, Phil Collins, etc. Other renowned clients of his company include the Chicago Bulls, Los Angeles Lakers, Boston Celtics, 1992 US Dream Team in Basketball (Barcelona Olympics), Los Angeles Galaxy (soccer), Mormon Tabernacle Choir, State of Qatar, the Venetian (Las Vegas), AEG, The White House and Team Manny Pacquiao.

Phil Jackson, head coach of world champions Chicago Bulls and Los Angeles Lakers, may have said this best about StarFlite International, Inc. (which Robert Lyons is CEO and founder),"When we needed to get there on time, safe and secure, StarFlite always performed like a champion."

Robert didn't get a passport until he was twenty, but he has made up for lost time having visited 73 countries and 46 states.

He is a fan of baseball great Ernie Banks of the Chicago Cubs (1953-1971), and he attended the 2016 Cubs-Dodgers NCS championship and the Chicago Cubs-Cleveland Indians World Series; both of which Chicago won.

"When I was a young man, I used to follow Ernie Banks just to ask for a baseball autograph. More than a few times I was outmuscled by older, taller guys. I still remember the excitement when he finally signed my ball."

____________________

From the sports world to the real world, Robert Lyons does his share in supporting humanitarian causes championed by his friends. One such endeavor is A New Day Cambodia founded by his friend Bill Smith and his wife. Salim Oun was a 12 year-old child from the Stung Mean Chey garbage dumps who migrated to the United States with the help of Smith and his wife. She recently graduated from De Paul University with the generous scholarships from guys like Joe O'Neil, VP of Operations of the Chicago Bulls.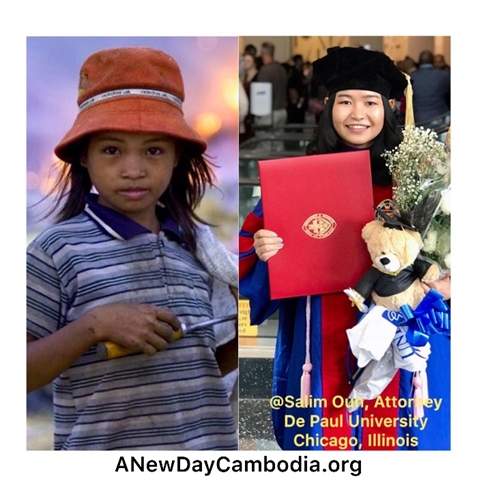 "A New Day Cambodia was founded in 2006 by Bill Smith, the team photographer for the Chicago Bears, Chicago Blackhawks, Chicago Bulls and United Center. During the sporting offseason, Smith and his wife Lauren would take annual trips to Southeast Asia to photograph the changing culture and landscape. In 2002, Smith was taken to the Stung Mean Chey garbage dump by his Cambodian driver, and was stunned to see the conditions that children were living in. Children were forced to live and work in the garbage dump to provide for their families. The children, in addition to living and working in the squalor, were unable to attend school because their families needed the $10–12 a month that was provided by the children working in the dump. Smith began to support several children that worked in these garbage dumps, enrolling the children in school and paying the families the lost monthly income, ensuring the children would never work another day in the dump. The Smiths told their stories to family and friends, who began giving money to Smith to support additional children. In 2006, a front-page article ran in the Chicago Tribune about the Smiths' work in Cambodia. After an overwhelming response of donations, Bill Smith founded A New Day Cambodia."

Yearly, Robert and his friends travel to Cambodia to help children and youth like Brak Sophanna of Siem Reap, a handicapped teen with a flair for music.

VIDEO OF BRAK SOPHANNA COURTESY OF RUDY TEODOSIO BY WAY OF PHILBOXING.com



The PhnomPenhPost.com reports, "When he was just 10 years old, Brak Sophanna woke from a fever and realised that he could not move his legs. Paralysis was a devastating reality to face for a child – and even more so for one who dreamed of becoming a singer and composer. He gave up at first, he says.Now, the 25-year-old has composed nearly 30 original songs, which have played on local television and drawn a few thousand views on his YouTube channel. He also teaches music at a charitable school on Siem Reap's riverside. Sophanna's most popular song, written in 2015, is called Failure Is a Lesson. And his life experience is one he imparts to his students – even if they don't face. the same challenges. "I always told myself to move on and face it," he says. "The more challenges you face in life, the stronger you become."

Close to the Lyons family's heart is the Cambodia Town community partnership with the City of Long Beach, California. For more than a decade and a half, Robert and his friends have been involved with the Cambodian community and immigrants like the Hou Family, who have escaped the harrowing conditions caused by the murderous Khmer Rouge regime. The Hou family expresses their thanks for the community support they have received. Recently, they were forced out of their homes due to a terrible shooting at their home wherein 12 people were shot and 3 young people (Maurice Poe, Jr.,25; Ricardo Torres, 28; Melvin Williams, 35) have died on October 29,2019. Long Beach Police officials ask anyone with information about the incident to call homicide detail: (562)570-7244.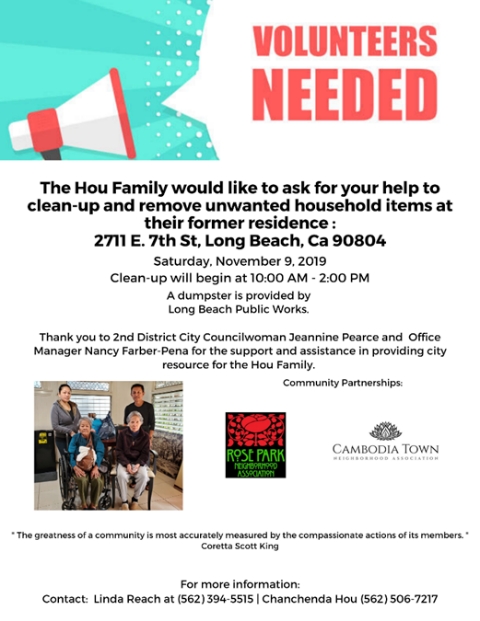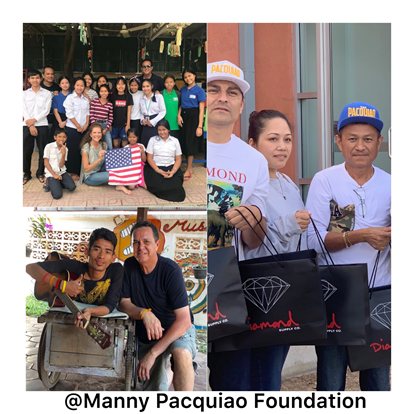 Photos: Top Left Valerie Gibbons, the better half of Sean Gibbons (Chief of MP Promotions), holds the American flag with Cambodian friends; Bottom left Brak Sophanna with Robert Lyons; Right photo: Thanksgiving Turkey Give Away this November 2019.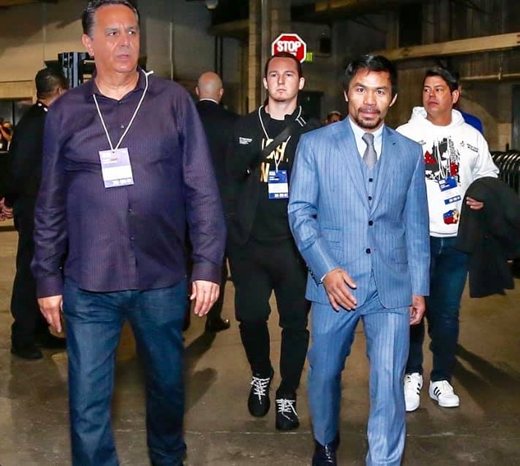 Photo: (L-R) Robert Lyons, David Sisson, Senator Emmanuel "Manny" Pacquiao, and Ed Lura, Jr. (LA Clippers, Staples Center, January 21, 2019)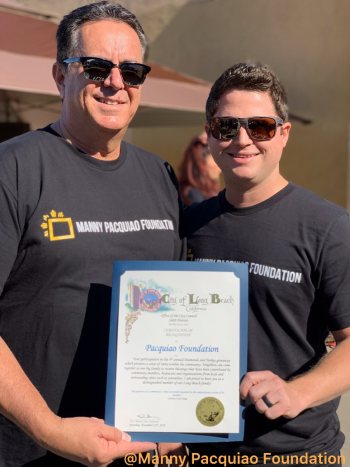 Photo: (L-R) Robert Lyons and Jon Sisson of the Pacquiao Foundation showing the certificate of recognition for meritorious humanitarian services.

It is an honor to have met Robert Lyons---proud, new Grampa to baby Keliae, and father to Brooke (who averaged 7.5 Rebounds per game in HS basketball) and Blake Lyons (equipment specialist for the Los Angeles Clippers).

"Every father who ever lived has a dream for his son," the great American writer Grantland Rice once said.

For the Lyons family, the tradition continues.


Click here to view a list of other articles written by Emmanuel Rivera, RRT.

---
Recent PhilBoxing.com In-House articles: