SPENCE-PORTER TALE OF THE TAPE

By Maloney L. Samaco
PhilBoxing.com
Sat, 28 Sep 2019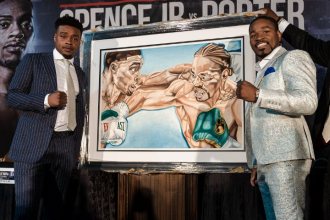 Errol "The Truth" Spence, Jr. is 5 ft 10.5 in (179 cm) with a reach of 72 in (183 cm). He weighs 147 lbs. during the official weigh-in. The southpaw fighter was born on March 3, 1990 (age 29) in Long Island, New York, U.S. and residing in Desoto, Texas, U. S. In his 25 bouts, he fought 108 rounds for an 84% KO rate. His record is 25-0-0 with 21 KOs.

* * *

Shawn "Showtime" Porter is shorter at 5 ft 7 in (170 cm) with a reach of 69 1⁄2 in (177 cm). He too weighs 147 lbs. during the official weigh-in. The orthodox fighter was born on October 20, 1987 (age 31) in Akron, Ohio, U.S. and residing in Las Vegas, Nevada, U. S. In his 33 bouts, he fought 219 rounds for a 51.52% KO rate. His record is 30-2-1 with 17 KOs.

* * *

Spence and Porter will earn $2 million each for their fight, said a California State Athletic Commission official who reviewed their contracts as told to BoxingScene.com. Both champions will earn additional guarantees and can both come up with larger amounts depending on how their Fox pay-per-view bout sells. The purse is lesser than the $3 million deal plus additional guarantees for Spence during his PPV fight with Mikey Garcia.

* * *

Spence knocked out eight opponents in the first round namely Mexican Carlos Ocampo, American Raymond Charles, Mexican Gerardo Cuevas, American Jesus Tavera, American Eddie Cordova, Mexican Guillermo Ibarra, American Brandon Hoskins, and American Nathan Butcher. He knocked out one foe in the 2nd round, three foes in the 3rd round and two foes in the 4th round.

* * *

Porter knocked out seven opponents in the first round namely Colombian Raul Pinzon, American Lamar Harris, American Brandon Wooten, Mexican Eloy Suarez, American Tommy Stepp, American Toris Smith, and American Norman Johnson. He knocked out one foe in the 2nd round and four foes in the 4th round. Another opponent was disqualified in the 2nd round after his cornermen refused to leave the ring.

* * *

On May 27, 2017 Errol Spence, Jr. defeated Kell Brook by 11th round TKO at the Bramall Lane, Sheffield, England to win the IBF welterweight title. About three years earlier, Shawn Porter lost the same IBF welterweight title to Brook by majority decision on August 16, 2014 at the StubHub Center, Carson, California, U.S.

* * *

Spence is a 10-1 favorite over Porter in their IBF and WBC welterweight unification title fight. Their bout will headline a four-fight FOX Sports Pay-Per-View event that will take place at the Staples Center in Los Angeles, California which will be Spence?s first boxing match in L.A. since his second pro bout in December 15, 2012 against American Richard Andrews.

* * *

Coincidentally, in that same card, Porter drew with Mexican Julio Diaz in the first blemish of his pro career. The fights were held at the Memorial Sports Arena, Los Angeles, California. U. S. The fight ended in a split decision draw after 10 rounds 96?94, 95?95, 94?96. In the main event, Amir Khan defeated Carlos Molina by TKO in the tenth round and won the WBC Silver light welterweight title.

* * *

NBA All-Time Player Rankings: Top 10 Centers
By Bleacher Report

1. Kareem Abdul Jabbar - 24.6 points, 11.2 rebounds, 3.6 assists, 2.6 blocks, 0.9 steals per game
2. Shaquille O'Neal - 23.7 points, 10.9 rebounds, 2.5 assists, 2.3 blocks, 0.6 steals per game
3. Tim Duncan - 19.0 points, 10.8 rebounds, 3.0 assists, 2.2 blocks, 0.7 steals per game
4. Bill Russell - 22.5 rebounds, 15.1 points, 4.3 assists per game
5. Wilt Chamberlain - 30.1 points, 22.9 rebounds, 4.4 assists per game
6. David Robinson - 21.1 points, 10.6 rebounds, 3.0 blocks, 2.5 assists, 1.4 steals per game
7. Hakeem Olajuwon - 21.8 points, 11.1 rebounds, 3.1 blocks, 2.5 assists, 1.7 steals per game
8. Moses Malone - 20.6 points, 12.2 rebounds, 1.4 assists, 1.3 blocks, 0.8 steals per game
9. Patrick Ewing - 21.0 points, 9.8 rebounds, 2.4 blocks, 1.9 assists, 1.0 steals per game
10. Bill Walton - 13.3 points, 10.5 rebounds, 3.4 assists, 2.2 blocks, 0.8 steals per game

* * *

When he retired at age 42 in 1989, Abdul-Jabbar was the NBA's all-time leader in points scored (38,387), games played (1,560), minutes played (57,446), field goals made (15,837), field goal attempts (28,307), blocked shots (3,189), defensive rebounds (9,394), career wins (1,074), and personal fouls (4,657). He remains the all-time leader in points scored and career wins up to the present. He is ranked third all-time in both rebounds and blocked shots. Blocks weren't even recorded until his fifth season. In 2007, ESPN voted him the greatest center of all time.

* * *

Abdul-Jabbar played 20 seasons in the National Basketball Association (NBA) for the Milwaukee Bucks and the Los Angeles Lakers. During his career as a center, Abdul-Jabbar was a record six-time NBA Most Valuable Player (MVP), a record 19-time NBA All-Star, a 15-time All-NBA selection, and an 11-time NBA All-Defensive Team member. A member of six NBA championship teams as a player and two more NBA title winning teams as an assistant coach, Abdul-Jabbar twice was voted NBA Finals MVP.


Click here to view a list of other articles written by Maloney L. Samaco.

---
Recent PhilBoxing.com In-House articles: