The heavyweight kings and the fight for the game of thrones

By Gary Todd
PhilBoxing.com
Fri, 23 Aug 2019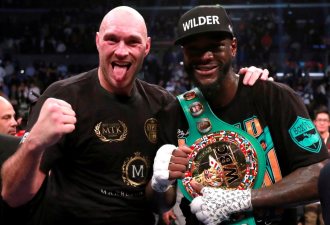 Fury and Wilder.

Boxing has been scribed as being the sport of kings, and through the years, none more so have been described than the heavyweight world champions. From the 1930?s, with heavyweight fighters such as the black american,Joe Louis, and the german, Max Scheming, battling it out in 1936 and 1938, for not only the heavyweight crown, but also for democracy v fascism, good v evil , making the promotion much bigger than boxing, turning the fights into worldwide cultural and political events. In the 70?s, we had Muhammad Ali and Joe Frazier, who fought each other in a timeless trilogy, which was fuelled by taunts, insults, racism, and hatred, which left both of these champions, prisoners of each other, years after they fought. Their third fight along with the others, captured not only america;s attention, but also it captured the worlds imagination, being broadcast to over 60 countries.
?The Thrilla in Manila? is arguably the greatest heavyweight fight in the history of the sport. These fighters were kings of their time, and kings for their people.

In the years to come, there would be more in the lower weight divisions, with Alexis Arguello, Julio Cesar Chavez, Barry Mc Guigan, Jim Watt, Sugar Ray Leonard, Roberto Duran, Frank Bruno, Nigel Benn, Lennox Lewis, Mike Tyson, Ricky Hatton, and in more recent times, Floyd Mayweather, Manny Pacquiao, Canelo Alvarez, and Anthony Joshua just to name a few. These fighters could stop a nation each time they fought, and in many cases, they gave the people something to hold on to, and someone to look up to.

It has to be said, there wasn?t too many heavyweights that could capture the hearts and minds of the average sports fans in the 80?s and 90?s, even going into the 2000?s other than Mike Tyson, Lennox Lewis, Evander Holyfield, Riddick bowe, and the Klitschko brothers, Vitali, and Wladimir, who would later dominate the division.

Wladimir Klitschko has retired after a long and successful career, [ 64 [ 53 kos] 5 losses [ 4 kos ] ] and he will be considered as one of the best heavyweights of all time.

There has been a shift in the heavyweights, a change of the guard so to speak, and a new breed of fighters, all playing to a new set of rules, in a game, none of us had seen before. Promoters, and pay for view and streaming networks merging, competing in battle for TV executives and their money spinning backers, throwing crazy money to lock in and sign up the kings of the sport to multi fight deals that will ensure the fighters families, and their families will never want or need again.

The new breed of heavyweights, Deontay Wilder, Andy Ruiz, Tyson Fury, and Anthony Joshua, all strangely linked as partners, in this game of thrones, with a kings ransom at stake for the big guns, and a small fortune guaranteed for the top contenders, who now either fight for the right to fight, or they get paid to step aside, employing lawyers to do the fighting for them, while the others wait in line to be this years cannon fodder, picking up the shrapnel that?s left.

Here is a list of the current champions and contenders.

Deontay Wilder.- [ 42 - 41 wins [ 40 kos ] 1 draw.] WBC Champion. He has retained his heavyweight crown since early 2015, and he is without doubt, the best fighter in the heavyweight division. Powerful, agile, athletic , and has explosive speed , and every punch he throws comes with bad intentions.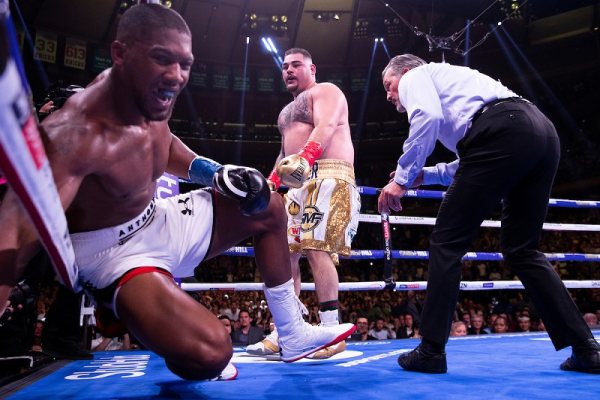 Ruiz's upset win over Joshua shakes the heavyweight division.

Andy Ruiz- [ 33 [ 22 kos ] 1 loss ] WBA super champion, IBF champion, WBO champion, IBO champion. Ruiz became the first ever, Mexican heavyweight world champion, beating Anthony Joshua by TKO in the 7th round, in New York in June, 2019. This win catapulted the 29 year old contender into an overnight star of boxing . The defeat of Joshua has since been compared to the Lennox Lewis shock defeat at the hands of Hasim Rahman in 2001. The difference with that fight and what Ruiz did to Joshua are miles apart. Lewis was taken out with one punch he didn't see coming. Joshua was being outboxed, out thought in the fight, and Ruiz?s desire to win was greater, particularly in the 3rd round, when Ruiz went to the canvas from a hard right left combination that had him stunned. Ruiz got up and took a couple of big shots before fighting on the inside, catching Joshua with a left hook, which sent the champion down. Joshua went down again at the end of the round but was visibly shaken going to his corner. Ruiz went on to knock him down again twice in round 7, and in the end, he had out fought Joshua, and my view was he made him quit. Almost immediately after going down, Joshua spat out his gum shield and walked away from the referee, looking over at his corner, before going towards the ref, without showing him much. The referee had no choice but to stop the fight with over a minute to go in the round.

Ruiz showed what many knew already, that he had a great chin, and he had a brave heart, and he had fast and heavy hands, and he was a smart and experienced fighter in the ring. Ruiz needs to focus on what he has done, move on, and focus on his next challenge, which will be to keep the belts .

Tyson Fury-[ 28 [ 20kos] 0 losses 1 draw ] For me, this guy is a boxing enigma. At 31 years old, and 6?9 [ 263lbs] , Fury has been boxing professionally since 2008. He won the British title, the Commonwealth title in 2011, and the vacant WBO Intercontinental heavyweight title , beating faded Vinnie Maddalone , and then the European title , beating Derek Chisora in late 2014 in London. This win opened the door for a shot at Wladimir Klitschko, and a chance at heavyweight glory. Fury travelled to Dusseldorf, Germany in november, 2015, and he beat the faded champion, by out jabbing him in a messy fight, handing Klitschko his first defeat in 11 years.
From there, Fury went on a path of self destruction, using drink and drugs as a mask for mental health issues he had suffered from. This lifestyle of choice kept him out of boxing for two and a half years, but as they say, the show must go on.
Britain had another world champion, and while Fury wasn?t exactly the most popular fighter in the media, or with the public, Joshua was. A Gold medalist in the 2012 olympic games, a sponsors dream, media and TV friendly, and now the IBF world champion of the world. Joshua was embraced by not only the ordinary sports fan, but all the way to their grand mother. In late 2017, there was talk of Fury coming back again, and that he would be coming back to get his titles . While Fury was knocking himself out, Anthony Joshua had been defending his belt, and had earned the right to face the ageing Klitschko for the belts fury had won 2 years prior. Also at stake was the IBF world title. The fight was held at Wembley Stadium and 90,000 people turned out. In the fight, Klitschko and Joshua gave their all and then some, with both fighters down, with Klitschko finally beaten in the 11th round, which was voted, fight of the year. Truly a fight for the people.

Fury later made various announcements that he would be back. He returned in June, 2018, and he fought the 40 year old, Macedonian cruiserweight, Sefer Seferi [ 23 [ 21 kos ] 2 losses and 1 draw. ] in Manchester and it was embarrassing. He then had another ?comeback? fight, bringing over Italian, Francesco Pianeta, to Belfast, and in turn , dominated and toyed with him to win by a unanimous decision.

After talking a lot about getting Joshua into the ring, nothing materialised, so the focus was on fighting the 6?7 WBC champion, Wilder. When this fight was announced, i had full belief that the american would stop Fury in 8 rounds. I also thought that Fury was so awkward, and could frustrate opponents easily, seamlessly switching from orthodox to southpaw, that i knew it would be tough night at the office for the champion. The thing with Wilder is , he has been and he can be outboxed, but once he gets his range, and positions his feet to transfer his power, he is a very dangerous man. The big question leading up to the fight with fury was, can any heavyweight in the world box for 3 minutes of every round, tying Wilder up,before losing focus for that split second, leaving their head exposed to one of his thunderbolt right hands. I seriously doubted it. In the fight, Fury fought the way he fights, using his height and reach as well as his movement, and his boxing skills. Wilder was chasing the knock out, wasn?t boxing or wasn?t able to that he ended up fighting fatigue as well as the bulk of fury. Wilder was throwing big bombs all night and eventually for all the punches that missed, all he needed was one that would land, and in the 9th round it came. A left hook, followed by an overhand right put Fury down but he survived the round. Wilder had used up a lot of energy, that left him looking tired, while Fury kept boxing the next couple of rounds, until Wilder hit Fury with a huge right hand that flattened the Gypsy king, down so hard, i didn?t think he was ever getting up. The fight was over in everyones eyes, except Tyson Fury. How he beat the count was one thing. How did he manage to lift his head , his body up to stand up and take the referees count. It was a miracle. When i asked Fury how he managed to get up, he said ? god got me up? It was a great fight, but i still had Wilder winning .
Since the Wilder fight, Fury has signed on with top rank and ESPN, to a multi 5 fight deal and it has to be said, the match making or the choice of opponents thus far has been a disgrace and a slap in the face of boxing, and its fans. I was in attendance for Fury?s fight with the German, Tom Swartz [ 24 - 0 L ] I was there for fight week in Las Vegas, and my view was that Swartz was hand picked. The German was too casual, joking, and it seemed he was playing Fury?s games. I thought back to Holyfield, Lewis, Tyson, and all the greats of the past, and i thought, this is a fight, and it should be intense, and here we have one fool messing around, and the other playing along . It was sickening and embarrassing for the sport . On the night, Fury would come out to a ?Rocky? themed entrance, wearing not the Union Jack, but a full costume of the American flag. In the fight, Fury made quick work of Swartz as he looked like a stunned mullet, as Fury busted his nose, and won the WBO intercontinental heavyweight title, then if that wasn?t enough excitement, he belts out the Aerosmith classic ? Don?t wanna miss a thing? song for his wife and the crowd.

With less than 3 months since he spanked Swartz, he is now fighting a heavyweight who has never fought for any titles in his 6 year career as a professional, other than the vacant WBA intercontinental heavyweight title. Otto Wallin is a Swedish boxer who fights as a southpaw, and stands 6?5, and is 26 years old. He won the WBA title by a 5th round stoppage in 2017. For me, another over matched, handpicked boxer to fulfil Fury?s ego, get him some coverage, some target practice and another fight to get his 5 fight deal done .

Anthony Joshua- 22 [21 kos] 1 loss.[[1 ko]- Joshua is still one of the most talked about heavyweights out there, despite losing so badly to Ruiz. There is a big question mark over his head and the million dollar question is , can he come back and beat Ruiz in the rematch which is on the 7th of December ,which has now been confirmed to be held in Saudi Arabia. Another question is, should Joshua have fought Ruiz right away before having a comeback fight? My view is yes. Joshua obviously feels he wasn?t the best on the night or in camp, and he believes he can make amends . Ruiz is in the limelight, and has spent a lot of time enjoying and probably getting used to his new found fame and fortune. We have all seen it before. Fighters getting too much money, too early and easy, and unless they have a strong , solid management team around, its very easy to lose focus. For the record, i think Ruiz agreeing to fight in Saudi is a mistake. The rematch should have been in America, probably Vegas. Ruiz is the champion and this is a massive fight and as champion, he should have dictated where the rematch was going to be held.

Joshua will be the challenger, and while he will have a lot of pressure leading up to the fight, he has already answered all the same questions as to how he lost in June. All he needs to do is train, focus on the job at hand and get his head in the right zone. It was a bad loss, and a lot of people have written him off. For me, Joshua can be too stiff, too upright, and doesn't have great lateral movement. At 6?6, weighing in at 260 lbs, he is a huge man, and he has a great jab and an excellent uppercut, but my biggest concern is he seems to have issues with his stamina. To beat Ruiz, he will need to get back to the basics, and he will need to dig deeper than ever before.

Oleksandr Usyk [ 16 [ 12 kos ] - Olympic gold medalist in 2012, Usyk made his pro debut in November, 2013, and he wasted no time, winning the WBO Cruiserweight world title in 2016. Fighting out of the southpaw stance, and standing 6?3, he then won the Muhammad Ali trophy, to become the undisputed cruiserweight champion of the world. He defended his titles against tony belles, knocking him out in the 8th round in Manchester, England. Usyk gave up his belts to move up to fight the likes of Wilder, and Joshua, which would be fantastic fights. He will make his heavyweight debut in Chicago against the big punching Russian, Andrey Fedosov [ 31. 3 losses [ 25 kos] ] Usyk was originally meant to fight the 38 year old fighter, Carlos Takam, which seemed like a great match up for the man from Ukraine, as Takam has a lot of experience, having shared the ring with Potemkin, Joshua, Chisora, and Parker.

Luis Ortiz [ 31 [ 26 kos] 1 loss [1 ko]- Ortiz debut fight in America was in 2010, but he has been boxing all his life. He has won interim titles, but has never been a world champion. Ortiz is known for having big power and is a tremendous counter puncher. He fought Wilder in 2018 and gave the champion a tough fight, rocking him in round 7, but Wilder came back, took control and dropped him twice in round 10 to retain his WBC title. The Cuban southpaw gets the chance again to make amends for that round 7, when he faces Wilder in November.

Adam Kownacki [ 20 [ 15 kos] - Knocking out Artur Szpilka in 2017, set the Polish fighter on his way. Since then, he has been knocking on the door to get a shot at a world heavyweight title. in his last fight against Chris Arreola, Kownacki fought in a fight of the year, battle of attrition, with both fighters setting a new record for the most punches thrown in a heavyweight fight.

In the end, there was 2,172 punches thrown, beating 1,730 punches thrown by David Tua and Ike Ibeabuchi in 1997. ?The Thrilla in Manila was 1,591. Lets hope he gets a chance to fight for a world title.

As to where the others fit into this game of thrones, only time will tell.

Dillan Whyte- [ 26 [ 18 kos] 1 loss. ] provisionally suspended.

Jarrell Miller -[ 23 [ 20 kos ] 0 losses 1 draw.] suspended until september the 19th.

Alexander Povetkin- 34 [ 24 kos ] 2 losses [ 1 ko] fighting on 31st of august.

Joseph Parker- 26 [ 20 kos] 2 losses last fought on 29th of June.

Kubrat Pulev- 27 [ 14 kos] 1 loss 1 ko] last fought on the 23rd of March.

Derek Chisora- 31 [ 22 kos ] 9 losses [ 3 kos ]

Will we ever see an undisputed heavyweight champion of the world, and can boxing be a sport of kings again.


Gary Todd has been involved in all aspects in the sport of boxing for over 30 years, and he is the proud author of his books on world champions and their workouts, ?Workouts from boxing?s greatest champs ? volume 1 and 2.


Click here to view a list of other articles written by Gary Todd.

---
Recent PhilBoxing.com In-House articles: