Manny, Thurman ready for weigh-in

By Joaquin Henson
PhilBoxing.com
Fri, 19 Jul 2019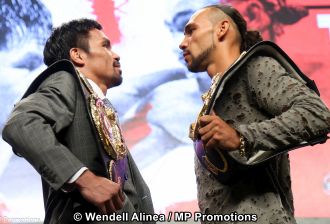 LAS VEGAS. Manny Pacquiao and Keith Thurman will step on the scales for the weigh-in at the MGM Grand Garden Arena here this afternoon (tomorrow morning, Manila time) the day before they square off to decide the exclusive WBA welterweight championship. It shouldn?t be a problem for either fighter to make the 147-pound limit as they?re both coming from training camps that tested their limits.

Thurman, 30, has weighed over 147 pounds in 16 of his 29 fights, including his first 10 since turning pro in 2007. From making his debut as a superwelterweight, Thurman has settled in as a welterweight. He hasn?t scaled more than 147 in his last 10 bouts. The highest he?s weighed for a fight was when he tipped in at 152 to knock out Marteze Logan in 2009. Thurman has gone over 150 in eight fights, the last in 2012 when he retired Carlos Quintana.

Pacquiao, 40, has never weighed more than 147 for a fight. Twice, he scaled the limit of 147 in 2012 and twice, he lost to Tim Bradley on a split decision and Juan Manuel Marquez on a sixth round knockout. When Pacquiao battled Antonio Margarito for the WBC superwelterweight crown in 2010, he weighed 144 1/2 pounds compared to the Mexican who scaled 150. Over his last nine bouts, Pacquiao has weighed within the range of 143 3/4 for Chris Algieri to 146 for Lucas Matthysse and Adrien Broner.

Conditioning has been a focus in both fighters? camps with Justin Fortune looking after Pacquiao from Manila to Los Angeles and former football wide receiver Yo Murphy taking care of Thurman at the St. Petersburg Boxing Club in Florida. In Los Angeles, Pacquiao trained with Buboy Fernandez and Freddie Roach while in Florida, Thurman worked with Dan Birmingham.

Sports Illlustrated said Thurman trained in ?a less bustling and more bare-bones environment? and described the undefeated American as ?hard-punching (who is) nicknamed One Time for his knockout power.? It will be Thurman?s first appearance on pay-per-view. For Pacquiao, this is his 25th pay-per-view event. In 2015, Pacquiao and Floyd Mayweather, Jr. battled in the most-watched pay-per-view fight ever with 4.6 million subscribers.

Two months ago, betting odds opened with Thurman the favorite at -150 to Pacquiao?s +133, meaning a $150 wager on the American will win $100 compared to a $100 bet on the Filipino to win $133. The tide has recently reversed with more money pouring in for Pacquiao. The latest line shows Pacquiao hovering at -105 to -155 and Thurman at +110 to +137.

Pacquiao said he considers the Thurman fight to be one of the most important in his career because at 40, there?s something to prove against an undefeated champion. He said training camp has been on point. ?My coaching staff made sure I never overtrained,? said Pacquiao. ?I enjoyed it, I?m happy with the result. To work with a one and only team since we started, it?s an honor, giving me inspiration and encouragement.?

Although Fernandez has taken over the lead training role from Roach, Pacquiao downplayed speculation that there was once a bitter disagreement with the Wild Card Gym owner. ?It?s destiny that we met and worked together at Wild Card,? said Pacquiao. ?We never experienced shouting at each other. We understand each other. People forget that during the early days, Freddie couldn?t come for one of my fights in the Philippines and sent over his brother Pepper.?

After Pacquiao lost a disputed decision to Jeff Horn in Brisbane in 2017, Roach was sidelined and Fernandez assumed head coaching chores for the next fight against Matthysse in Kuala Lumpur a year later. Pacquiao and Roach were reunited for the Broner fight last January and they?re back together again.

?When I went to Freddie?s gym in 2001, I asked to have a couple of rounds with the mitts,? Pacquiao said. ?We liked each other, the way I threw punches. We weren?t looking for a fight. We just came for a vacation. We came from San Francisco and rode a Greyhound bus to L. A. Then, there was a fight between (IBF superbantamweight champion Lehlo) Ledwaba against a challenger (Enrique Sanchez). The challenger got injured and was cut in sparring so he couldn?t fight. I was already in the US so I volunteered to fight the champion with two weeks notice. They thought I might not be prepared for the fight but before I came over, I had just fought in the Philippines.?

In April 2001, Pacquiao knocked out Thailand?s Wethya Sakuangklang in the sixth round in Kidapawan. Two months later, he made his MGM Grand Garden Arena debut to stop Ledwaba for the IBF 122-pound crown with Roach in his corner. Tomorrow night (Sunday morning, Manila), Pacquiao will be back for his 15th fight at the MGM facility while Thurman will make his fifth appearance in the Las Vegas mecca.


Click here to view a list of other articles written by Joaquin Henson.

---
Recent PhilBoxing.com In-House articles: