Pinoy judge worked Thurman bout

By Joaquin Henson
PhilBoxing.com
Wed, 10 Jul 2019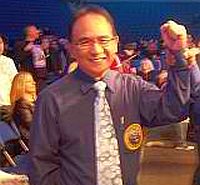 Jonathan Davis.

A Filipino boxing judge from Cebu was once assigned to a Keith Thurman fight at the Citizen Business Bank Arena in Ontario, Canada, in 2012 and said he was impressed by the ?super? WBA welterweight champion?s aggressiveness in halting Puerto Rico?s Carlos Quintana in the fourth round.

Jonathan Davis, 70, was born and lived in Cebu City until he retired from his job in a bank to relocate to California with his family in 2008. Davis took a boxing seminar conducted by the GAB in Cebu City in February 2003, shadow-judged for a few months and made his debut as a licensed judge in July that year. When he moved to Los Angeles, Davis applied for a license with the California State Athletic Commission and became only the second Filipino boxing judge in the US after Carlos (Sonny) Padilla in Las Vegas and the first Filipino boxing judge in California.

Davis has now been a judge in 20 world title fights. His last assignment was when Jerwin Ancajas stopped Japan?s Ryuichi Funai in the sixth round to retain his IBF superflyweight title in Stockton last May. The countries that Davis has visited either as a judge or a participant in a boxing convention include Mexico, Canada, Italy, Iceland, Japan, China, South Korea and Thailand.

Thurman?s win over Quintana was so one-sided that the Puerto Rican, who was 36 then, retired after absorbing a trouncing. Thurman was 24 and celebrated his birthday the day before. The fight was for the WBO North American Boxing Organization superweltereight belt. ?I remember that fight very well,? said Davis. ?It was the first time I saw Thurman and I was impressed. He was young, bull-strong and was aggressive all throughout. His confidence was such that he blitzed Quintana right from the start with heavy blows up and down and never gave the guy a chance. It was complete domination until the fight was stopped.?

Davis, a full-blooded Filipino who said he doesn?t know why he has an American surname and neither his father nor grandfather, recalled that the fight between Australia?s Vic Darchinyan and Z Gorres in an IBF superflyweight title eliminator in Cebu City in February 2008 ?changed the trajectory of my judging career.? The outcome was a split draw as judge Montol Suriyachand had it 113-112 for Gorres, judge Ces Perkins 113-113 and Davis, 114-112 for Darchinyan. If Davis had scored it for Gorres, he would?ve beaten Darchinyan by a split verdict.

?I was a last-minute appointee and my first IBF assignment,? said Davis. ?There was pandemonium and missiles littered the ring when the scores were announced. I got my share of bashing for giving the close fight to Darchinyan but also had a few praises for being fair, mostly from the foreign media. This helped my credential as a fair judge when I applied and got approved for a license with the California State Athletic Commission.?

Davis got his start in boxing through Cebu promoter Rex (Wakee) Salud. ?I don?t know if boxing?s in my blood but I?ve always loved boxing even when I was little,? he said. ?Back in the day when the five-point must system was being used, I was already scoring fights and excitedly waited to compare my tally with the result. In 1994, when I was manager of Banco de Oro Fuente Osmena branch, a valued client, Wakee, would give me complimentary passes to his boxing promotions. In some fights that were too close to call involving his boxers, he would come near me and ask how his boy was faring and I?d show him my unofficial scores. If his boxer was losing, he would shout instructions to his cornermen. Then, one day, I was surprised to see a Boxing Judges Association application form on my table, instead of the usual complimentary pass. I asked Wakee?s secretary if this was missent to me. She told me Wakee was fed up giving me complimentary passes and since I was so hooked on boxing, why don?t I just be a judge and get the best seat in the house for every fight? That?s how it started.?

Davis said the late Marty Denkin was his all-time model. ?There isn?t one official in California, like Jack Reiss, Lou Moret, Raul Caiz, Max DeLuca and the other greats, who have not, at one time or another, been trained or helped in their careers by Marty,? he continued. ?He was an International Hall of Famer, former Executive Officer and Commissioner and renowned international boxing referee and judge. In 1968, Marty brought his ward Ruben Navarro to Manila to fight Rene Barrientos for the WBC junior lightweight title. I told Marty I scored the fight a draw. He also endeared himself to Filipinos, having fostered a close relationship with Papa Sarreal and the Elorde family. Marty was a Mason and remembered being enshrined at a Massonic Lodge in Quezon City.?

Impartiality is Davis? trademark. ?I?ve judged a number of fights involving Filipinos, notably Nonito Donaire-Joseph Mathebula, Brian Viloria-Hernan Marquez, Rodel Mayol-Juan Carlos Sanchez, Ancajas-Funai and Ancajas? historic All-Filipino title bout against Jonas Sultan in Fresno,? he said. ?My first time, however, involved a four-round female bout where I only learned afterwards that one fighter was a Filipina. Dr. Ed de la Vega, a Filipino dentist from Los Angeles known for his made-to-order mouthpieces, told me he didn?t want me to know about the Filipina before the fight. I treat all those fights the same as I do with the rest----one fighter coming from the blue corner and the other from the red corner, regardless of their countries, and I judge each fight with fairness and objectivity to the best of my ability.?

In Part 2, Davis will reveal how Thurman has improved since the fight that he judged in 2012 and why his July 20 bout against Manny Pacquiao could go down as the most important fight of the year.


Click here to view a list of other articles written by Joaquin Henson.

---
Recent PhilBoxing.com In-House articles: