A BRONER WIN OVER PACQUIAO CAN COMPLETELY CHANGE HIS CAREER

By Maloney L. Samaco
PhilBoxing.com
Sun, 13 Jan 2019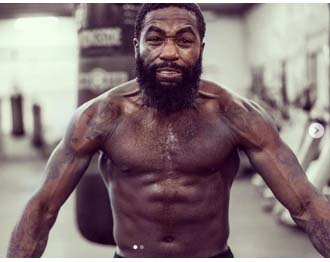 Adrien Broner admits that scoring an upset win over Manny Pacquiao can completely change his career and make it surge to greater heights he could not imagine. But Broner takes every fight as mandatory for him to win it. So he takes his January 19 Showtime PPV title bout with Pacquiao like any other as a must-win fight.

* * *

?I don?t be getting when people say ?must-win fights,?? Broner said. ?Because at the end of the day, if you?re a boxer every fight is a must-win fight. You don?t ever wanna go to a fight trying to lose. So, you know, as a competitor, as an athlete, you know, I go in any event that I?ve been to and that I prepare for, I go in to win. So, you know, of course I?m trying to win, and it?s always a must-win situation.?

* * *

If Broner upsets Pacquiao, an even bigger fight against Broner?s mentor Floyd Mayweather Jr., whom he considers his "Big Brother", is a possibility. Mayweather who will be 42 next month, is aiming a rematch with Pacquiao. The five-division champion has not declared his intention to face Broner if he wins against Pacquiao. But Broner is not receptive on the possibility of fighting Mayweather.

* * *

?I don?t look at that,? Broner said during the conference call. ?Boxing is a sport where you?ve gotta go a fight at a time, so I?m focused on Manny Pacquiao. And after that, we?ll look at other things and other avenues.?

* * *

Pacquiao acknowledged Broner with fast hands and overall a good boxer. He said that it is a big challenge that he's excited for. "Me, Freddie and Buboy know each other well and we have a great coaching staff right now. I?m happy with how everything has gone in training for this fight. Rest and recovery is definitely a key part of training."

* * *

Pacquiao added that sometimes when he worked hard in the gym, his body can?t fully recover by the next day, so he had to insert more rest into his schedule. But as soon as he can, he is back in the gym working hard, according to the WBA welterweight titlist.

* * *

?On January 19 I?m going to do my best. I can?t say a prediction, but I?m going to do the same thing I did for my last fight. My trainers know how hard I?ve worked in this camp for this win," added the 40-year old eight-division champion.

* * *

Jinkee Pacquiao wants him to beat Adrien Broner, fight one more time and then retire from the sport. Jinkee said this during the second episode of ?ALL ACCESS: Pacquiao Vs. Broner,? which was presented Friday night on Showtime. ?Sometimes we talk about retiring because boxing is a tough job for the both of us,? said Jinkee. ?If he wins, maybe [this] year one fight and then that?s it. I pray for that.?

* * *

?When that time comes, I will know that,? Pacquiao said of his retirement during an ?ALL ACCESS? episode. ?But right now, I listen to my body, not to my mind. And also, I?m enjoying it. I don?t feel like 40 years old."

* * *

A possible rematch between Tyson Fury and WBC champion Deontay Wilder could happen in the United States in the first half of this year, promoter Frank Warren said. They fought to a controversial split draw at the Staples Center in Los Angeles last month.

* * *

"We're trying to make that fight at the moment, everyone wants the fight and most importantly the fighters want it," Warren told ESPN. "The venue is looking like the U.S., that's where the money is. Tyson was disappointed with the judging with the last fight, as I was, so a lot of things need to be sorted but the U.S. is where they want it, probably in the second quarter."

* * *

LeBron James missed the ninth match, with LA Lakers losing to Utah Jazz, 113-95, dropping their record to 3-6 without their superstar. ?He?s getting re-evaluated again, I think, on the 16th,? Coach Luke Walton said of LeBron's groin injury suffered last Christmas in a victory of the Golden State Warriors. "So, as soon as he?s cleared and ready to go then we?ll get him back out there. But until then, we?ll continue to be patient with him.?

* * *

The Lakers invested $153 million into LeBron James before the season started as a free agent. When LeBron signed up, the average NBA ticket at Staples Center rose 427 percent over last season, and every Laker game became an important game to see affair everywhere in the league. LeBron, when he plays, makes television ratings surge. Last season, he was the only player in the NBA to play all of his team?s 82 games, including all playoff games. He led the league in average minutes played per game for the second straight year.

Click here to view a list of other articles written by Maloney L. Samaco.

---
Recent PhilBoxing.com In-House articles: