PACQUIAO CELEBRATES 40TH BIRTHDAY BASH IN STYLE (PHOTOS)

By Dong Secuya
PhilBoxing.com
Tue, 18 Dec 2018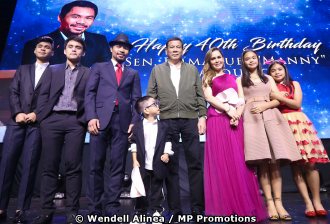 GENERAL SANTOS CITY ? Filipino boxing legend and Philippine senator Emmanuel Dapidran Pacquiao celebrated his 40th birthday at the KCC Mall here Monday night amidst the glitz, glamour and power that have now become a familiar spectacle at his every birthday celebration.

Graced by no less than the president of the Philippines Rodrigo Duterte and an army of the highest public officials of the land including senators, congressmen, governors and mayors as well as some of the biggest names in Philippine entertainment and sports industry, Pacquiao, who is living his own dream, told his audience exactly how he had come to realized that dream.

?In my sleepless nights I started dreaming for my family. I was energized by that potential of dreams. I was motivated by the power of imagination. My dreams inspired me to do something,? Pacquiao told his enthralled audience.

?Mahirap ang maging mahirap (It is difficult to be poor),? Pacquiao, who has improved much as an orator, recalled how he grew up hungry, sleeping in the gutter, selling doughnuts and pan de sal and walking far to go school everyday wearing a different sized and different colored pair of slippers.

?I remember many times we have no food to eat and we go to sleep hungry. My mother would tell us 'just drink lots of water to fill your stomach because tomorrow we will surely have food to eat' ? and we drink lots of water just to survive,? a teary-eyed Pacquiao said.

Pacquiao, who had only completed elementary school, also recalled how he excelled in math, his favorite subject. He said his classmates would come to him for assistance, asking him how to solve math problems in exchange of supplying him with paper and pencil and sometimes food, things that he could not afford. ?I know my classmates are listening to me now and remembered those days,? Pacquiao said.

Although he was not able to continue school because of poverty, Pacquiao said he has never stopped learning. Pacquiao went on: ?In the open university of life, experience was my favorite teacher. One author said 'experience is not what happens to you, it is what you do with what happens to you'. I experienced different forms of adversity but I did not allow pain to prevent me from rising above difficulties.?

Pacquiao would literally have to endure and overcome pain again and again to power himself out of his plight from poverty. As written in countless articles and depicted in several films, our Gensan hero had to sneak out of town, go to the big city of Manila, worked in menial jobs and finally went into boxing that would eventually catapult him to become a worldwide celebrity and gave him riches beyond his wildest dreams.

Photos by Wendell Alinea.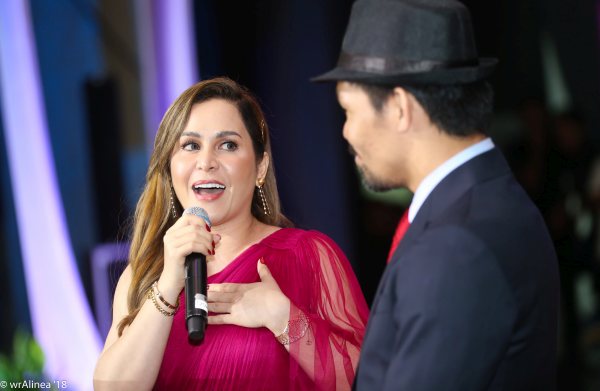 Wife Jinkee serenades her husband Manny with a song during Pacquiao's 40th birthday celebrations at the KCC Mall in General Santos City Monday, Dec. 17, 2018.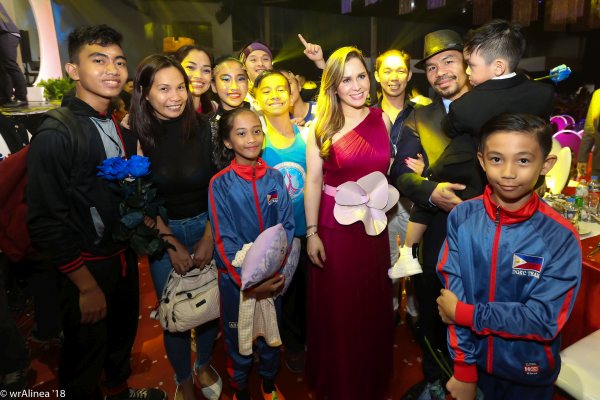 Birthday boy Pacquiao poses with wife Jinkee, children, family and friends.

Now living in luxury and owner of many mansions besides becoming an accomplished politician, Pacquiao remains humble and grounded, never forgetting what he had gone through life.

?When I had been given the opportunity to speak to the brilliant minds of the students of Oxford and Cambridge Universities, I told them the story on how the Lord raised me from nothing into something... I will never forget the experience of being poor. I will never turn my back to my fellowmen who are in need,? Pacquiao, who in the process has transformed himself into a great philanthropist, even to a fault, said.

?Many had criticized me. They told me save your money. Don't waste it by giving it away to people. If they only knew that those things here on earth, we cannot bring any of them, eve one cent, to the grave, when we die. We all leave them behind. For me as long as I can make it. I will help,? Pacquiao, who through the years had helped the poor by giving them hundreds of houses, capital to start their own businesses, money to the sick and the downtrodden, better the Robin Hood, eloquently said to the thunderous applause of the audience.

For his 40th birthday celebration, Pacquiao had distributed thousands of grocery bags to the poor. He had two pickup trucks, two sedans, 15 motorcyles, LED TVs, refrigerators, washing machines and many other appliances raffled to to the locals and guests who had celebrated with him his highly eventful and colorful life.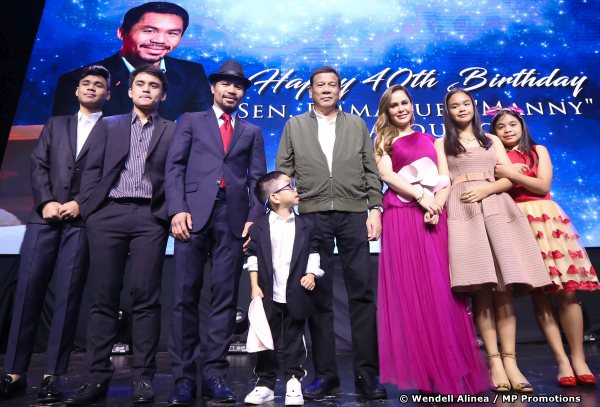 Philippine president Rodrigo Duterte poses with Pacquiao and family during Pacquiao's 40th birthday celebration in General Santos City on Monday, Dec. 17.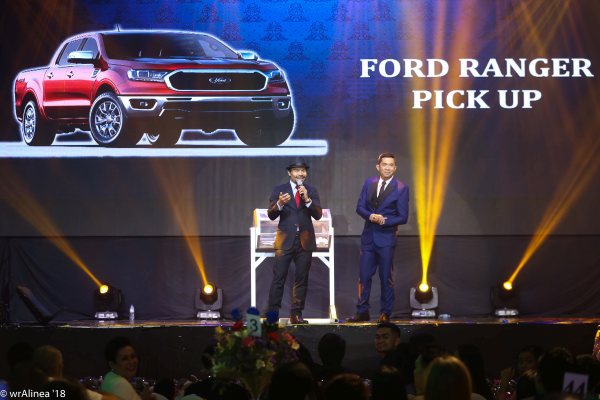 Manny Pacquiao (L) announces the lucky winner of the Ford Ranger Pick Up Truck during his birthday celebration in General Santos City on Monday, Dec. 17, 2018.

As the evening turned late and the celebrations went past into the early hours of the next day; as family members and friends and colleagues had their video greetings rolled by; as entertainers like Friddie Aguilar and Kyla finished their numbers; and as the lucky winners of the vehicles had been announced and people finally inched their way out of the convention center door, Gensan's most famous son gingerly announced on the microphone, ?Are you guys leaving? I still have something more for you.?

Indeed, in Pacquiao, the gift-giving never seems to end. He had raffled two more half-a-million-pesos cash to two lucky winners as his 40th birthday festivities finally came to a close.


Click here to view a list of other articles written by Dong Secuya.

---
Recent PhilBoxing.com In-House articles: