PACQUIAO-BRONER NEWS AND INFO 4: SANCHEZ, VARGAS, WARD, PORTER AND GARCIA TALKS ABOUT THE WBA TITLE FIGHT

By Maloney L. Samaco
PhilBoxing.com
Tue, 13 Nov 2018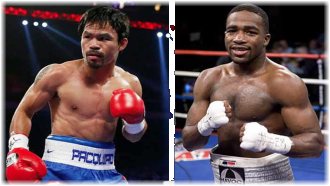 Abel Sanchez, trainer of Gennady Golovkin, believes that Manny Pacquiao will win against Adrien Broner. He also thinks that the match means so much for both boxers at this point of their respective careers.

Abel Sanchez was quoted by Villainfy Media: ?I think that?s a good fight. I like that fight. I think Manny wins but it?s a good fight. A good fight for both guys because both guys are coming off a little tarnish. Adrien because of all the stupidity that he does and Manny because he?s coming to the end of his career. I think the guy that wins this fight resurrects his career and goes onto bigger and better things."

Jessie Vargas fought both Pacquiao and Broner. Vargas lost his WBO welterweight title after via 114-113, 118-109 and 118-109 unanimous decision in favor of Pacquiao. Broner and Vargas fought to a majority draw as one judge scored 115-113 for Broner and the other two saw it 114-114.

When interviewed by EsNews about his idea on the Pacquiao-Broner fight, Vargas said: "I think Pacquiao takes it. I think he?s the more experienced fighter of the two. I?d have to say Pacquiao takes it. Pacquiao is the stronger fighter and faster and more explosive."

Vargas also said that "Two different fighters, you can?t really compare them because they fight differently. It?s two different styles. When it comes to defensive, they?re both good, they?re defensive, Pacquiao?s just faster in everything he does.?

He added: ?Manny Pacquiao is on another level because he?s fast, explosive, he?s very versatile and he fights with different angles, you know. Manny Pacquiao has to win as well, he wants to prove himself. If he wins this fight he fights Floyd Mayweather so he has an extra incentive to win this fight. Either way you look at itit?s a good fight.?

Former pound for pound king Andre Ward Ward favored Pacquiao as he told Fight Hub: ?Broner better come ready. Pacquiao?s got the skills to beat anybody man, he?s just got to put it all together. Pacquiao can?t afford another loss so it?s going to be a good fight. It?s crazy. Pacquiao has had something like 70 odd fights. It doesn?t look like he?s slowing down either. Man, it?s crazy.?

He has some advice for Broner: ?Number one, Broner?s got to be in tip-top shape. Lifestyle shape (too). Just execute man. Let his hands go. He?s economical in his output.?

Two-time welterweight world champion champion Shawn Porter picks up Pacquiao by decision as he said to Fight Hub: ?I?m bias because I?ve been working with Manny all that. I think it?s Manny?s to take. I think by decision. Yeah."

But Porter quickly added that Broner could not be taken lightly. "Broner?s no slouch we know that, he can take a punch. We?ve seen him take a lot. But along the way it?s going to be pretty entertaining. That is his (Broner?s) biggest fight to date. I think if he wins that it puts in some serious talks not necessarily against a champion but a top contender," added the WBC welterweight champ.

Asked what it Pacquiao loses to Broner, Porter replied: ?He fights Showtime Shawn Porter.?

Danny Garcia, who lost to Porter for the WBC title by 116-112, 115-113, 115-113 unanimous decision wants the winner of the Pacquiao-Broner match. "The winner out of Pacquiao and Broner, I think that would be a great fight for me, too. I think that?s actually ? name-wise, Broner and Pacquiao have big names, and I have a big name, so I think that would be a great, promotional pay-per-view fight. Either or, whoever wins," Garcia was quoted by Boxing Scene.


Click here to view a list of other articles written by Maloney L. Samaco.

---
Recent PhilBoxing.com In-House articles: