Gabriel " Flash" Elorde Awards Night Continues with its 23rd Banquet of Champions

By Emmanuel Rivera, RRT
PhilBoxing.com
Sat, 25 Mar 2023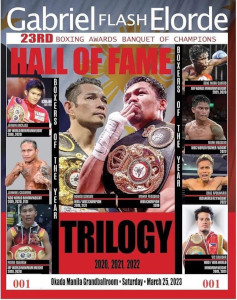 After a three-year hiatus, Philippine Boxing's premier boxing tradition- the 23rd Gabriel "Flash" Elorde Boxing Awards Night- continues at the elegant Okada Hotel Manila.

A Triple Championship, dubbed BOXING KONTRA DROGA, caps the grand event.

Johnny Elorde Management International has prepared a delectable feast for fight fans on March 25, 2023, Saturday at 3:00 p.m.




WBO GLOBAL FLYWEIGHT CHAMPIONSHIP
GIEMEL MAGRAMO vs SANCHAI YOTBOON
12 RDS (112 pounds)

WBO ORIENTAL LIGHTWEIGHT CHAMPIONSHIP
ARVIN MAGRAMO VS JOEL LINO
12 RDS (108 pounds)

WBO ORIENTAL YOUTH FLYWEIGHT CHAMPIONSHIP
ALBERT FRANCISCO versus CHENG CHENG YANG
10 RDS (112 pounds)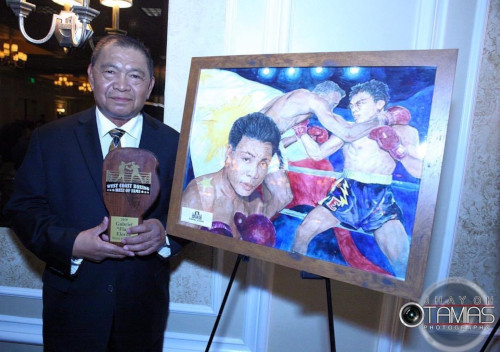 We will always remember Mr. Elorde's legacy outside the squared circle and be perpetually proud of his tremendous contributions to the Sweet Science of Bruising.

Part of boxing lore is an article called Little Brown Dolls written by the late Jack Fiske of the San Francisco Chronicle and my late father Hermie for the Philippine Daily Inquirer, way back in March 20, 1994.

Allow me to share excerpts of their discussion that featured a gallery of Filipino world boxing champions with special emphasis on Flash Elorde and his reign.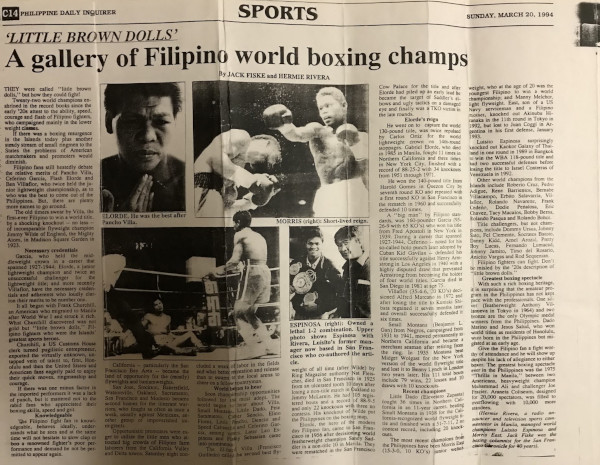 (Courtesy of Philippine Daily Inquirer, March 20, 1994)
"They were called 'Little Brown Dolls', but how they could fight! Twenty-seven (27) World Champions enshrined in the record books since the early 1920's attest to the ability, speed, courage, and flash of Filipino fighters, who campaigned mainly in the lower weight classes."

"If there was a Boxing resurgence in the islands today, plus another steady stream of small ring men to the States, the problems of American matchmakers and promoters would diminish. Filipino fans still heatedly debate the relative merits of Pancho Villa, Ceferino Garcia, Flash Elorde, Ben Villaflor, and Luisito Espinosa - the only Filipino to win the World Bantamweight and Featherweight titles - as to who was the best to come out of the Philippines. There are plenty more names to go around. The old timers swear by Villa, the first ever Filipino to win a world title by a shocking knockout - no less - of incomparable Flyweight Champion Jimmy Wilde of England, the Mighty Atom, in Madison Square Garden in 1923."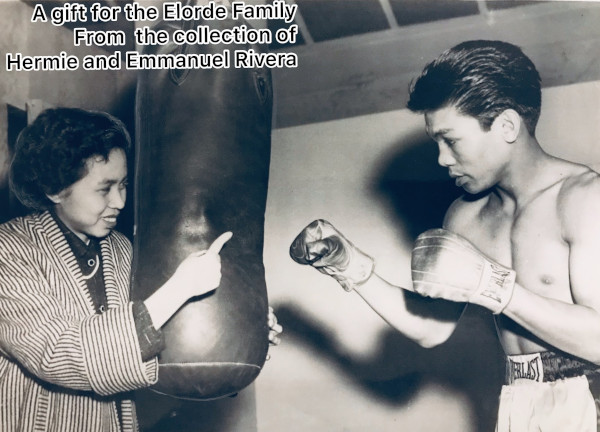 Mrs. Laura Elorde, wife of Gabriel "Flash" Elorde with a pointer before the Sandy Saddler-Flash Elorde fight at the Cow Palace, Daly City, California (Photo rights acquired by Hermie Rivera. Credit to United Press Telephoto January 17, 1956)

Gabriel "Flash" Elorde was born on March 25, 1935 in the seaside City of Bogo in Northern Cebu Island. He passed away at age 49 on January 2, 1985.

The youngest of a brood of 15, he carried himself well while helping his family working as a boot black, carpenter and setter of pins at a bowling alley.

In his formative years, he learned from his father Tatang Elorde the art of Balintawak Eskrima (Arnis Stick Fighting) - created by Venancio "Anciong" Bacon. The original Filipino martial art, known for balanced foot work and distance fighting, was named after a street in the Colon district of Cebu.

Famed writer Robert Lipsyte described Elorde's nimbleness as "subtle little temple-dancer moves" which his friend Muhammad Ali emulated.

Elorde debuted against Kid Gonzaga by TKO 4 on June 16, 1951 and followed with 10 wins that year against Young Basiliano, Mike Sanchez, Kid Santos, Star Mercado, Fighting Chavez, Little Patilla, Star Flores, Kid Independence and Lucky Strike.

Flash Elorde, a left-handed fighter, was renowned for his superb boxing skills, relentless body punches and trailblazing techniques. One of his favorite moves is the hybrid hook/uppercut to the liver---something the great Mexican fighters adopted and popularly nicknamed Gancho Al Higado.

Elorde stunned the boxing world when he beat the great featherweight champion Sandy Saddler in a non-title tenner in the Philippines on July 20, 1955. He earned the right for a rematch with the World Featherweight Championship on the line January 18, 1956. Elorde floored Saddler but suffered a cut in his eye in the middle rounds and lost the fight via 13th-round TKO.

Jack Fiske of the San Francisco Chronicle described it like this: "It was a dirty fight throughout and all the onus must be on the 126-pound champion's skinny shoulders. From this corner, it appeared highly improbable that he could have successfully defended the title ... if he hadn't resorted to all the so-called tricks in and out of the rule book."

Elorde's world championship reign started when he won the world super-featherweight title on March 16, 1960, by knocking out the defending world champion Harold Gomes in seven rounds at the newly-constructed Araneta Coliseum with more than 20,000 in attendance.

It was an end to a twenty-year title drought for the Philippines since Ceferino Garcia lost his world middleweight title to Ken Overlin on May 23, 1940.

He defended the title a division record 10 times until June 15, 1967 when he lost a majority decision to a much younger Yoshiaki Numata of Japan.

Mr. Elorde remains to be the longest-reigning world junior lightweight champion in history (seven years and three months) and, to borrow a phrase, helped legitimize the 130-pound division.

Mr. Elorde was twice repulsed by Carlos Ortiz, both by 14th round knockout---the first time in Malate, P.I. on February 15, 1964. Ortiz once again beat Elorde on November 28, 1966 in Madison Garden, New York to keep his WBA/WBC lightweight crown.

He was enshrined in the International Boxing Hall of Fame (1993), World Boxing Hall of Fame and West Coast Boxing Hall of Fame (2018).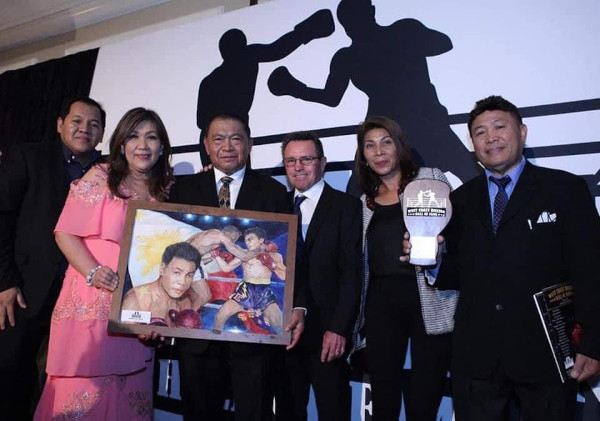 Mr. Rick Farris, Founder and President of the West Coast Boxing Hall of Fame, fellow founder Dan Hanley and the Board of Directors at the WCBHOF presented a classic Jun Aquino painting of Flash Elorde to the Elorde Family back in 2018.

"The word 'Great' is tossed around freely in boxing; however, only a select few qualify as a true all-time "GREAT". Back in 2018, we inducted one of them into the West Coast Boxing Hall of Fame - The great Gabriel "Flash" Elorde of the Philippines!" Mr. Farris shared with PhilBoxing.com.

Mr. Elorde retired with a record of 88 Wins (33 KO), 27 Losses and 2 draws.

He was also named the 78th Best Fighter by Nat Fleischer's The Ring in 2002.

Today, March 25th, is his birthday.

Happy Natal Day, Mr. Elorde!



Note of Appreciation:

Our gratitude goes to Mr. and Mrs. Johnny and Liza Elorde, the prestigious West Coast Boxing Hall of Fame, The Philippine Daily Inquirer and also Jhay Otamias for sharing their photographs. Sir Jun Aquino's painting of Bai Elorde will always look spectacular.

Mabuhay at Salamat, Long Live and Thanks!


Click here to view a list of other articles written by Emmanuel Rivera, RRT.

---
Recent PhilBoxing.com In-House articles: