GABRIEL ELORDE BY THE NUMBERS

By Teodoro Medina Reynoso
PhilBoxing.com
Wed, 25 Mar 2020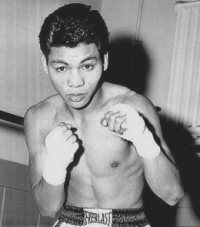 REMEMBERING GREAT DA FLASH

Today, March 25, 2020 is the 85th birth anniversary of the late great Gabriel Flash Elorde, the longest reigning world champion of the then newly revived junior lightweight division he himself helped legitimize in a seven glory filled years also known as a golden era in Philippine boxing.

Though he passed away at still a relatively young age just two months before his 50th birthday in January 1981, he had compressed noteworthy accomplishments and statistics in the two decades since his pro debut at the tender age of 16 in 1951.

Below is a compilation of some of the milestones and events in his storied ring career depicted in numbers and statistics supported by facts.

1- He was the first Filipino and Asian to be enshrined in both the World Boxing Hall of Fame in 1988 and the then newly instituted and now more popular International Boxing Hall of Fame in Canastota, NY in 1993.

-His promoter and father in law Lope Papa Sarreal was the first Filipino and Asian to be inducted in the Hall of Fame among non-boxers.

-He had just one true love of his life, Laura Sarreal Elorde.

2- He recorded two first round knockouts in his world title defenses. The first against a then still disbelieving Harold Gomes who claimed he lost his title to Elorde in the Philippines via 7th round knockout because the heat weakened him. Elorde kayoed Gomes in less than two minutes of the first round of their rematch three months later in the cooler San Francisco, California. The second hapless victim was Italian challenger Sergio Campari who was counted out in less than a minute of their title fight held in Manila.

- He had only two career draws in 118 bouts against Tommy Romulo and Akiyoshi Akiyama in only his second fight in Japan, both in 1952 when he was barely 17 years old.

3- He had three children with wife Laura, Johnny, Gabriel, Jr or Bebot and Marty. He also had three grandchildren, pro boxers Juan Miguel, Juan Martin and pro cager Nico.

4- He lost only four in his total 118 bouts by stoppage. Once to Kid Independence in only his tenth pro bout at age 17, once to Saddler when he was barely 20 years old and twice to Ortiz later in his prime. Elorde was often described as a blown up featherweight but Ortiz was really a scaled down welterweight.

-He fought and lost to Shigeji Kaneko four times, all in Japan. Twice in Oriental featherweight title fights. Widow Laura says she never minded those as his husband "was always going up against four men whenever he fought in Japan."

5- He fought another Japanese bitter rival, later bosom buddy Terou Kosaka five times, twice in the Philippines and thrice in Japan, four in Oriental and once in world title bouts, winning all but one.

6- He fought six bouts against three then current and future world champions, namely Sandy Saddler where he won one non title tenner but lost on cuts in the return title bout; Carlos Ortiz and Yoshiaki Numata where he lost two fights series each, Ortiz for the latter's lightweight crown and Numata in failed OPBF and world title defenses.

-The number of his later career losses from the Numata defeat in 1967 up to his last points defeat to Fujio Murakami also in Tokyo 1971 that prompted the then Games and Amusements Board to force his retirement by revoking his license.

7-Holds the Junior lightweight division record for longest title reign, and is considered as one of the greatest junior lightweight champion in history. (7 years 3 months).

- The glorious round where he finally felled Harold Gomes for the full count of referee Barney Ross (yes the legendary former world lightweight and welterweight champion) in their title fight on April 16, 1960 at the then newly inaugurated Araneta Coliseum.

-He would hold the championship for seven years and three months.

-He would score seven knockout victories in his first nine winning bouts turning pro in 1951.

8- His winning streak after winning the world championship from Gomes in 1960 until he would lose again in his lone loss against Kosaka in Japan where he would momentarily lose his Oriental lightweight title.

9- The number of bouts he would fight in his barnstorming of the Japanese and American ring where he would not return home between 1955 and 1957. He would lose five and win just four of those bouts fighting as much against his Japanese and American foes as the partisan panel of judges and at times even the highly partisan crowd.

10- The number of his successful defense of his world and lineal junior lightweight championship.

-Finished career with a record of 5-5 (2 KOs) against former, current, and future world champions: Won against Sandy Saddler, Harold Gomes (twice), Rene Barrientos, and Ismael Laguna. Lost against Sandy Saddler, Carlos Ortiz (twice), and Yoshiaki Numata (twice).

11- He would lose his world title to Numata in Tokyo via majority decision in his eleventh world title defense fight since June 1960.

-The round that rugged Ghanaian challenger Love Allotey would be disqualified for continuously roughing up and fouling Elorde in 1965.

12- He would figure in thirty scheduled 12 round bouts in his pro career starting with his winning the Philippine bantamweight title against veteran Tany Campo and the Oriental title in Japan against Kiyoshi Horoshige in 1952

13- The round where the referee would controversially stop his world featherweight title challenge of Saddler at the Cow Palace in 1956 on account of cuts and declare Saddler as winner and still champion. The result would be condemned by both the fans and the press and the referee would be banned for his negligence in preventing Saddler from fouling and butting Elorde for most of the bout.

14- the number of 15 round bouts with the world titles at stake he fought since the first time in February 1956 when he fought and lost to Saddler, March 1960 when he won the world junior lightweight title from Gomes, 1965 and 1966 in his two failed lightweight title challenge of Ortiz and title defense against Numata in June 1967.

15 -The regulation number of rounds in world title fights during the time and world title reign of Elorde in which he figured in 15 of such scheduled title bouts, winning 11, 4 by knockout while losing four, three by knockout. The number of rounds was reduced to 12 in the mid 80s following the tragic Mancini-Kim lightweight title bout.

Others:

27- His total career losses, only four by stoppage or knockout,

33- His total career knockout wins. Up until his knockout of Gomes in 1960, he had been regarded as a clever boxer but a light puncher. His style was described as that of a temple dancer influenced as he was by his eskrima (a local martial arts) master father, Tatang Elorde.

49- The number of times Elorde fought abroad, mostly in the opponent's territory in his next 98 bouts from 1952 after fighting mostly at home im his first 20 bouts. Finished career with a record of 28-20-1 (9 KOs) in fights outside his native land.

89-His total career wins in 118 pro bouts covering twenty years or two decades.

Hope these help in introducing and reintroducing one of our greatest fighters of all time and explain how his career went and why he ended up with a rather unflattering record compared to Pancho Villa then and Manny Pacquiao etal now.

The author Teodoro Medina Reynoso is a veteran boxing radio talk show host living in the Philippines. He can be reached at teddyreynoso@yahoo.com and by phone 09215309477.

Click here to view a list of other articles written by Teodoro Medina Reynoso.

---
Recent PhilBoxing.com In-House articles: