Aussie coach picks Olympic hopefuls

By Joaquin Henson
PhilBoxing.com
Wed, 17 Apr 2019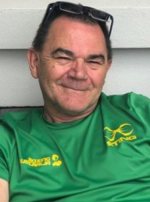 Don Albert.

ABAP coaching consultant Don Abnett of Australia said the other day he has his eye on at least four boxers in the national pool with a high probability of qualifying for the 2020 Tokyo Olympics but declined to name the hopefuls, explaining it would be unfair to others who?re also prospective contenders.

Abnett, 57, said in his list are two males, possibly three, and two females. The Olympic boxing tournament is tentatively scheduled to be held at the Ryogoku Kokugikan, also known as Ryogoku Sumo Hall, an indoor sporting arena in the Yokoami neighborhood of Sumida, one of Tokyo?s 23 wards. The IOC has still to confirm that boxing will be in the 2020 calendar because of its misgivings about AIBA?s governance and financials stemming from a distrust of Uzbekistan?s Gafur Rahimov who was elected AIBA president last November. Rahimov has been accused by the US Treasury of criminal activities.

The IOC is investigating AIBA?s standing and will decide whether or not to retain boxing in the Tokyo Olympics in a meeting in Lausanne in June. Meanwhile, the IOC is suspending all communications with AIBA and the conduct of qualifying competitions for the Olympics. It?s possible that the IOC will designate an independent sporting agency to supervise boxing in Tokyo, not AIBA, for the sake of saving the sport.

Last month, Rahimov took a one-year leave of absence in an attempt to assuage the IOC. The AIBA executive committee then elected African federation head Mohamed Moustahsane of Morocco to take over from Rahimov as interim president. The vote was 23-0 with two abstentions. Despite the election, it?s not certain if the IOC will agree to an ?interim? situation because that means Rahimov is eventually returning to power.

Even as the boxing events in Tokyo are up in the air, the AIBA executive committee has announced that in line with the IOC?s directive, it is proposing to merge the five lightest men?s divisions into three with the lightflyweight, bantamweight and lightwelterweight classes struck out. The traditional 10 men's weight classes are proposed to go down to eight while the women?s weight categories will increase from three to five. The proposed eight men?s classes are flyweight (49-52 kg), featherweight (57 kg), lightweight (63 kg), welterweight (69 kg), middleweight (75 kg), lightheavyweight (81 kg), heavyweight (91 kg) and superheavyweight (+91 kg). The proposal for women has five classes----flyweight (48-51 kg), featherweight (57 kg), lightweight (60 kg), welterweight (69 kg) and middleweight (75 kg).

Abnett, who has been involved in boxing for 36 years, was signed to a six-month contract by ABAP last February as a coaching consultant. The contract is renewable. ABAP secretary-general Ed Picson said Abnett comes with impressive credentials, having coached the Australian national boxing team in two Olympics, two Commonwealth Games and 10 AIBA World Championships.

Two of Abnett?s well-known Australian proteges are 2010 Youth Olympics middleweight gold medalist Damien Hooper and former WBO welterweight champion Jeff Horn. Both Hooper and Horn competed at the 2012 London Olympics. Horn made headlines when he scored a controversial 12-round decision over Manny Pacquiao in Brisbane in 2017. ?Jeff and Damien made the transition from amateur to pro,? said Abnett. ?Jeff is an absolute gentleman and I enjoyed working with him. Damien is an indigenous boxer and he, too, has moved to the pros.?

Abnett said ever since he came to Manila in 2009 with the Australian national boxing team to train with the ABAP pool, there hasn?t been a step back. He?s now made over 10 visits to the country with various Australian fighters, learning from the best Filipino boxers and coaches. ?I?ve had a good working relationship with ABAP through the years,? he said. ?I?ve always known that the ABAP program is world-class. Filipinos are dominant in the lighter weight divisions. For the men, that would be 49 to 52 and for the women, 48 to 57. I?m impressed with Nesthy (Petecio), Marvin (Tabamo) and Ramel (Macado). My role is to take every fighter in the pool to the next level.?

Abnett said he hopes to build up the fighters? confidence. ?I think some of our men and women are unbeatable but on the world stage, they get nervous, there?s anxiety and they underperform,? he said. ?I?ve seen them work hard in the gym, spar, train. What I want to do is to make them believe they can win over top boxers, no matter where they?re from. My experience will help in this regard. I?ve been the head coach of Australian and Papua New Guinea boxing. I know what it?s like fighting against the best in the Olympics and World Championships. It?s my job to assist the Filipino coaches and boxers win for the country.?


Click here to view a list of other articles written by Joaquin Henson.

---
Recent PhilBoxing.com In-House articles: