Will Mayweather be at ringside?

By Joaquin Henson
PhilBoxing.com
Sun, 14 Jul 2019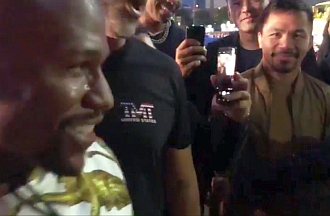 If Floyd Mayweather isn?t traveling the world in his private jet, he?ll be at ringside for the WBA welterweight unification title fight between Manny Pacquiao and Keith Thurman at the MGM Grand Garden Arena in Las Vegas on July 20.

Mayweather, 42, remains in the consciousness of boxing fans despite announcing his third retirement after demolishing martial arts loudmouth Conor McGregor in the 10th round of a carnival show in August 2017 to raise his record to 50-0, with 27 KOs. McGregor didn?t deserve to be in the same ring as Mayweather. The Irishman was in his pro boxing debut and Mayweather exposed the wide disparity in skills between a boxer and a martial arts fighter.

All Mayweather wanted was to build his record up to 50-0, eclipsing Rocky Marciano?s 49-0. Someone should?ve whispered to Mayweather that 50-0 means nothing. Mexican Ricardo Lopez wound up his career as the undefeated IBF lightflyweight champion with a 51-0-1 record, including 38 KOs, in 2001 and Thai Wanheng Menayothin is the reigning WBC minimumweight titlist with a 53-0 record, including 18 KOs. If it?s Mayweather?s ambition to hold the world record as an undefeated fighter with the most wins, he?ll have to chase Wanheng?s mark.

Reaching 50-0 at McGregor?s expense was no big deal. If Mayweather had beaten a competitive opponent, then maybe 50-0 would?ve meant a little more special. But trouncing a clown left a bad taste in the mouth. If Mayweather is sensitive about leaving a glowing legacy, walking away from the ring with a win over McGregor adds nothing to his legend.

Pacquiao, 40, is slowly giving up hope of a rematch with Mayweather. Over a year ago, he said one of the reasons why he?s still fighting is to get the chance to avenge his loss to Mayweather in 2015. Their fight was a major box office hit and set a new record for a pay-per-view event with 4.4 million viewers. Pacquiao hurt his shoulder in the fourth round and fought one-armed the rest of the way. While Mayweather won by a unanimous decision, a lot of ringsiders felt Pacquiao did enough to take it. Pacquiao underwent surgery to repair his injured shoulder and fans continue to wonder if he was 100 percent, would Mayweather have won?

Since the Pacquiao fight, Mayweather has fought only twice, beating Andre Berto and McGregor. Since the Mayweather fight, Pacquiao has fought five bouts, defeating Tim Bradley, Jessie Vargas, Lucas Matthysse and Adrien Broner and losing to Jeff Horn.

If Pacquiao and Mayweather fight again, they?ll be both in their 40s. Will there still be pay-per-view interest in a battle of ?seniors?? Why not? Mayweather is the fight game?s ultimate villain and fans would pay good money to watch someone try to stain his unblemished record. Sometimes, it?s more fun to jeer a villain than cheer a hero. Pacquiao is the sport?s ultimate hero with a rags-to-riches story that is inspiring and uplifting. If there?s a fighter who deserves to pin a first loss on Mayweather, it?s Pacquiao.

But a few days back, Pacquiao said Mayweather is no longer in his sights. ?Floyd is retired,? he said. ?I?m only looking at active fighters. Floyd is not active anymore. Right now, I?m only thinking about Thurman.?

A sportswriter threw out several names as possible Pacquiao opponents in the future, including WBC welterweight ruler Shawn Porter and IBF king Errol Spence. Pacquiao said for as long as he?s still in the game and he has passion for the sport, he?ll fight anybody. If Mayweather comes along, Pacquiao for sure won?t back off.

Pacquiao?s long-time trainer Freddie Roach, now taking a back seat to Buboy Fernandez in the corner, said a rematch with Mayweather isn't a lost cause. ?Hopefully, we can get Mayweather to come to the table,? he said. ?I would like us to have one more crack at him. We didn?t fight a great fight that night. Manny?s shoulder didn?t help at all. He?s had surgery since then, he?s 100 percent now. I would like us to fight Mayweather again because I didn?t like the way we performed. I was disappointed in myself.?

Mayweather was at ringside when Pacquiao badly outclassed Broner last January. He had a choice seat, in front of TV broadcasters covering the fight with no obstruction of his view. Mayweather saw that at 40, Pacquiao was still at the top of his game and if he had entertained notions of a rematch, quickly dismissed the possibility. Mayweather is not a big risk taker. He probably figured putting his 50-0 record on the line against a battle-ready Pacquiao would be a high-risk gamble.

If Pacquiao shows signs of slowing down against Thurman, maybe Mayweather might un-retire a third time and make himself available for a rematch. But if Pacquiao soundly thrashes Thurman, don?t expect Mayweather to be in a hurry to lace up those gloves any time soon.


Click here to view a list of other articles written by Joaquin Henson.

---
Recent PhilBoxing.com In-House articles: