Mobile Home | Desktop Version




NBA - - Timberwolves sting Hornets, 121-104

By Daniel Quindao Guden
PhilBoxing.com
Fri, 07 Dec 2018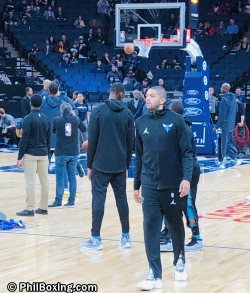 MINNEAPOLIS - Using deadly force, the Minnesota Timberwolves preyed on the visiting Charlotte Hornets, 121-104, in front of 11, 248 fans at the Target Center on Wednesday night.

All-Star Karl-Anthony Towns played a pivotal role with a career-high six blocks to go along with 12 rebounds and 35 points. Jeff Teague had only three points in 34 minutes, but his playmaking skills were so divine, producing 18 assists.

Forward Andrew Wiggins had 26, Robert Covington added 17, while Derrick Rose pitched in 16 off the bench, Taj Gibson finished with a double-double of 11 points and 10 boards.

Hornets star Kemba Walker was very productive in the first half with 11 points but he was handcuffed by the Wolves in the second half and scored only four for a total of 15 in 30 minutes, Frenchman Nicolas Batum and Jeremy Lamb led the team with 18 apiece while Frank Kaminsky III and Miles Bridges pocketed 10 apiece for Charlotte.

It was an entertaining contest that was tied at 31-all in the opening frame before the Hornets took the driver's seat at the break, 64-62. After another tie at 86-86, the Wolves went full throttle with a 35-18 run to put the game away.

Up Next

The Hornets, No. 8 in the Eastern Conference (11-13) go home to Charlotte, North Carolina and host Nikola Jokic, Gary Harris, Jamal Murray and the Denver Nuggets on Friday night. The Wolves, No. 10 in the West (13-12), will travel to Portland, Oregon and face Damian Lillard, CJ McCollum, Jusuf Nurkic and the Trail Blazers on Saturday night.





---
Recent PhilBoxing articles: