Mobile Home | Desktop Version




Manny can't underestimate Broner

By Joaquin Henson
PhilBoxing.com
Thu, 06 Dec 2018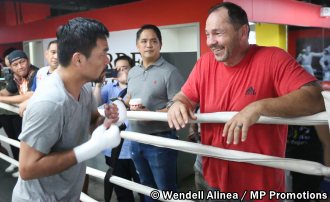 Strength and conditioning coach Justin Fortune said yesterday WBA welterweight champion Sen. Manny Pacquiao can't afford to underestimate challenger Adrien Broner when they battle at the MGM Grand Garden Arena in Las Vegas on Jan. 19 as there's too much at stake in the scheduled 12-round title bout.

Fortune arrived in Manila with Pacquiao from Los Angeles more than a week ago after the two-city US press tour that launched the coming pay-per-view event. Over the weekend, Australian lightweight George Kambosos planed in to serve as Pacquiao's chief sparring partner in preparation for Broner. Last Tuesday, Pacquiao had his first sparring session and went four tough rounds with Kambosos at the Elorde Gym near the MOA Arena.

Pacquiao and his team will leave for General Santos City on Dec. 13 to relocate training camp after the Senate goes on recess. Pacquiao will celebrate his 40th birthday in General Santos City on Dec. 17. Fortune will then return to Los Angeles on Dec. 19 with Pacquiao following on Dec. 22. Pacquiao won't be back in the Philippines until after his fight against Broner.

From all indications, Pacquiao should steamroll his way to victory over Broner but danger lurks in the horizon because the former WBO superfeatherweight, WBC lightweight, WBA superlightweight and WBA welterweight champion from Cincinnati is no slouch and 10 years younger. Fortune, however, said he's confident Pacquiao will be in the right frame of mind and physical condition to mow down Broner.

"I don't think Broner can take Manny's power," said Fortune. "(Marcos) Maidana put Broner down twice and Manny's punch is way stronger than Madiana's. Broner has a dog's mentality. Once he gets hurt, he runs away. Broner's basically a 1-2 puncher with little foot movement so he's not hard to hit. He has a tendency to sit in the pocket. He likes to counter so he'll wait for Manny to come in but he'll engage. I've always believed that speed on power is devastating and that's what Manny has. If Manny puts his mind to it, he'll knock out Broner just like what he did to (Lucas) Matthysse."

Fortune said Pacquiao has a lot to prove in the fight. "He hasn't fought in the US in over two years so he wants to make a point that at 40, there's still no one out there who's as exciting and explosive," said Fortune. "Besides, Broner's been talking smack. He thinks he's funny with his jokes but he can be insulting and I don't think Manny likes that. Manny might not admit it but I think he's out to shut Broner up."

One thing that Fortune noticed about Broner is he leaves his body open when holding his hands high to protect his head. "He's like Matthysse in that respect," continued Fortune. "You leave your body open and Manny will whack away."

Fortune said Broner tries to fight like Floyd Mayweather, Jr. but he's nowhere near the Money Man's caliber. "Broner's a natural 140-pounder," he said. "He's not as big as the real welterweights whom Manny couldn't knock out. He has a good right hand and likes to throw the uppercut from close range. Kambosos does a good job of mimicking him and he won't back down in sparring with Manny. He'll keep Manny on his toes. Other sparmates show too much respect for Manny but not George."

Kambosos, 25, is Australian like Fortune and has a 15-0 record, with 9 KOs. He was in the undercard of the Pacquiao-Matthysse mainer in Kuala Lumpur last July, stopping Filipino J. R. Magboo in two rounds. Kambosos will once more be in Pacquiao's undercard next month. Fortune said he expects Kambosos to fight for the IBF lightweight title before 2019 ends. Kambosos is now ranked No. 11 by the IBF.





---
Recent PhilBoxing articles: