Mobile Home | Desktop Version




CORPUS CHRISTI HEADLINES TITLE FIGHT AT WHATABURGER FIELD

PhilBoxing.com
Tue, 18 Sep 2018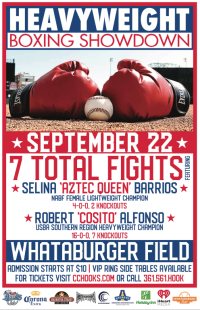 Corpus Christi, Texas—— This southern Texas town once know for its top notch pugilists who, at one time, created raving fans in the boxing world has been given new life thanks to the Campbell family's entry into the professional boxing arena by forming CCC Entertainment. The Campbells couldn't have named their company any better as they have been bringing smiles to many faces in the Corpus Christi area as philanthropists assisting many charities in south Texas. The promotional firm is headed by Clayton Campbell and his mother, Mary Campbell, the wife of the famed retinal surgeon Dr. Charles Campbell. Colin Campbell runs the management end and marketing for the professional athletes and is developing a sound promotional base for future generation pugilists bringing life to this southern Texas town.

"CCC Entertainment is extremely excited about bringing first class boxing to the area. Our vision is to generate excitement throughout the community. The electric atmosphere at Whataburger Field on September 22nd will generate interest throughout the country," states Clayton Campbell.

Colin Campbell, Clayton's brother and a local boxing manager of Selina Barrios along with other young talent says, "I believe bringing championship title fights to the area will give the youth in the boxing community a platform where they can dream to one day be boxing on a bigger stage."

One of the partners in the show is the Corpus Christi Hooks Baseball Team who are AA Affiliates of the Houston Astros. Wes Weigle, the General Manager says, "The Corpus Christi Hooks and the Houston Astros are thrilled to be able to host such a talented excited group of fighters and to watch them perform here at the most unique venue in south Texas is exciting. The excitement is at an all time high at Whataburger Field. The anticipation and excitement from our fans and the community as a whole rivals anything that we have seen. September 22nd has all the key ingredients for a truly historical night here in Corpus Christi."
Come see live professional boxing at Whataburger Field in Corpus Christi Texas. Tickets on sale now!

Adding into the partnership is Kerry Daigle, a veteran boxing scribe and President of www.keeppunching.com and Keeppunching Entertainment is bringing his 45 years of experience in promotions and co-ordinating some of the biggest fights of our generation on national television. Kerry says, " Combining the popularity of the Campbell family and their work ethic along with the Corpus Christi Hooks and Houston Astros working exclusively together will form a business venture that could lead to national television right here in Corpus. We are presently working on that now."

The main event will be an NABF title defense for the lightweight championship with a battle of two undefeated women. NABF champion, Selina "The Aztec Queen" Barrios (4-0) vs Patricia Juarez (4-0) is a barnburner as the talented Juarez's sister, Mariana "Barbie" Juarez (a two division world champion with 44 wins) is now mentoring her sister Patricia. Barrios, on the other hand, recently had the KO OF THE YEAR, according to boxing writers from around the globe as her last fight against an undefeated Russian fighter Aida Satybaldinova came into Corpus to upset Selina only to be knocked out in 4 rounds. Barrios is the most entertaining professional female on the planet and is carving out her journey to own all the lightweight world titles. Barrios is eyeing this win to propel her against top notch world champions such as Katy Taylor, a former Olympian gold medalist. Selina states, "No one at lightweight can beat me and they know it. I'm gunning for all the top lightweights across the world. They can ignore me for only a short time but their titles are just resting until I meet up with all of them. I am bringing all these world titles to Texas and my fans here. That is a promise."

Justin Jones, an undefeated heavyweight at 21-0, was scheduled to fight Robert Alphonso, 16-0, but pulled out due to a back injury. Jones was replaced by veteran and upset minded Rodney Moore who has alightly better than .500 record but holds KO wins over an undefeated 12-0 heavyweight and another upset victory of a 12-1 fighter. Can he pull the upset. Moore says, "Don't underestimate me. This will just lead to a bigger payday as I destroy Alphonso." Alphonso is the stablemate of WBC World Heavyweight Champion, Deontay Wilder, and is trained by Wilder's trainer, Jay Deas. Expect a very entertaining fight.





---
Recent PhilBoxing articles: